Live in a flat? Getting Sky 'will be simpler'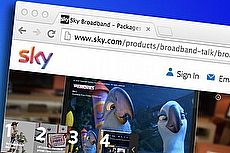 PEOPLE who live in larger blocks of flats should be able to get Sky TV much more quickly and simply from later this month.
At present anyone living in a building containing more than seven separate flats has had to place or finalise their order over the phone.
But from August 19th, they should be able to complete the process entirely online - making the process much more simple and attractive to would be customers.
How it is now
Sky do have a "Specialist Installation Team" who deal with getting the equipment into converted buildings and smaller blocks of flats - that is, those containing fewer than seven separate residences.
There's also the option for people in some bigger blocks of flats to get the service through a communal dish, although this can often mean having to go through the building's management company and their chosen supplier.
For many the hassle of not being able to sign up directly puts them off - and there's also the added annoyance of missing out on the deals available to new customers signing up online like those listed below:
What's on offer?
When you join online for:
Need to know:
Get the Sky Box Sets bundle for just £31/mth
Sky Box Sets Bundle £31/mth for 18 months, usually £38/mth
18 month minimum term. £20 set up fee.


Get the Sky Original Bundle for just £20/mth for 18 months
Sky Original bundle + Sky Q
Set up fees and 18 month contract applies.


Sky Unlimited Broadband + line rental £20/mth for 12 months (then £28.99/mth) + £50 reward
Sky Unlimited broadband
(without Sky TV)
12 month minimum term. £19.95 set-up fee.


Add Sky Fibre Unlimited to any TV bundle for £30/mth for 18 months.
Sky Fibre Unlimited
(as an existing Sky TV customer)
18 month minimum term. £19.95 set up fee.


Sign up to Sky Fibre broadband from £28.99/mth for 18 months
Sky Fibre broadband
(without Sky TV)
18 month minimum term. £59.95 set up fee.


Those who do try to go direct will find that everything seems be to going fine online, until they tell Sky they live in a block of flats.
People living in a smaller block, or a converted house, will sail through this section and be asked to enter an installation date of their choice and their payment details - even if they don't have access to the roof or similar, where we could expect the dish to be fitted.
Those who live in a bigger block, however, will be told their order will need to be referred to a call centre for completion: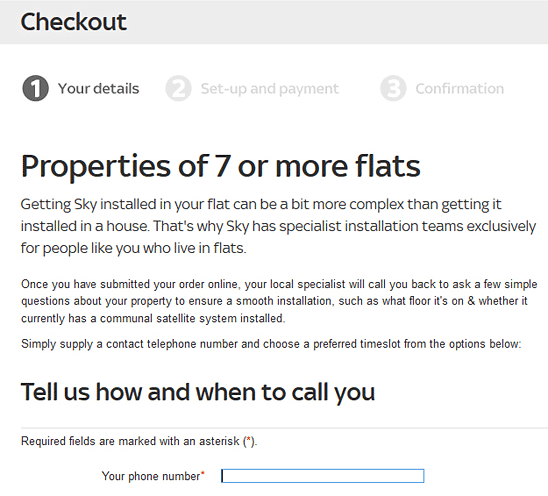 SOURCE: Sky.com
When the change comes in, this need for the call back should disappear.
It's likely that people who say they live in these buildings will be asked similar questions online as those in smaller blocks - about which floor they live on, and the kind of access they have to different parts of the building - but the overall process should be much quicker and simpler.
Coming up...
The news comes not long after Sky announced they'd passed the 12 million customer mark in the UK and Ireland, adding 506,000 more subscribers in the past year, and 124,000 in the last three months.
As well as reporting their "highest organic growth" in the UK and Ireland for 11 years, their annual figures showed that the level of churn - the number of people leaving them - had also dropped.
At 9.8%, it's the lowest it has been for 11 years - although the cynical might say that figure is in part because of Sky's apparent reluctance to let people go.
Being more positive again, there are suggestions that they're very close to unveiling a new version of their set top box.
"SkyQ", as it's thought the new box will be called, is said to be capable of allowing users to watch and record four or more channels simultaneously, as well as sending content to smartphones and tablets wirelessly.
They wouldn't be the only, or indeed, the first, provider to offer this kind of service from their set top box: EE have beaten them to it.
Sky's new box should also be able to receive and show ultra HD broadcasts - just like BT's newest 1TB set top box, already available to those subscribing to their newest TV package.
When the new box is unveiled - and when Sky announce further details of their mobile service, expected to be with us by spring 2016 - we'll cover what's on offer.
13 October 2017
11 October 2017
10 October 2017
Follow us or subscribe for FREE updates and special offers