SIX in ten payday loan customers borrow at high cost despite access to alternatives, research from the Competition Commission has found.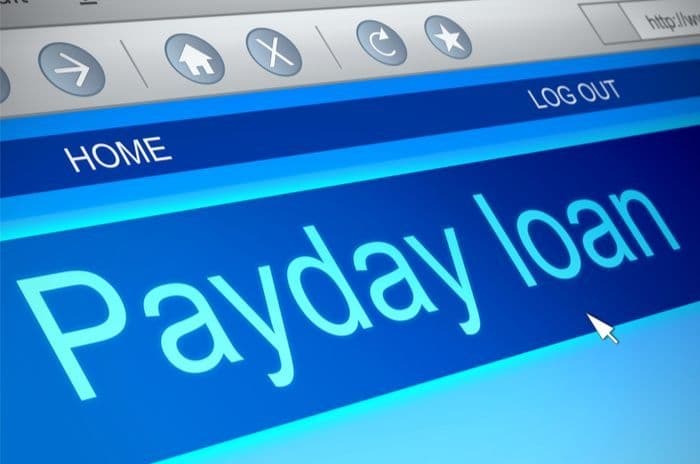 Credit: Sam72/Shutterstock.com
The research shows that many payday customers are not financially excluded. 58% said they could have borrowed from mainstream banks using overdrafts, loans or credit cards but chose to take a payday loan instead.
Many participants in the TNS study also said they could have borrowed from friends or family instead: when you add that alternative into the mix 78% could have borrowed elsewhere.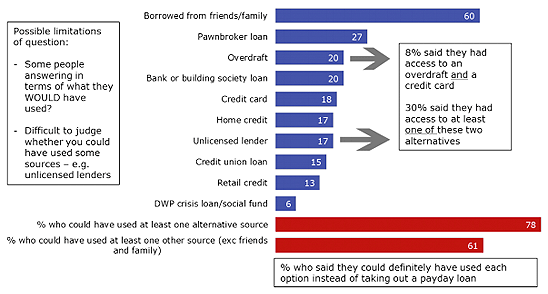 SOURCE: TNS research into the payday lending sector, 03/02/2014
The Competition Commission study was carried out as part of a review of the payday market ordered by the Office of Fair Trading (OFT) in June last year.
The findings will be published in June this year, after the Commission has heard from lenders and consumer groups, and will likely inform the FCA regulation of the market, which begins in July.
Access to alternatives is just one aspect of payday the Commission is looking at (see the report in full here [pdf]), but it's an important one.
When greater regulation, including a cap on costs, is introduced this year and next it's likely to make payday loans harder to obtain for some consumers.
Regulators need to consider how those people will borrow instead.
Why payday? Convenience and speed
The key factors in consumers choosing a payday loan over an alternative, according to the TNS study, are convenience and speed.
The study found that most payday loans, over 70%, are taken out online and borrowers have their money within hours.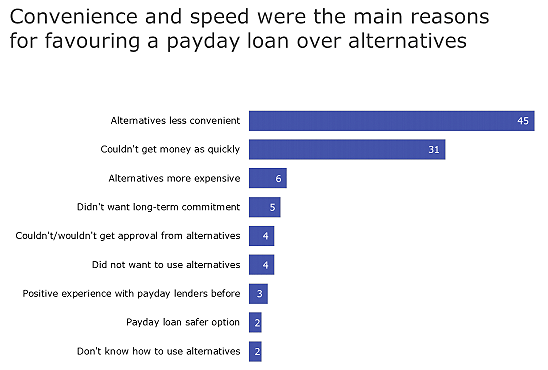 SOURCE: TNS research into the payday lending sector, 03/02/2014
As we've highlighted previously, few lenders can match payday lenders on those terms.
However, the Competition Commission research highlights that many people with access to very similar 'instant' credit - overdrafts and credit cards - still choose payday.
2010 research carried out by Consumer Focus found that fear of unexpected credit card charges or being tempted into more long term debt was driving some of the payday borrowers it surveyed away from the mainstream banks.
The Competition Commission report's findings could also support that view, to some extent, they found that 56% of payday borrowers had gone into an overdraft in the past 12 months, 27% into an unauthorised overdraft.
Some payday users surveyed had weighed the loan against an unauthorised overdraft and chose the cheapest option.
More chose the loan because they expected the overdraft to be more expensive (without checking).
40% with no alternatives
The other side of the survey, of course, is that 40% of payday loan users felt like they really didn't have an alternative source of borrowing when they took out a loan.
Again, when you include borrowing from friends and family as an alternative (an option with its own problems), more people could have borrowed elsewhere.
In that case, 22% say they have no alternatives.
That's about the same as we've seen in other surveys: a 2010 Friends Provident report found that just 23% of payday loan users had no other credit options.
However, other research has found that lack of alternatives are more important.
For example, a report released by the Government and carried out by Ipsos Mori in October last year found that most payday customers regarded their loans as a "last resort".
In some ways, this latest study doesn't disagree.
As we've seen above, many find the alternatives that are available unpalatable.
That's also clear from the number of people that say they would have gone without loans altogether, had they not been available.
Going without payday
Finally, it was interesting to see payday customers' responses to a question on what they would have done if their loan hadn't been available.
Many, not least lenders themselves, have speculated that many would turn to illegal lenders if payday wasn't available.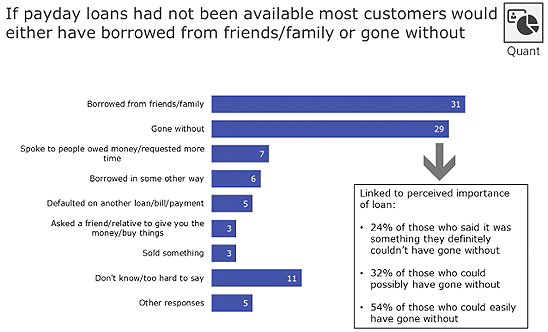 SOURCE: TNS research into the payday lending sector, 03/02/2014
However, just 6% said they would have borrowed another way and, looking at the results above, we can guess that most respondents are talking about legal lending.
In keeping with the results on alternatives, the majority said they would have borrowed from family instead and a sizable proportion, 31%, would have gone without the money altogether.