DISCOUNT retailer Poundland have opened an online store selling more than 2,000 products for - you've guessed it - just £1 each.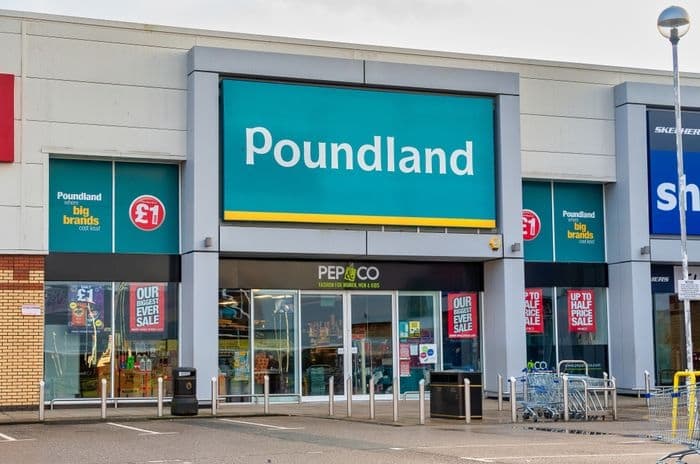 Credit: Craig Russell/Shutterstock.com
While the goods themselves are being sold at bargain prices and there's no minimum order value, delivery will cost £4 for orders under £50.
Not that the determined shopper should find £50 too difficult to spend, as Poundland are selling some products by the case, including soft drinks and shampoo.
The online store has opened just a week after the Competition and Markets Authority (CMA) provisionally cleared their proposed merger with rivals 99p Stores.
Everything's £1 (again)
Visitors to the website will find a similar mixture of goods as they would popping into one of the retailer's 600 or so stores: a variety of no-name brands, well known names, and Poundland's product lines, including Jane Asher kitchenware and Tommy Walsh DIY equipment.
But the range isn't quite as broad; the shops carry more than 3,000 - and sometimes as many as 4,000 - different products.
The smaller range means they've felt able to revive their claim that everything they sell costs just £1 each - which they had to stop doing in store earlier this year after a ruling from the Advertising Standards Agency (ASA).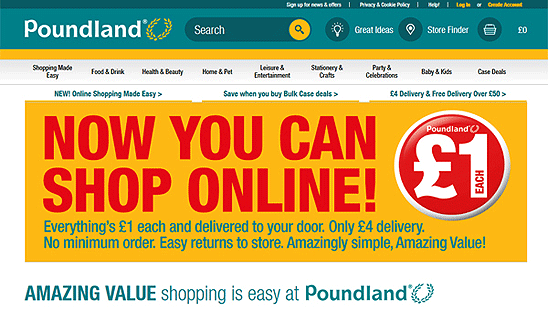 SOURCE: Poundland.co.uk
That followed complaints about some of their high street promotions, in which customers spending more than a certain amount were entitled to buy other goods at a higher - but still significantly discounted - price.
Instead the special offers online are limited to those of the multiple order variety - where smaller or cheaper goods are sold at two or three for £1 - or where buying a case of 24 entitles the customer to a discount of £1 or £2 off the expected price.
At the time of the site's launch, for example, it's possible to buy cans of Heinz soup at two for £1, or 12 cans for £5.
But not everything available to buy in bulk is offered at a further discount - shoppers need to look for the rectangular "case deal" label on the product thumbnail.
While you were out...
There's only one delivery option, which takes three to five working days, and sees goods sent to the customer's address.
It's not available to anyone who doesn't live on what could be called the UK mainland - so while shoppers in Northern Ireland are covered, those on the Isle of Man and the Scottish islands aren't.
Poundland have suggested that they may trial a click and collect service next year, but for now customers will have to risk the frustration of being told by text and email that their delivery is due, but not being available to receive it.
That said, the fact that they're buying online means customers are entitled to a 14 day cooling off period from the day their goods do arrive to change their minds and request a refund - as outlined in our guide to online shopping.
New competition
Having an active online store brings Poundland into line with some of their other discount store rivals, such as B&M, Wilko, and Home Bargains.
The CMA noted that aside from 99p Stores and Poundworld, these are the companies most in competition with Poundland. Reflecting the changing face of some of our biggest supermarkets, the watchdog included Tesco and Asda in the list of competitors.
The watchdog also noted that Poundland's business model relies on them having one price point and sticking to it, regardless of how much or how little competition they faced.
Therefore, the CMA say, it's not likely that anyone who shops at Poundland or 99p Stores will suffer if the two merge - which will create a network of around 800 shops.
At a cost of £55 million to Poundland - who reported annual sales of more than £1 billion for the first time earlier this year - the deal seems like something of a bargain itself.
Lucky dip
Part of the reason Poundland have clocked up such high sales is because people who pop in to pick up cheap stationery, or take advantage of lower prices on a favourite brand name, often find themselves leaving with more than they may have intended.
Take for example, some of their sales statistics from last year. As well as selling 5.5 million bags of Maltesers and 18 million cans of Coke, they sold 440,000 garden gnomes.
We can't see any gnomes on the website, but fans of the lucky dip approach to shopping will appreciate the "shuffle" button.
This presents users with a seemingly random selection of 20 different items, from household essentials to party bag fillers; click the button again and another 20 will appear.