POUNDLAND can no longer boast that everything they sell costs just £1, according to a ruling from the Advertising Standards Agency (ASA).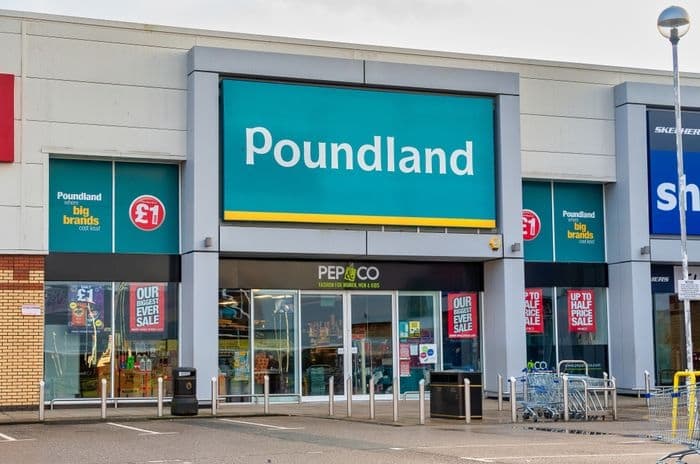 Credit: Craig Russell/Shutterstock.com
The watchdog says the claim on the shop's promotional materials is misleading, given that the company runs promotions offering products that cost more than that, even if there are clear conditions attached to their sale.
The decision was taken after complaints were made regarding the sale of DVDs and CDs at special prices above £1, if customers spent a certain amount on other goods.
Considering the effects of inflation since the company's launch in 1990, could this be another nail in the coffin of the end of the Great British pound shop?
'A single price'
The ruling was made following complaints that while it was understood that Poundland ran special promotions on more expensive products, the company's claim that all items were available for one price couldn't be substantiated.
Meanwhile, another complainant said that in the light of products being available at more than £1, they believed the company was misleading people.
Anyone visiting the Our Values page of the Poundland website used to be told:
"We are very proud to offer you a single £1 price, that hasn't changed since we opened our first store".
The ASA say that while they understand the vast majority of Poundland's products do indeed cost £1, their claims would suggest everything costs that much, regardless of whether they're included in promotional offers or not.
So now, as a result of the ruling, Poundland's "about us" text tells people they can expect "thousands of great products all at £1 across over 500 stores... and sometimes we offer special promotions at other prices."
Poundland have also been told that future adverts mustn't state or suggest they sell all their goods at £1.
Ordinary vs special
The company defended their promotional activity by explaining that all their ordinary products do indeed have one set price; those that don't are only available in specific locations and clearly marked, with the conditions of sale clearly displayed.
In the case of the DVDs and CDs that sparked the complaints, this was at the point of sale, and they were only offered to customers who had spent enough already to trigger the promotional offer.
In the run up to Christmas Poundland was also offering rather large teddy bears at a reduced price to customers who spent more than a certain amount.
The company says bigger items such as these are to be displayed in a stand-alone unit away from other, standard-price goods, and as close as possible to the cash tills.
They say this means no one can accidentally pick up a higher-priced item, regardless of whether they have enough other products to get it at the lower price.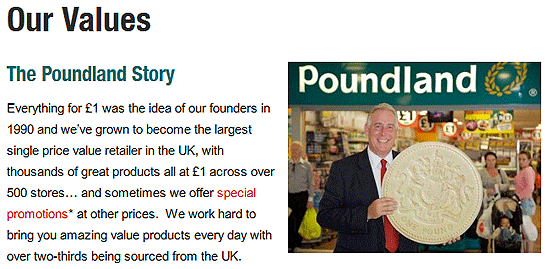 SOURCE: Poundland.co.uk
Different stock
That said, it's often not that difficult to buy more items. The average Poundland store stocks 4,000 different products, and among the cheap stationary, phone accessories, toys and bargain books, are well known names retailing at discounted prices.
In some cases, they'll be the standard product selling for slightly less than they would in any other store - but there may also be some differences.
For example, a multipack of chocolate bars from a standard supermarket might contain four bars, but in Poundland it'll contain three.
Similarly, customers might find their usual shampoo in Poundland at a better price than they do at a shop down the road, but only in 750ml size rather than the standard litre bottle.
But inflation means £1 buys far less than it used to.
Eventually those shampoo bottles and multipacks will have to become so much smaller it won't be worth making, stocking or selling them.
This is where Poundland's other tactics of buying up end-of-line stock comes in - so a fabric softener that seems to have been discontinued everywhere else could well be found for a while longer on Poundland's shelves - and at a lower price.
Customer demand
Even so, many customers don't seem to mind if Poundland does sell more expensive items.
The company say that when surveyed, a significant proportion of customers agreed they would buy items that cost more than £1 from the store - again, as long as they're clearly marked as such, and located in a special place in the shop.
In addition to being used for seasonal and one-off promotions, Poundland could use that customer demand to justify stocking the better known brands that are becoming too expensive to sell at £1.
They've already done something similar. For a while they offered twin packs of a well known brand of shampoo and conditioner for a lower-than-standard price, again dependent on customers spending a minimum amount.
Does it really matter?
Since the financial crisis, budget and discount stores have been growing in popularity. While the economy appears to be recovering, budget chains have continued to flourish.
Budget supermarkets Aldi and Lidl reported sales increases of 26% and 17% respectively in the third quarter, and in February, Poundland announced a 12% increase in half-year profits.
At the same time, they revealed their intention to buy rival 99p Stores for £55 million, subject to the approval of the competition watchdogs.
That would give Poundland, who have more than 500 shops across the UK already, another 251 stores.
Were it not for their name, history and reputation, Poundland could do what many companies have done in the past and gradually become more flexible regarding prices while remaining recognisably cheap.
But short of a major rebrand at some point, that limited definition they've lumbered themselves with leaves them with only a few options. It'll be interesting to see how they proceed.