PM advocates bill caps as mobile debt soars
©iStock.com/dchadwick
TELECOMS bosses have been called to Whitehall today to discuss capping soaring mobile phone, broadband and pay TV bills.
Calls to National Debtline for help with mobile phone arrears have increased by 261% since the launch of the first iPhone, the charity said earlier this week.
13,398 people spoke to the free debt help service about phone debts in the past eight months.
Government demands action
Eight providers - BT, Virgin, TalkTalk, BSkyB, O2, EE, Vodafone and Three - will discuss cutting the cost of bills at the summit with the Department of Culture, Media and Sport.
David Cameron is hoping that both mobile and fixed line companies will offer concessions to keep bill increases down in the form of a voluntary code of conduct.
A few weeks ago, Ofcom announced changes that will make it easier for customers to leave contracts when they're faced with price rises but, the Government is expected to argue, more could be done to help those facing increased bills.
Mobile companies may be asked split the monthly bill so that customers can clearly see how much they're paying for the handset and their calls, texts or internet.
After successfully introducing the faster switching service for current accounts, ministers may also want consumers to be able to switch their mobile provider with the same convenience.
It's also thought that they'll ask a promise that cheap deals will be advertised more clearly, so that customers are not paying more than necessary.
However, as Virgin Media have already announced a 6.7% price hike for their customers, their second big increase this year, and BT are set to increase their prices early next year, it seems likely that providers will argue that price increases are necessary.
Smartphone debt
The Prime Minister's new found commitment to lowering bills comes as debt charities report that the number of people struggling to pay their mobile bills is on the rise.
15% of people enrolled in The Money Advice Service's My Money Steps debt management programme owe over £1,000 to a mobile phone provider.
In all, 11% of all calls to the charity are now about telephone bills, compared to 6% in 2007.
Yet headlines that claim that high mobile phone bills are "sending thousands into spiralling debt" (that one's from The Mirror) seem wide of the mark.
The iPhone launched in 2007, the same year as the financial collapse started.
Since then Britain has been through a recession and more people have been struggling with all aspects of their finances.
According to debt charity, StepChange, most people who fall into debt say the reason is unemployment or redundancy.
Overspending, for example on phone contracts, is the main cause of debt in only 10% of cases, the charity sees.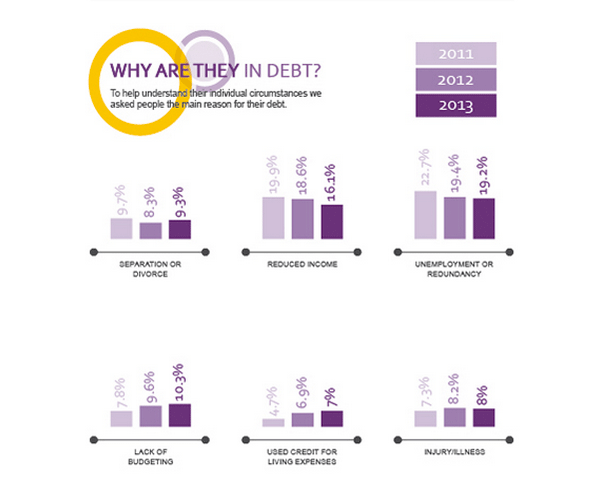 Source: StepChange (CCCS)
Low priority debt: harsh consequences
Calls for help with mobile contracts could also be rising because these are low priority debts: people are, quite rightly, more willing to go into arrears with their telecoms provider than they are to leave their rent or mortgage unpaid.
Even so, however, mobile phone customers in particular are essentially taking out a loan. The top of the range smartphones can cost in excess of £500 but many contracts give them away for 'free'.
As soon as the monthly payment is missed, consumers are defaulting on a credit agreement which will show up on any credit report (more here).
It might not be a widespread issue, but it has certainly caused problems for some people.
In some cases, mobile phone companies have placed defaults on customer credit files, meaning that future credit applications - including mortgages - are thrown into jeopardy.
18 October 2017
17 October 2017
12 October 2017
Follow us or subscribe for FREE updates and special offers