THE number of payday lenders and betting shops in the UK has increased sharply over the past few years.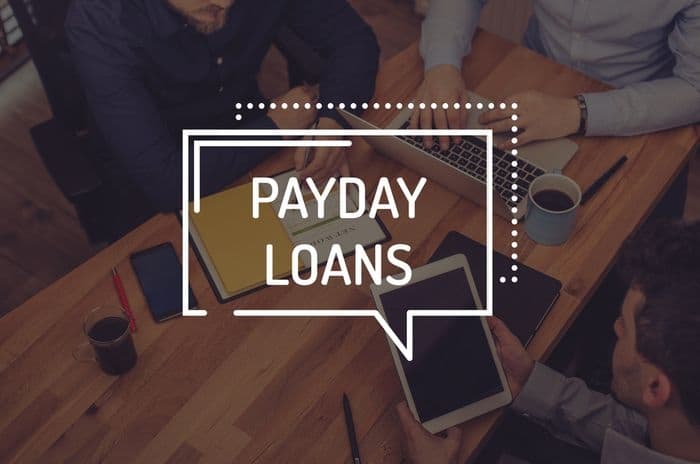 Credit: garagestock/Shutterstock.com
In 2006, the Money Shop had 168 shops, while Betfred had 580.
Last year, the payday lending chain had increased their shopfronts by 235%, 564 stores, while the bookmakers more than doubled in size, to 1,350 shops.
Both businesses, and many like them, have taken advantage of empty premises and lower rents to expand onto High Streets. In fact, often they end up next to one another.
Which made us wonder: how often? And should we be worried?
The payday/betting shop correlation
To find out we took a look at a London borough that has fought hard to keep both payday firms and betting shops out: Southwark.
Red markers show payday lenders, blue shows betting shops.
As you can see, there is a weak correlation: of the 39 shops we looked at, 11 were 100 metres or less apart, or 28%.
As might be expected, most of the shops that were close to each other were on a High Street, a section of Walworth Road close to the East Street market which also has a number of supermarkets, clothes shops and other stores (to see it on the map, zoom in on the big red cluster in the middle).
Only two premises were actually side by side, a Coral and a Money Shop.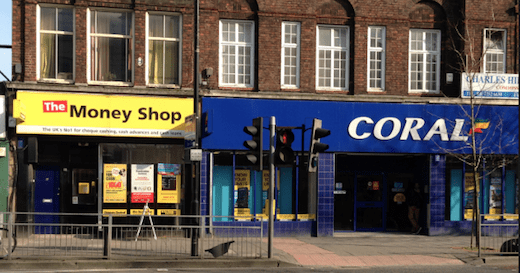 SOURCE: Choose photo taken 13/03/14.
In general, bookmakers seemed more likely to open shops in the more suburban parts of Southwark, alongside convenience stores, launderettes and barbers.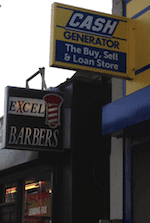 Payday lenders tended to stick to highly visited high street areas.
This pattern makes sense when you consider that there are 8,500 licenced betting premises in the UK and, according to figures released by The Guardian today, 1,479 shops run by major payday lenders. Betting shops spread out more.
Should we be worried?
Simon Read, a blogger for The Independent has argued that payday lenders opening up next to bookies is a concerning development.
"Who is more likely to be tempted by an offer of instant money than a gambler who has just lost a packet?," Read wrote last year.
"[Or]... what if someone has been forced to resort to turning to a high cost payday lender to raise cash to pay for essentials, such as food or heating?... With cash in their hand as they walk out the door, being presented with the 'chance' to turn it even into more money could be very tempting."
However, there doesn't seem to be any research linking high cost credit and gambling.
Although some gamblers may have used high cost loans, and there's certainly evidence that many people take out a number of loans, none of the numerous recent UK studies on this subject haven't turned up gambling as a reason for borrowing.
It seems more likely that seeing a payday lender and a bookmakers next to one another is doubly disagreeable to those that don't like either.
The battle for the High Street
In many ways, the arguments over shops mirror the arguments over payday loans and gambling in general.
Speedy Cash, which has a branch of Walworth Road, has been criticised for covering its shops in balloons, handing out sweets, dressing staff up as kangaroos to promote their high cost loans and, at the lender's Brixton branch, hosting a "free photo with Santa" event last Christmas, just as online lenders have been criticised for targeting children through TV advertising.
The Guardian's report today focused on how clusters of payday loan shops are correlated with pockets of material deprivation, arguing, as the FCA has, that high cost loans are often taken out by people who are extremely likely to fall into problem debt.
Payday lenders often move into old bank branches, since they already have the right trading permissions, neatly demonstrating how payday has often become a better alternative than the mainstream banks.
Yet, in other ways, the battle for the high street can miss the real problem of payday, focusing on the visibility of the businesses.
The truth is that money shops are the tip of an iceberg, the vast majority of payday loans are taken out online.
Having said that, visibility alone could be a good enough reason for local councils.
About a year ago, Ed Miliband said that Labour would give local councils more power to stop unwanted shops opening in "the heart of our local communities", a call which sprang from the efforts of councils like Southwark to block new lenders and bookies from opening.
They have failed because they've been unable to persuade planning officials that these shops are a serious blight that prevents other economic activity and because those concerns are secondary to planning law which limit the council's influence.
Earlier this month the Local Government Association (LGA) said that councils were "left powerless" by current regulation.