OLDER people are most at risk of fraud and Age UK are calling on the Government to do more to stamp it out.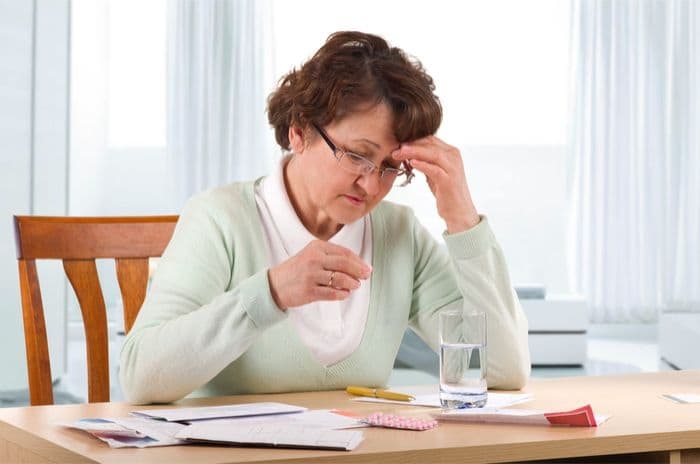 Fraudsters are targeting older people because it's presumed they have more money than the young.
They're particularly at risk of pension liberation scams, investment fraud, doorstep crime and bank account takeover.
Using clever tactics, fraudsters talk people into handing over cash or personal information, with added negative consequences on taxes, benefits and mental health.
As new pension freedoms come into effect this week, there's growing concern pensioners will be even more aggressively targeted.
The Financial Conduct Authority's (FCA) "Scam Smart" campaign should go some way to raise awareness, but Age UK want the Government to create a National Scams Task Force to coordinate efforts and tackle fraud on individuals.
Patchy evidence
Age UK say evidence on the prevalence of fraud on individuals is "patchy and ultimately unsatisfactory" - so it's difficult to work out the true number of people affected.
In 2013/2014, there were 211,344 instances of fraud recorded by the Office of National Statistics (ONS).
But these figures include fraud against organisations like HMRC and the Department for Work and Pensions (DWP).
So Age UK estimate there were 165,488 offences against individuals. However it's likely many cases of fraud go unreported.
Often victims are too embarrassed to report fraud and blame themselves for falling prey to scams, but Age UK also point to issues with the reporting systems themselves.
They say it's "abundantly clear that urgent improvements are needed in the recording and publication of statistics" and suggest annual reporting by a single organisation is necessary.
Targeting
Citizens Advice agree fraudsters are most likely to target people just before and during retirement.
During 2014/2015, those aged over 55 were 64% more likely to visit Citizens Advice about a scam or fraud than the average client.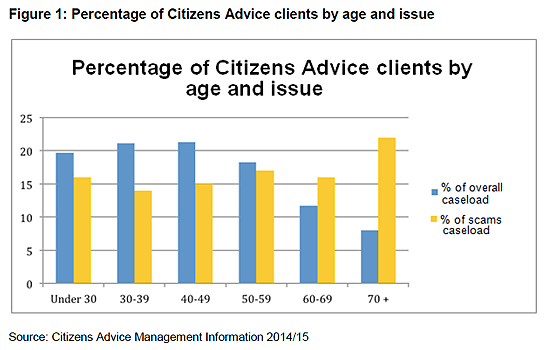 And while less than 10% of clients were over 70, they made up over 20% of scam cases.
Despite efforts to better inform people through schemes like Pension Wise, the problem's likely to become more of an issue when over-55s gain full access to their pensions this month.
In fact fraudsters are already creating fake Pension Wise websites, specifically targeting those seeking pension guidance.
Disjointed efforts
While work to tackle fraud against HMRC and the DWP is highly focused, it's not the case for fraud against individuals.
Organisations including Citizens Advice, Age UK, the FCA and the ONS carry out surveys, publish reports and run anti-fraud campaigns, but their efforts are disjointed with no single organisation to coordinate.
For example, Citizens Advice cite the 79-year-old who handed over £7,700 worth of savings to a scam wine investment.
He was then contacted by letter stating he might lose the money he'd already invested if he didn't hand over a further £5,500.
The FCA later confirmed the company wasn't registered with them; perhaps better awareness, a more coordinated effort and earlier intervention could have prevented this.
And interestingly, Citizens Advice find unsolicited phone calls are the most common form of fraud contact, yet the FCA's "Scam Smart" and the Pension Regulator's "Don't Get Stung" campaigns focus on online awareness.
The problem is, fraudsters do target internet users, but they also target many people who aren't.
Given 60% of people lack the skills required to access core services online, many will remain uninformed unless improvements are made.
Scam Awareness Month
While Age UK found no glaring issues with legal regulations, they believe more needs to be done to prioritise investigating and tackling fraud against individuals.
At the moment, efforts revolve around increasing awareness.
Citizens Advice are many people's first point of contact about financial issues: during 2014/2015, 93,000 people sought their help for pensions issues face to face, and 200,000 online.
Today they announced they'd be working more closely in the future with the FCA and the Pensions Regulator to "share intelligence on pensions and pensioner scams".
They're also organising a "Scam Awareness Month" during July focusing on pension fraud and are carrying out a "major programme of research" to understand how people "navigate their decision making process around retirement".