GOVERNMENT benefit cuts mean that households earning the National Living Wage (NLW) won't make enough to maintain a "minimum acceptable living standard" by 2020, a leading charity says.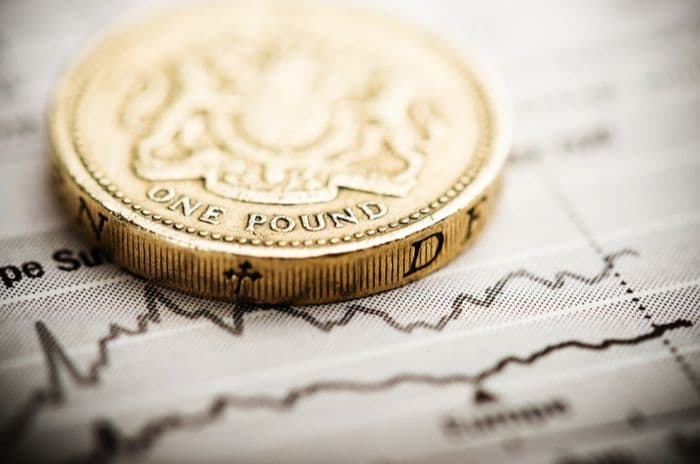 Credit: Valeri Potapova/Shutterstock.com
Research carried out by the Joseph Rowntree Foundation (JRF) projects how a range of low income households will fare over the next few years under the Chancellor's July budget.
The results make depressing reading, with none of the groups expected to be able to afford the essential goods and services they need in the next five years.
Lone parents hit hardest
Things will be particularly tough for working single parents who will have just 71% of the money they need by 2020 - a weekly shortfall of £80.
JRF chief executive Julia Unwin says that lone parents "face a decade of sharply declining living standards", and we've already covered Gingerbread's concerns about the benefits cap forcing single parents into "desperate situations".
The Government say parents of very young children shouldn't have to show they are looking for work - childcare comes first.
But many such parents find themselves having to consider working at least 16 hours a week in order to qualify for Tax Credits to escape the confines of the benefits cap.
Even households where one parent works full-time and one part-time will see their living standards deteriorate if they are paid the NLW, with the JRF report predicting they will face a weekly shortfall of £89.
It's not just charities saying that Government plans to cut working tax credits and child benefit will leave these households worse off.
The independent Institute for Fiscal Studies (IFS) say that even taking the National Living Wage into account, many families will be "significantly worse off".
They say as many as 13 million families could lose out, by an average of £260 a year - with three million families losing an average of £1,000.
Falling short
Other low income households - from single people through to families where both parents work full time, all on the NLW - will be marginally better off than they are now, but they'll still fall short of earning the minimum income standard.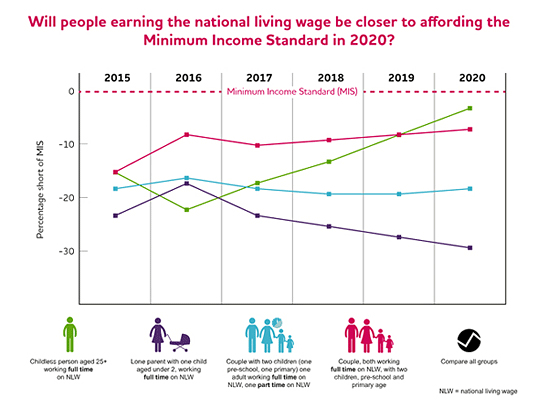 SOURCE: Joseph Rowntree Foundation
The minimum income standard isn't just about covering the essentials, it's based on the results of conversations with real people about what they think we all need for a decent life - things like running a car, paying for an internet connection or buying a modest birthday present.
But even these figures are interesting when we look more closely at them.
Take, for example, those given for two working age adults living with two children.
According to the Minimum Income Standards calculator, the minimum income required to give such a family a basic standard of living is at least £36,140, depending on how old the children are.
That breaks down to £569 a week, with at least £98 assigned to food spending, and just over £92 given over to "social and cultural activities".
In contrast, the amount set aside for rent each week remains at £92.42- or £400 a month - no matter whether the children are babies or teenagers.
As we reported in June, that's not enough to cover the cost of a three bedroom housing association home anywhere but a few areas in the north - and renting privately is out of the question.
That's because, as we reported in April, the average rent across the UK (including London) had reached almost £900.
Does anyone gain?
Just 6% of low-income families will actually gain from next year's rise in the minimum wage, if the reduction in Government benefits is taken into account.
Approximately 4.5 million people will see their wages increase after the introduction of the National Living Wage.
While the increases may not bring everyone above the minimum income standard set out by the JRF, it is a step in the right direction, say trade unionists.
"We've long argued that Britain needs a pay rise, and the new supplement to the minimum wage is a welcome step forward," said TUC general secretary Frances O'Grady.
Over the next few years, most of the winners will be women, with around 29% of female employees enjoying a wage increase, compared with 18% of males.
"Because of their concentration among the low paid, women will account for the majority of the winners," says Conor D'Arcy, a policy analyst from independent think tank, the Resolution Foundation.
"This will have a positive - though modest - effect on the gender pay gap, and will particularly help those working part-time."
So, although women will get more money, they'll still be in relatively lower paid positions. This explains why women are predicted to gain less annually than their male counterparts.
The Resolution Foundation say that by 2020, women will gain an extra £690 a year, but men will benefit by another £860 a year.