First established in London, due to the higher cost of living in the Capital, the Living Wage, or 'Real Living Wage' aims to ensure people receive a minimum pay that covers their living expenses.
While the minimum wage was previously set by businesses and trade unions, the Real Living Wage is calculated according to the current cost of actual goods and services and therefore how much it actually costs to live.
It's a voluntary movement, but so far over 10,000 UK businesses have pledged to pay it. It also helped prompt the Government to introduce the National Living Wage in April 2016, which is now a statutory rate of pay for employees aged 23 or over.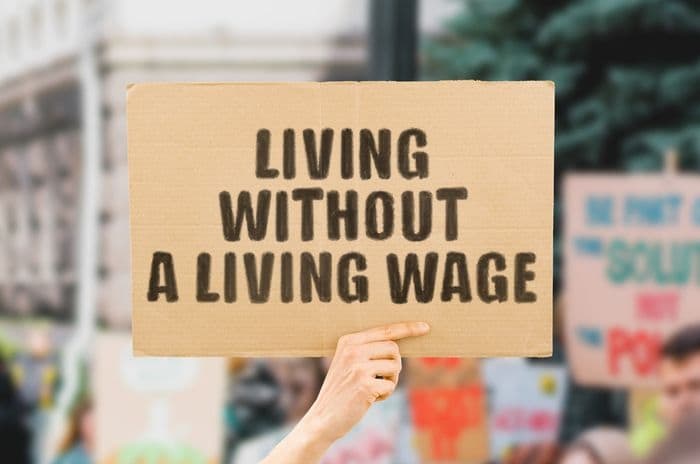 Credit: AndriiKoval/Shutterstock.com
---
How much is the Living Wage?
Real Living Wage
The Real Living Wage is voluntary and provides a benchmark figure based on research into minimum income requirements. It uses the cost of actual goods and services and is therefore linked to inflation.
It's calculated annually in November by the Resolution Foundation and the Living Wage Commission, and uses the Minimum Income Standard (MIS) for the United Kingdom. The MIS is based on actual public input and is carried out by Loughborough University's Centre for Research in Social Policy.
While it's a voluntary wage, the Living Wage Foundation certifies businesses who pay their staff at least this amount. So far 10,000 UK businesses have signed up.
As the Real Living Wage increases with the cost of living, certified businesses are given six months in which to roll out that pay rise to their staff. Meaning Living Wage increases announced in November, must become minimum pay for certified business staff by the following May.
How much is it?
The Real Living Wage is currently:
£9.90 per hour in the UK
£11.05 per hour in London
Who gets it?
The Real Living Wage applies to any employees aged 18 or over of Living Wage certified businesses. To check if a particular company has been certified, see the Real Living Wage site here.
Some of the biggest companies signed up to the Real Living Wage include:
Ikea
Aviva
Nationwide
SSE Energy
Nestle
Burberry
Oxfam
National Living Wage
The Government replaced the minimum wage with the National Living Wage for most workers in April 2016. The National Living Wage aims to improve the pay of low earners by setting a statutory minimum income based on a percentage of median earnings across the UK.
While it's a statutory requirement for all businesses in the UK to pay, it only applies to employees aged 23 or over, and unlike the Real Living Wage which considers increased living costs in London, there is only one rate for the entire UK.
How much is it?
From 1 April 2022 the National Living Wage is:
Who gets it?
All employees aged 23 or over in the UK. Anyone under 23 will be entitled to the minimum wage. Currently the rates are:
| | 23 and over | 21 to 22 | 18 to 20 | Under 18 | Apprentice |
| --- | --- | --- | --- | --- | --- |
| April 2022 | £9.50 | £9.18 | £6.83 | £4.81 | £4.81 |
---
How is the living wage calculated?
The Resolution Foundation calculate the Real Living Wage based on several factors, these include:
A basket of goods and services
Rent
Council tax
Childcare
Travel
Taxes and benefits
The calculation also considers different family types and the cost differentials they're likely to experience, with assumptions made on the types of housing they're renting. Eligible benefits and applicable taxes are taken into consideration such as Child Benefit and Universal Credit.
The calculation is revised annually to ensure its accurately considering changing costs of living, for example increased housing costs and reduced take home pay due to auto-enrolment in workplace pension schemes.
These costs of living are then used to work out an hourly wage requirement to provide a basic but sustainable income.
Real Living Wage vs National Living Wage
The National Living Wage on the other hand is calculated based on a percentage of median earnings across the UK. While this has seen minimum incomes rise since its implementation, it doesn't consider inflation or the cost of living during say a recession when wages are stagnating more generally.
For example, the National Living Wage has remained under the Real Living Wage since it started in 2016:
| | London Living Wage | UK Living Wage | National Living Wage |
| --- | --- | --- | --- |
| 2016/2017 | £9.75 | £8.45 | £7.20 |
| 2017/2018 | £10.20 | £8.75 | £7.50 |
| 2018/2019 | £10.55 | £9.00 | £7.83 |
| 2019/2020 | £10.75 | £9.30 | £8.21 |
| 2020/2021 | £10.85 | £9.50 | £8.72 |
| 2021/2022 | £11.05 | £9.90 | £8.91 |
The Institute for Fiscal Studies reported in 2021 on the impacts of the introduction of the National Living Wage, and found 5.4% of employees had benefited from an increased minimum wage to the NLW. In addition, they found just 0.1% of reduced employment overall, suggesting the increase in wage costs did not overly negatively impact businesses.
However, the Living Wage Foundation are still critical the National Living Wage is not enough - highlighting losses of £8,400 per person in income between 2016 and 2021 for workers in the UK, and £21,800 for workers in London.
In fact even when the National Living Wage was first announced, changes in the budget to taxes and benefits cuts in the same year left many families "significantly worse off", despite tough penalties for any businesses who avoided paying it.
Joseph Rowntree Foundation also reported in 2022 that the proportion of individuals in households living below the Minimum Income Standard remains slightly higher in 2019 at 27.7%, than it was in 2009 at 26.7%.
In addition, they point out in their Minimum Income Standard research for 2021 that a single person needs to earn £20,400 a year to reach a minimum acceptable standard of living, yet the National Living Wage only allows for them to earn around £17,400 per year.
Similarly, two adults with two children need to earn £34,200 in total according to MIS, yet to achieve this under the National Living Wage both adults would need to be working full-time. Yet they point out only one in four couples can usually do this due to childcare commitments.
---
Increasing popularity
In 2016, just as the Government had begun implementing the National Living Wage there were around just 2,300 companies signed up to the Real Living Wage. In the few years prior, the number of Living Wage employers was doubling almost every 12 months.
Fast forward to 2022, and there are now over 10,000 companies signed up as accredited Living Wage employers, with over 300,000 workers benefiting from it.
Among them are numerous FTSE firms, hundreds of independent businesses, and local authorities including Cardiff, Birmingham, Brighton and Hove, Croydon, Reading and Manchester among others.
However, as of 2021, there were 1.4 million private sector businesses in the UK with at least one employee. That means less than 0.0007% of companies with employees in the UK have signed up to pay the Real Living Wage.
While the Real Living Wage campaign has seen strong growth and many more companies adopt the rates of pay without certification, these figures highlight the clear need for a statutory minimum rate of pay and why the implementation of the National Living Wage was so important.
---
Benefits for business
In addition to ensuring a basic standard of living for workers, the Real Living Wage has shown to be beneficial to businesses adopting it as well.
The major benefits for businesses are said to include:
Staff retention and easier recruitment
Lower rates of absenteeism and sick leave
Enhanced quality of work and productivity
Increased staff morale and motivation
Brand and reputational benefits
Research carried out in 2009 by London Economics found 80% of employers in London believed that paying a 'London Living Wage' had enhanced the quality of the work of their staff. In addition, almost 75% of employees reported increases in work quality as a result of receiving the London Living Wage.
Companies paying the London Living Wage also reported a reduction in absenteeism of around 25%, and two thirds of employers said they noticed a positive impact on recruitment and staff retention.
The Living Wage Foundation carried out research with Cardiff Business School in 2017 surveying more than 800 accredited Real Living Wage businesses. The research found that paying the Real Living Wage had increased commitment and motivation of Living Wage employees and improved recruitment for over half of businesses, and 86% of businesses said it had enhanced the company's reputation as an employer.
---
Summary: Is the National Living Wage enough?
According to the OECD, the UK had the eighth highest adult minimum wage out of 25 OECD countries in 2019, based on the National Living Wage and taking into account differences in the cost of living.
The Government is already planning to increase the National Living Wage to two-thirds of median earnings and for it to apply to workers from 21 years of age from 2024. These targets are estimated to increase the National Living Wage to £10.60 per hour by 2024, and £11 per hour by 2026.
With inflation rising at 9% in 2022, its fastest rate in 40 years, and some costs like food increasing by as much as 15%, its clear to see the minimum wage calculation is unlikely to keep up. In fact, wages across the board have actually fallen by 1.2% compared to 12 months ago and so a median calculation is unlikely to protect workers from the rising cost of living.
While there have been calls by trade unions for a £15 minimum wage and it may become part of Labour's general election manifesto, the Resolution Foundation have already said it is not "an economically viable policy in the short-to-medium term", and a professor from the London School of Economics dismissed it, suggesting it could prevent people training for skilled jobs such as nursing.