MORE people are struggling on low incomes than there were during the recession, new research suggests.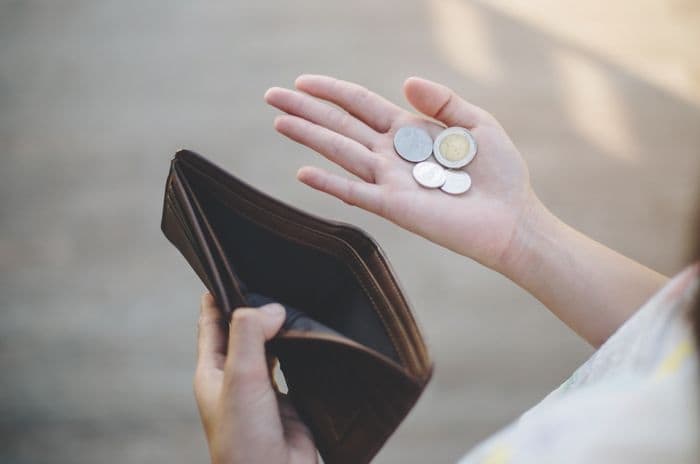 Credit: MR.SUWAT RITTIRON/Shutterstock.com
Some 11.6 million households don't have enough money for an acceptable standard of living - a third more than there were in 2008.
Anti-poverty charity, the Joseph Rowntree Foundation (JRF), says that the decline comes despite rising employment and the economy's return to growth.
Falling living standards
The study covers the period between 2008/09 and 2013/14, during which living standards "fell substantially" as the cost of essentials rose faster than inflation.
The benchmark this is judged against is the Minimum Income Standard (MIS) - an indicator determined by asking members of the public to define what they need to "live to an adequate level".
It includes expenses such as running a car, paying for an internet connection or buying a modest birthday present.
Katie Schmuecker, policy and research manager at JRF, says that "more families are still falling short of what they need to make ends meet" - with 40% below the MIS.
Cuts in benefits have played a significant role in the changes, having "outweighed improved job prospects".
For example, in couples with a single breadwinner, more than half (51%) are at risk of falling below the MIS - up from 38% in 2008.
Single parents who work full time also struggle, with 41% living on incomes below the MIS - up from 26% in 2008.
Even with both parents in full time work, 12% can't meet the MIS - up from 5% in 2008.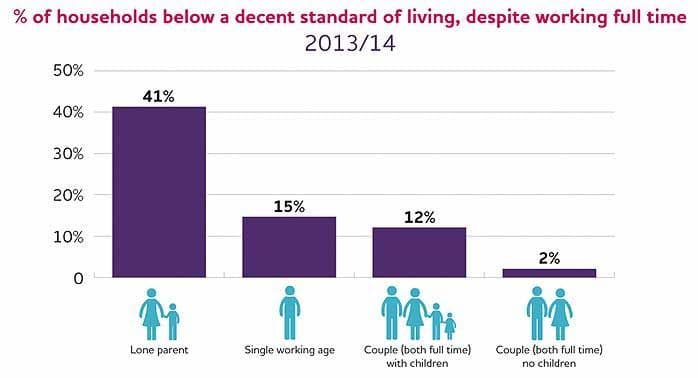 SOURCE: Joseph Rowntree Foundation.
Worse to come
Because the above figures include data up until 2014, they show how the benefits cap, introduced in 2013, has started to affect households.
The cap limits the amount in benefits a family can receive in one year to £26,000, and works out at a maximum of £500 a week for couples and single parents.
So far, 63% of the households affected by the cap are single parent families.
In 2015, the Government announced plans to further reduce the cap to £23,000 in London and £20,000 outside the capital, prompting charities to warn of lives "blighted by poverty".
Although tax credits have so far been exempted from the cap, the Government plan to freeze benefits such as working tax credits and child benefits between 2016 and 2018.
The introduction of the benefits cap also coincided with the arrival of the so-called bedroom tax in April 2013, which saw housing benefit being cut for those living in social housing who have what could be described as a "spare" bedroom.
The JRF report says that social tenants have since become "more likely" to fall short of the MIS.
Making work pay
The Government's justification for all these cuts - aside from reducing the benefits bill - is that they will encourage people to find work, even if it doesn't pay particularly well.
When it comes into effect in April this year, the National Living Wage (NLW) will require employers to pay all workers aged over 25 at least £7.20 an hour.
Unfortunately, the Institute for Fiscal Studies (IFS) say that even taking the NLW into account, many families will be "significantly worse off" - because the wage doesn't cover the rising cost of living.
The independent Living Wage Foundation says that the hourly amount we need to earn for a reasonable standard of living is currently £8.25 an hour outside London, and £9.40 an hour in the capital.
While there are currently 1,800 employers who are Living Wage accredited, the scheme is voluntary; there have already been complaints from numerous big name employers that about having to try to meet the Government's new NLW.
More cuts
Then there's the Universal Credit work allowance scheme, which comes into effect this April, under which anyone earning more than £4,764 will have their benefits reduced.
Again, working single parents will be hit particularly hard. The IFS suggest that they'll lose an average of £1,000 a year.
So although, as the JRF put it, "things have stopped getting worse overall", it's more that the rate at which people are falling below the MIS has slowed, rather than stopping or reversing.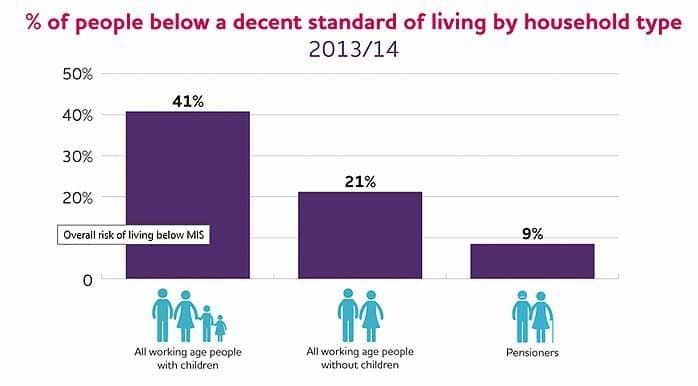 SOURCE: Joseph Rowntree Foundation.
But for those in an at risk group, that risk is rising - so that according to their forecasts, all types of low income households - from young singles to large families - simply won't be able to afford the essential goods and services they need over the next five years.