Help-to-buy ISAs don't help everyone to buy their first home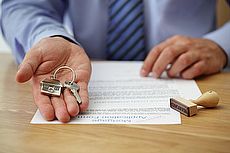 ©iStock.com/BrianAJackson
EXPERTS have criticised the 'help-to-buy' ISA launched by the Government last year, pointing to a clause stating that buyers won't receive any payout until after they've purchased their new homes.
More than 500,000 people have signed up for the ISA since its rollout last December, yet many are only now realising that the maximum payout of £3,000 is released only after they've paid the exchange deposit for their new property themselves.
Experts and MPs claim this undercuts the original purpose of the ISA, making it considerably more difficult for first-time buyers to step onto the property ladder.
Yet it also hampers one of the professed goals of Theresa May's new Government - social mobility, acting as a brake on social climbing and as a reinforcer of pre-existing inequalities.
Supporting a new generation
First proposed under the coalition Government in March 2013, Help to Buy was described by the then-Chancellor, George Osborne, as a scheme intended "to support a new generation in realising the dream of home ownership."
"Another Tory con - help-to-buy ISAs don't help to buy."
Owen Smith, Labour leadership candidate
A key part of this scheme is the ISA introduced in Mr Osborne's 2015 budget. Like the equity loan and mortgage guarantee preceding it, it was designed to address "the high deposits required by the banks to secure a mortgage."
It enables prospective home buyers to open a savings fund, allowing them to save up to £200 each month and rewarding them with up to £50 extra if they do so. In addition, it provides a further £250 if savers pay £1,000 into the account in its first month.
When these funds are used to purchase a mortgage, the government contributes an additional sum equal to 25% of the ISA, up to a maximum total of £3,000.
As generous as these terms may initially seem, the issue being highlighted by financial experts and MPs is that this payout isn't actually paid out as part of the saver's payment on an exchange deposit.
In some cases, savvier buyers may be able negotiate for this deposit to be considerably less than the 10% often demanded by sellers.
This means that, if they successfully have the initial deposit lowered to 3%, they'll be able to defer the payment of the remaining 7% until after the sale's completion. Once complete, they can then use the bonus to pay towards the remaining fees.
Nonetheless, even with the possibility of negotiating, the fact that the bonus isn't available until after contracts have been exchanged has lead many to question whether the ISA genuinely helps a "new generation" get that first foot onto the property ladder.
Andrew Boast of SAM Conveyancing declared, "It is a scandal. The Government launched this scheme declaredly to help people save the large exchange deposit required to buy a home."
Similarly, Labour leadership contender Owen Smith labelled the ISA as "another Tory con - help-to-buy ISAs don't help to buy."
"Con" may be a strong word, but the fact is that many aren't aware they won't receive a maximum of £3,000 towards the exchange deposit on their new dream home.
For example, The Daily Telegraph reports that high street banks "were unaware of the restrictions," suggesting that they've been failing to inform those customers of theirs who take out an ISA with them.
This is corroborated by reports of disappointed people who end up having to take out credit-card loans after belatedly learning of the ISA's specific conditions.
Nice bonuses
That some buyers are having to choose between going into credit-card debt or not buying a house at all strongly indicates that, because it doesn't help towards the initial deposit, the ISA will fail to live up to its promise.
Rather than help young and working-class people who've been saving for a deposit but need just a little extra push to afford one, its under-reported clause seems better placed to help those who can already afford a home but wouldn't mind receiving a nice £3,000 'bonus' from the Government.
The possibility of this was highlighted when it emerged earlier this year that Conservative MP Peter Bone and his wife Jennie used the help-to-buy equity loan to purchase a home in his constituency of Wellingborough.
Mr Bone earns £74,000 a year as an MP, while his wife receives a taxpayer-funded salary of £45,000 as his executive secretary. Yet even with their combined six-figure income they still took a Help to Buy loan of £35,000 towards the cost of their new £175,000 abode.
Clearly, this loan wasn't means-tested. Apart from the requirements that account holders are first-time buyers and are purchasing a property under £250,000 (or £450,000 if they're in London), neither is the ISA.
This opens it up to being used by people who don't necessarily need a £3,000 bonus, much like the other Help to Buy initiatives tended to be used by people whose median incomes were noticeably above the national average.
Conversely, the requirement that holders must first pay their exchange deposits before receiving the payout means that it potentially closes itself to those who are unable to afford a mortgage, not because they don't work, but because their high living expenses prevent them from being able to save enough.
It's also such people who'll be less likely to even realise that they can negotiate for a lower exchange deposit, in contrast to their more experienced and affluent counterparts.
Reinforcing inequality
This imbalance is serious precisely because it risks perpetuating the very inequalities and injustices that the Help to Buy scheme was intended to address.
In having a built-in preference for the better-off at the cost of the worse-off, it may end up working simply to preserve the socio-economic divisions that serve to make the UK the most unequal nation in the EU.
Indeed, this may be part of the reason why less than 1,500 people out of 500,000 subscribers have actually bought a home with the ISA. That said, it hasn't been running long enough for most of them - except for the presumably affluent - to put away enough money for a deposit.
Whether they will actually save enough is another question entirely, especially given the news that the Government won't be helping with the first deposit they have to put down in order to buy a home.
In light of a stagnating UK economy that may enter recession, they'll need more help than ever to get onto the housing ladder. This is why the Government should seriously consider the terms of its help-to-buy ISA, since otherwise its main takers may be those who would've stepped onto the first rung anyway.
Better yet, the Government could consider doing something to stimulate the expansion of the UK's dwindling housing stock. That way there might be more homes the UK public can afford without their sometimes misguided help.
12 October 2017
10 October 2017
9 October 2017
Follow us or subscribe for FREE updates and special offers