HSBC have ended charging valuation fees, saving their mortgage customers hundreds of pounds when purchasing a new home.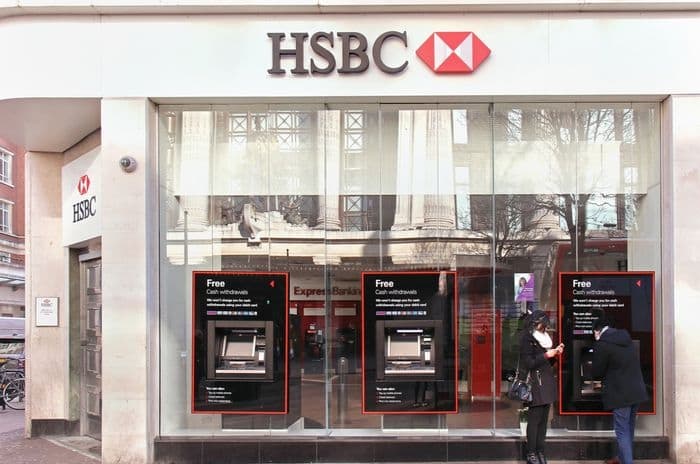 Credit: Ttatty/Shutterstock.com
The cost of valuation fees generally vary with the value of the home being purchased, yet in HSBC's latest tariffs they rise up to £521 for properties worth below £1 million.
Their move comes at a time when, minus some notable exceptions, most banks and building societies are still charging valuation fees, forcing their customers to add yet more expense to what is an already costly purchase.
Yet given that, even with a slump in the growth rate, house prices remain particularly high by historical standards, many people will still be unable to take the first step onto the property ladder, even with HSBC's welcome gesture.
Details
The news of HSBC's removal of valuation fees is, in itself, pretty simple: as of Monday September 11th, they're no longer charging their mortgage customers any valuation fees.
That's about it, although they provide the following examples of what customers are likely to save under the new regime:
£173 for property values between £150,001 and £200,000
£227 for property values between £250,001 and £300,000
£281 for property values between £400,001 and £500,000
As a further guide to what customers can expect to save, HSBC's Tariff of mortgage charges [PDF] states that such fees used to rise to £521, with fees for homes worth more than £1 million being negotiable.
Now, they will rise to exactly £0, with HSBC's Head of Retail Products, Tracie Pearce, marking their removal by saying, "by removing Valuation Fees and potentially saving [customers] hundreds of pounds we are helping them to keep initial costs down and improving their cashflow, giving them a bit more spending power when they move in".
Other banks and lenders
Yet what's significant about HSBC's move is that many banks are still charging valuation fees.
RBS (i.e. NatWest and the Royal Bank), for instance, charge an administration fee for their basic valuations, on top of the fee for the valuation itself:
| Valuation band | Standard valuation excluding valuation administration fee | Valuation administration fee |
| --- | --- | --- |
| Up to £100,000 | £123 | £75 |
| £100,001 - £250,000 | £173 | £75 |
| £250,001 - £500,000 | £277 | £75 |
| £500,001 - £700,000 | £459 | £75 |
| £700,001 - £850,000 | £552 | £75 |
| £850,001 - £1,000,000 | £627 | £75 |
Another bank who charge for valuation are Santander, who despite not charging for "administration costs" separately, have higher charges than RBS, unless you're in Scotland:
Purchase price up to
England,
Wales and
N. Ireland
Scotland
£50,000
£185
£95
£100,000
£220
£95
£150,000
£260
£95
£200,000
£295
£95
£250,000
£330
£95
£300,000
£365
£95
£400,000
£430
£340
£500,000
£490
£400
As for Lloyds Bank, they don't charge for the basic valuation, although they have the following structure for Level 2 mortgage surveys and valuations, which are optional rather than mandatory:
| Property value | Level 2 survey and valuation fee |
| --- | --- |
| Up to £150,000 | £225 |
| £150,001 to £250,000 | £250 |
| From £250,001 to £300,000 | £275 |
| From £300,001 to £500,000 | £300 |
| From £500,001 to £600,000 | £350 |
| From £600,001 to £700,000 | £400 |
| From £700,001 to £800,000 | £500 |
| From £800,001 to £900,000 | £550 |
| From £900,001 to £1,000,000 | £650 |
And finally, there's Barclays, who stopped charging valuation fees for residential (but not buy-to-let) customers last year, although they do charge for properties priced worth at least £2.5 million.
There are also a number of building societies who still charge for basic valuation, such as Yorkshire Building Society (between £145 and £390 for properties up to £500,000), and Halifax (£240 to £500 for properties up to £500,000).
That said, Nationwide are one building society who don't charge for basic valuation, meaning that even if HSBC can lay claim to offering a better deal than many of their rivals, their boasts don't apply to all of them.
House prices
Yet what dampens their vanity more than the fact that Barclays, Lloyds Bank and Nationwide also offer free basic valuations is that the charges for such valuations are largely a drop in the ocean compared to the expense of property in the UK.
Last year, house prices were rising by just over 10%, and while the growth rate shrunk to 2.1% in July and even been negative at one point in 2017, such easing of the market still left buyers having to chalk up £222,293 on average in August.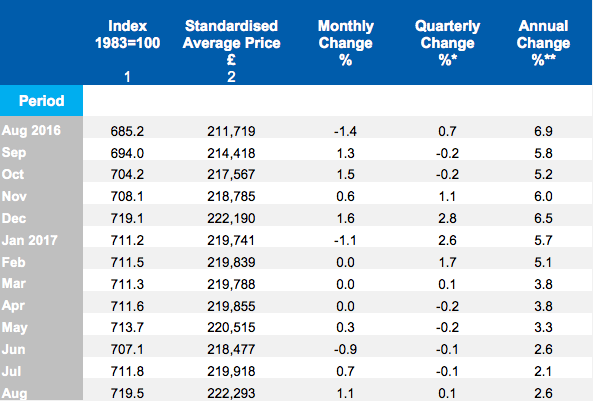 Source: Halifax House Price Index, September 2017
Plus, the growth rate rose between July and August to 2.6%, suggesting that the curve may now be moving upwards again rather than downwards.
As such, HSBC's move may end up seeming a tad tokenistic, seeing as how house prices are so high and still rising, and wages are so squeezed by the rate of inflation, which hit 2.9% again in August.
Still, even if it's possible that their removal of valuation fees is largely a marketing gimmick intended to encourage more house purchases at a time of relatively low purchasing activity, it will at the very least come in handy to many homebuyers, who will perhaps save themselves the money for a new piece of housewarming furniture.