HOUSE Prices have experienced their first quarterly fall since November 2012, according to the latest Halifax House Price Index.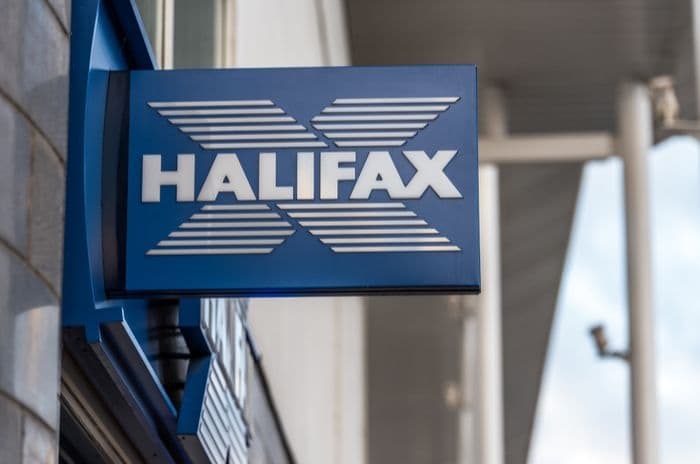 Credit: Jevanto Productions/Shutterstock.com
There was a 0.2% decrease between February and April, while between March and April prices fell by 0.1%.
Halifax explained this drop in terms of a relative fall in demand, brought on by generally high property prices and squeezed incomes.
However, the bank also recorded an above-inflation annual increase of 3.8%, and noted that they expect house prices to remain high in the medium and long term.
Deterioration in housing affordability
Halifax's latest index comes after house price growth had spent several months slowing down, with the quarterly rate of growth decreasing from 5.1% in March to 3.8% in April.
Now it stands at - 0.2%, the first time it has become negative since November 2012, when the rate of growth - 0.3%.
In conjunction with the monthly drop of 0.1%, this decrease has stoked fears of a longer term slump in the housing market, as the squeeze on incomes and living standards mean that fewer people are able to afford purchasing a home.
House prices have stagnated over the past three months. Overall, prices in the three months to April were marginally lower than in the preceding three months; the first quarterly decline since November 2012. The annual rate of growth remained at 3.8% in April, the lowest rate since May 2013
Martin Ellis, Halifax
This squeeze is what Halifax's housing economist, Martin Ellis, commented on as a major factor in the 0.2% fall, in addition to "the deterioration in housing affordability caused by a sustained period of rapid house price growth during 2014-16".
He said, "Signs of a decline in the pace of job creation, and the beginnings of a squeeze on households' finances as a result of increasing inflation, may also be constraining the demand for homes".
The coming months
Yet even with quarterly and monthly drops, the annual rate of growth for house prices has remained stable, standing at the same 3.8% it achieved in March.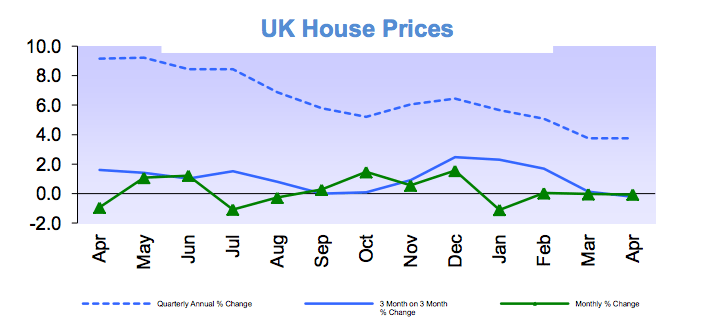 Source: Halifax, House Price Index April 2017
And it's likely to remain hovering around this level for the foreseeable future, since the House Price Index also reports that the number of properties on estate agents' books are at "a new historic low".
As Martin Ellis states, "Continuing very low mortgage rates, together with an ongoing acute shortage of properties for sale, should nonetheless underpin house prices over the coming months".
This means that news of a fall in the rate of house price growth will come as cold comfort to most first-time buyers, who are increasingly having to turn to the Bank of Mum and Dad in order to afford purchasing a home, as research from Legal and General underlined last week.
And given that the Government's white paper on housing mostly sought to speed up the current housing system rather than overhaul it, it's unlikely that enough new homes will be built in the near future to have a truly significant and long term impact on house prices.