T-MOBILE pay as you go customers have been left furious after their 'smart pack' mobile credit suddenly disappeared.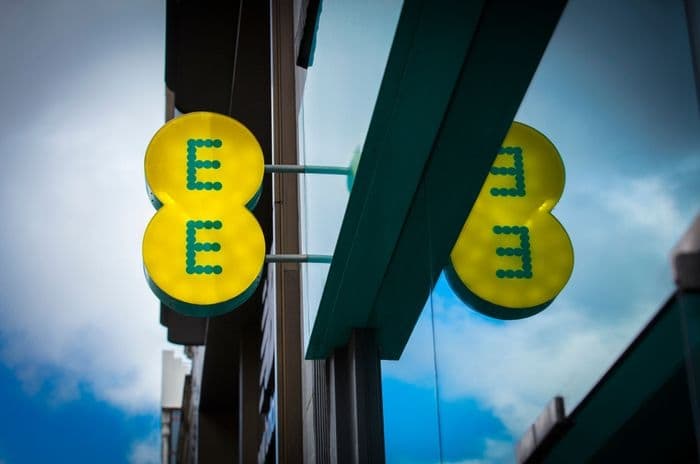 Credit: Electric Egg/Shutterstock.com
Angry customers took to Twitter, Facebook and a particularly caps lock heavy thread on the EE message boards to complain that their mobiles had suddenly stopped working.
So many people called customer services about the problem that the phone lines seemed to suffer a system failure or, at least, were so overwhelmed with calls the customers reported being unable to get through for hours.

Source: Twitter, captured 16/01/14.
As we reported earlier this week, T-mobile have had poor customer service for many years and their slow move to the EE brand has spectacularly failed to make a difference.
This week's impressively catastrophic failure is unlikely to help further.
Not so Smart Packs
Smart Packs (bundles of minutes, texts or data for pay as you go customers) started to go awry for some customers on Thursday.
T-mobile customers that had recently bought the £5 to £25 top up packs found that their credit had been largely or entirely wiped off soon afterwards.
"Bought a £15 Smart Pack yesterday evening for the first time. Message came through this morning say I have no credit!" one poster on the EE forum said.
Another poster said their credit had suddenly gone from £10 to 98p and, even though they hadn't used the phone, had slipped again to 72p a few hours later.
At the time of writing EE and T-mobile, which have not released any explanation for the glitch, say that the problem has now been fixed and customers report that their Smart Pack credit has been restored.
Customer service fail
The fix has probably come too late to restore pay as you go customers' faith in their network, though.
Many are complaining that they expect compensation not only because the problem occurred but because EE dealt with it so badly: there was no coordinated response to the problem which could have stemmed some of the later problems - the hours spent on the phone, the forum posts and Tweets that went without being replied to - that really got customers fired up.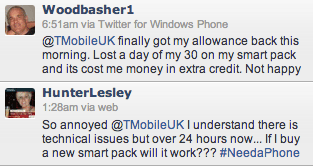 Source: Twitter, captured 16/01/14.
Again and again, customers asked if EE actually employed anyone in their customer service departments and conflicting information and cut off customer service calls seemed common.
Orange and T-mobile, which announced their merger into EE in 2010, have come close to the bottom in Ofcom rankings for customer service satisfaction over the past few years as well as other service rankings.
Some of the best service in the past few days seems to have come from EE high street shops, who seem to have done an admirable job of apologising and investigating considering that it's not actually something they have any control over.
Hoping for compensation
EE customers might be in line for some compensation for both the service and customer service failures they've had to endure.
In 2012, O2 had a big service outage that left customers unable to use their phones for at least a day.
O2 gave each customer affected at least a £10 O2 voucher in compensation saying that they wanted to "make up" to their customers for the loss of service.
"The issue we had was unprecedented and we recognise that this caused inconvenience and frustration to those impacted over that one day period," O2 said in a statement.
O2's announcement came about a week after the outage, after lobbying from customers and was positively received.
EE's service problem was considerably less widespread, it only affected T-mobile customers topping up with Smart Packs.
But, as we've seen, the EE problem was exacerbated by a poor response and pay as you go customers can leave much more easily if they're unhappy, so maybe we'll see a compensation deal yet.
If not, customers are entitled to make a formal complaint through EE's complaints procedure.
If the complaint isn't resolved after an eight week period customers are entitled to take the matter further by going to an Alternative Dispute Resolution (ADR) body.
The ADR for both T-mobile and EE is the Communications and Internet Services Adjudication Scheme (CISAS), find out more about how ADR works here.