Vodafone Fibre 2 Essentials will be offered alongside Fibre 1 Essentials, but offer up to 73Mbps download speeds.
Vodafone is adding a second social broadband tariff to its line-up that will offer faster download speeds and will be available in both fibre and full fibre enabled areas.
Fibre 2 Essentials will offer download speeds of up to 73Mbps, and will cost £20 per month.
The new plan aims to address concerns that social tariff take-up remains low due to concerns over poor speeds.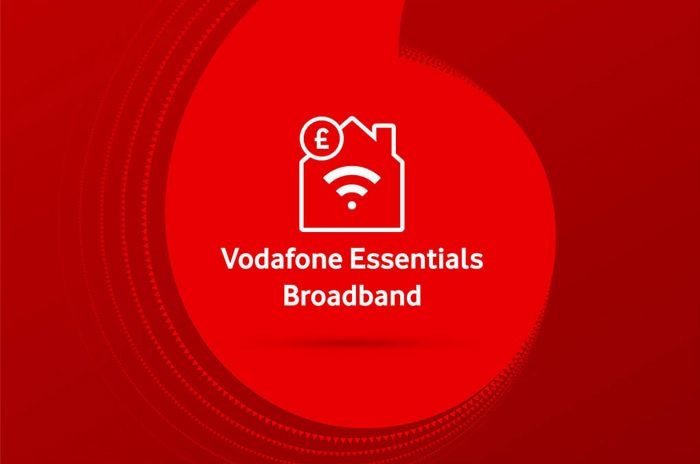 Fibre 2 Essentials
Vodafone's Fibre 2 Essentials aims to offer customers on low incomes more choice, with the option to take a faster broadband package while still accessing the benefits of a social tariff.
Fibre 2 will be available in both superfast and full fibre enabled areas, so will cover 97% of the UK, and will offer download speeds of up to 73Mbps.
People living outside of a full fibre area will likely see download speeds of 60Mbps on average at peak times, while full fibre customers will get closer to the 73Mbps on offer.
The plan will cost £20 per month and is available to people in receipt of the following benefits:
Universal Credit
Jobseeker's Allowance
Employment and Support Allowance
Reduced Earnings Allowance
Disability Living Allowance
Personal Independent Payment
Pension Credit
Vodafone's social tariffs are available without a setup fee, are not subject to annual price rises, and customers can leave the plans at any time without penalty.
In addition, Vodafone customers struggling with their broadband bill but who are still within a minimum term period can move to one of the provider's social tariffs without having to pay any early termination charges.
It's also worth mentioning, Vodafone's original social tariff, Fibre 1 Essential, is the cheapest social broadband tariff available and costs just £12 per month. For this, customers get speeds of up to 38Mbps, and will also get a full fibre connection if they're living in an enabled area.
Social tariff take-up
This second tariff launch from Vodafone comes less than a week after Ofcom wrote to broadband provider's reminding them of their recommendations to help improve the take-up of social tariffs.
While 85% of broadband customers can now switch to a social tariff, only 9% of eligible customers are aware of them, according to research by the regulator.
Ofcom are also 'incentivising' providers to improve their take-up by planning to publish provider specific figures in their next Affordability report due to be published in December 2023.
It's interesting however, that Vodafone are the first provider to respond with changes, considering TalkTalk and O2 were named as two providers still yet to offer a social tariff at all.
Ahmed Essam, Vodafone's UK CEO, said, "We have led the way in social tariffs, being the first to launch both fixed and mobile connectivity and having the cheapest social broadband product on the market since October last year.
"We have now heard the call for telecoms providers to do more to support people in the cost-of-living crisis and offer social tariffs that meet the needs of different households, so we are continuing to lead the way by promoting a new social broadband tariff with faster speeds to our existing portfolio."
Pricing
While it's welcome to see social tariff choice expanded upon, the bigger issue coming down the line is the sustainability of a market-led approach to providing these tariffs.
So far, Ofcom expect broadband providers to foot the bill and make available social tariffs within their own commercial abilities.
Yet, this creates the issue that either social tariffs simply aren't cheap enough for those in positions of greatest need, and/or that pricing at a social level isn't sustainable for private companies past a certain level of take-up.
BT has the largest take-up of social tariffs, with around 85% of social customers. However, take-up overall is only 5.1%, or 220,000 households out of 4.3 million eligible.
To put that into perspective, BT Group's (including EE & Plusnet) fixed line subscribers total around 9.4 million. So, you can see how untenable it would become for BT if all eligible households signed up and their share of those customers remained as high.
While BT are asking the Government to provide public funding (a view we share), Vodafone have again repeated their call for Openreach to offer a wholesale social tariff. However, despite being legally separated, they're still part of the BT Group company.