Sky have added an extra broadband package to their line-up, with the new Full Fibre 100 plan.
Sky broadband have added a new broadband plan to their package line-up, with the new Full Fibre 100 plan sitting between Superfast and Ultrafast.
The new package offers average download speeds of 100Mbps, with average uploads around 18 to 19Mbps.
At the time of launch, the package costs £38 per month for the first 18 months, then £43 a month thereafter.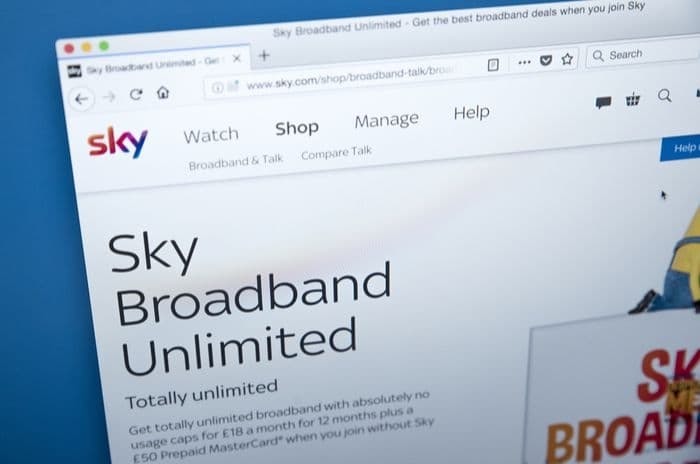 Credit: chrisdorney/Shutterstock.com
Full Fibre 100
Sky say their new Full Fibre 100 package is ideal for streaming, gaming and working from home, and it adds a 6th option to their previous five packages.
Full Fibre 100 is faster than Superfast, which offers average downloads of 61Mbps, but sits just before the previous next plan up Ultrafast, which offers average download speeds of 145Mbps.
It's hard to work out Sky's plan for this new package, especially as it breaks with their current naming tradition based on speed, 'Superfast', 'Ultrafast', and 'Gigafast'.
The Full Fibre 100 plan is being launched priced at £38 per month for the first 18 months, which also makes it more expensive than the faster Ultrafast plan, which is currently discounted to just £30 per month for the first 18 months.
One thing we did spot is the minimum speed guarantee for a tested location on the new Full Fibre 100 plan is 90Mbps, while the faster Ultrafast plan only guarantees speeds of 100Mbps, which is further from the headline average download speed.
Broadband offers
While it's highly likely Sky's new Full Fibre 100 will become discounted at some point too, at the time of writing the best offers on Sky broadband are found on their other plans.
Superfast Broadband is available nationwide on both part-fibre and full fibre connections and costs just £26 per month for the first 18 months. It offers average download speeds of 61Mbps, which Sky say is suitable for streaming and downloading on multiple devices.
Sky Ultrafast Broadband is also competitively priced right now, costing just £30 per month for the first 18 months for 145Mbps average download speeds.
Ultrafast Plus and Gigafast also see discounts for new customers, costing just £35 per month and £48 per month respectively, and offering average download speeds of 500Mbps and 900Mbps.
WiFi Max
Sky Full Fibre 100 supports the new WiFi Max add-on, and customers taking any Sky broadband plan can currently add this for just £6.50 per month for 18 months, discounted from £10 per month.
WiFi Max is particularly useful for households with WiFi 6 devices, like Sky Stream or Sky Glass, as it also bundles the new Sky Max Hub router.
Customers will get up to three Max WiFi Pods to help boost wireless coverage around a home, along with a guarantee of minimum download speeds of 25Mbps in every room for full fibre customers, and 10Mbps in every room for those on part-fibre connections.
This makes it one of the fastest whole home WiFi guarantees available in the UK, with Virgin Media guaranteeing speeds of 30Mbps in every room, while BT promise a 'strong' signal.
Sky WiFi Max also includes updates to the My Sky app, with advance security features and additional controls for parents.