Their research found only 20% of their members had access to fixed superfast broadband of more than 24Mb.
Equally, 11% of farmers reported they could not receive any indoor mobile signal.
The NFU warned the connectivity issues are creating a two-tier system where farming businesses struggle to access the communication services they need, and this suggests rural households may be struggling too.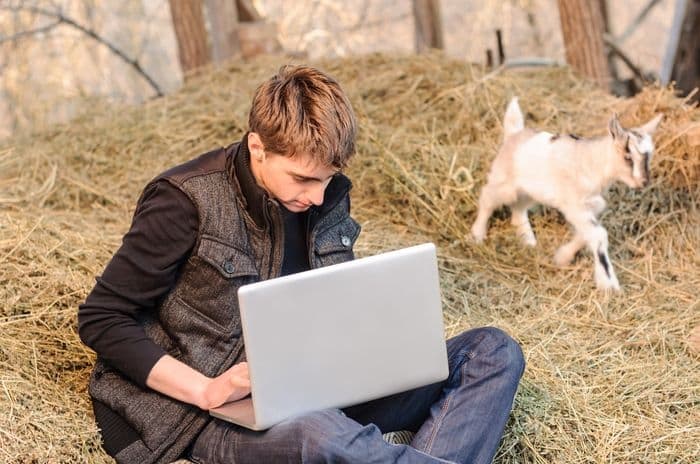 Credit: Ajan Alen/Shutterstock.com
Minor improvements
Thanks to the NFU's annual survey, we can see how farmers, who often live in the hardest-to-reach areas of the UK, experience broadband and mobile services.
On broadband, the survey shows:
20% have access to superfast broadband speeds (an increase of 3% compared to 2020)
32% have download speeds of 2Mb or less (30% in 2020)
27% said poor broadband was a barrier to further use of digital technology (up from 26% in 2020)
So, while more farmers are reporting access to superfast broadband speeds, there are signs the number of farmers with barely any broadband functionality (less than 2Mb) is increasing too.
On the mobile side of things:
11% of farmers have no indoor mobile signal at all (a reduction of 4%)
82% of smartphone users have access to 4G (2% less than last year)
Again, the news is mixed, with more farmers able to get an indoor mobile signal but fewer able to access 4G services.
Longer term trends
If we look at the latest results in comparison to the same NFU survey two years ago, we can see some positive broadband trends:
A 4% increase in the number of farmers able to access superfast broadband speeds of 24Mb or more
10% fewer farmers are forced to rely on broadband speeds of 2Mb or less
Taking a wider window and thinking about the results from 2015, there is definite progress to be seen:
There has been a 26% reduction in the number of farmers only able to receive a connection of 2Mb or less
Only 4% of farmers could receive superfast broadband in 2015, so there has been a 16% increase on that measure
However, with much of the focus on when households around the UK will receive gigabit-capable broadband, it's clear farmers and those in remote areas have been left behind as they struggle with speeds of 2Mb or less.
BT are required to provide connections to customers unable to receive minimum speeds of 10Mb under the universal service obligation (USO), although regulator Ofcom is investigating the high quotes some customers have received when requesting installations.
Rural mobile issues
To improve mobile coverage, the Government is working with mobile networks to create a Shared Rural Network (SRN) and plug the coverage gaps across rural parts of the UK.
Last month, it was confirmed by O2, Vodafone and Three that 222 new masts will be installed across remote areas by the end of 2024 to ensure 95% of the UK has a 4G signal.
However, there is still the possibility that truly hard-to-reach areas will still miss out under these plans.
The aim is for coverage from at least one operator to increase in Wales and Scotland to 95% and 91% respectively by 2026. This will be aided by £500m in Government funding.
Yet that still leaves up to 9% of Scottish landmass without a 4G signal, potentially leaving farmers and rural residents in mobile not-spots permanently.