It means customers taking Hyperoptic's Starter pack for £26 per month will receive speeds of 100Mb for three months.
After the boost period is over, speeds will revert to the original 50Mb with no obligation to upgrade.
Intermediate packages boost from 150Mb to 250Mb while Advanced boosts from 500Mb to 750Mb. There's no boost for Hyperoptic's fastest package as those customers are already receiving top speeds.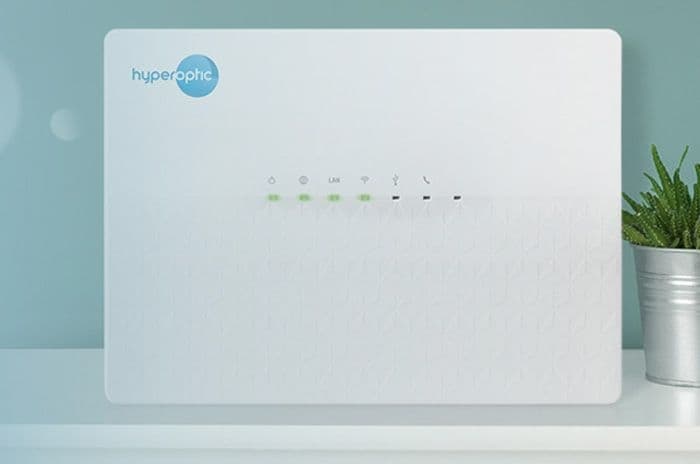 Faster broadband speeds
Hyperoptic's offer means that customers on lower speed rolling packages will get a taste of what faster speeds could provide for them.
As the boosts are available to both new and existing customers, Hyperoptic will be hoping to entice new customers with a rolling contract requiring just 30 days' notice.
For existing customers, enjoying faster speeds in the short-term could tempt them to upgrade permanently once the three months are up.
These are the prices and speeds for the three-month period:
£26 per month for Starter (Fast) - 100Mb instead of 50Mb
£32 per month for Intermediate (Superfast) - 250Mb instead of 150Mb
£42 per month for Advanced (Ultrafast) - 750Mb instead of 500Mb
It's worth noting that, while installation and routers are free for all plans, there's a one-off activation fee of £29 which can bump up the price of the rolling contract if customers are just taking it for the three-month period.
Showcasing speed
Hyperoptic's flagship product might be their Hyperfast package with average speeds of 900Mb for £52 per month, but part of the battle is demonstrating to customers that faster speeds can improve their online life.
They permanently boosted their entry level package from 30Mb to 50Mb in August 2019, and now customers on that deal will have the chance to upgrade further for three months.
Their Ultrafast package with speeds of 500Mb was launched in November 2019, plugging the gap between their Superfast and Hyperfast packages.
Part of Hyperoptic's appeal is their rolling contract fibre, and they're one of the few providers to offer that type of package - read more in our dedicated guide to no-contract fibre broadband.
Hyperoptic's rolling contracts do cost a few pounds more per month, but for people who feel unable to take a 12-month contract, the trade off may be worth it.
Super Flex plans
The announcement of temporary speed boosts on their lower tier packages is the latest move by Hyperoptic to engage potential customers and encourage existing ones to upgrade.
Last month, they launched their Super Flex plans which promise customers on 24-month contracts will face no price rises yet they will also be able to exit at any point without paying penalty fees for ending the contract early. Along with this, they'll get a free speed upgrade in the second year of the contract.
At the time of writing, however, Super Flex doesn't seem to be listed prominently on their website. It may be that it's an optional extra that customers can lock in during sign up.
Of course, the major problem with Hyperoptic remains that they are a niche broadband provider who expand building by building in cities and big towns.
It means that, even if customers are attracted by offers such as the three-month speed boost, there are only about 400,000 homes across the country who could benefit.
Read our full review of Hyperoptic.