ISP collapse forces customers to find new broadband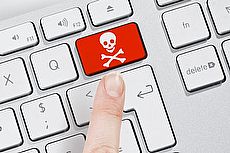 ©iStock.com/ugurhan
BROADBAND providers 186k, Fast.co.uk and Firenet have all apparently collapsed, leaving their thousands of customers with little option but to search for new ISPs.
These customers awoke on Tuesday morning to be confronted with a service outage, while the same message communicated by each of the three suppliers quickly transformed their irritation into alarm.
Fast.co.uk advised their customers "to find an alternative broadband provider as we are unable to continue to supply your current service", with this same exact announcement later being relayed by 186k and Firenet to their respective users.
Unsurprisingly, the outage and the message have led to speculation that the three have all ceased trading, although none of them have explicitly confirmed this.
Pulling the plug
More on the broadband market
As unexpected as this all was for those affected, it's not the first time that 186k - who supply network access to Fast.co.uk and Fast's sibling Firenet - have had some of their users cut off as a result of problems behind the scenes.
In 2009, they were embroiled in a legal dispute with Tiscali (later becoming TalkTalk), who supplied the wholesale internet used by a minority of 186k's customers but were apparently unhappy that this minority weren't with Tiscali outright.
At the time, similar rumours surfaced that 186k had met their demise, yet in that case at least they were untrue, with the incident causing the supplier to complete their move over to BT Wholesale.
And it's because they moved to BT Wholesale that there's been speculation it was BT who ultimately cut off 186k's broadband connection, which the latter sell on to Fast.co.uk and Firenet. It was rumoured that 186k had been unable to pay their bills for several months, and that unsurprisingly the plug was pulled on them.
However, while this theory has plenty of plausibility, sources at BT have told us they don't sell network access directly to 186k, and that there's another company who sit between BT and 186k in the supply chain.
Who this company might be isn't entirely clear, since BT aren't in a position to identify them. Added to this, 186k and Fast.co.uk haven't responded to emails sent by us, or by any other news outlet for that matter.
Opportunism
This confusion has had the inevitable effect of leaving the three ISP's customers bewildered and angry. Many have taken to Twitter and social media to air their frustrations:
How to tell your customers there supplier no longer does internet #Fast.co.uk #Firenet #Broadband #FU pic.twitter.com/nCt2O2qLFY

- Simon Gunton (@Cessle) 13 December 2016
@186k what is going on with your broadband service? All our customers have lost connectivity 20+

- Grant Baxter (@GrantBaxter89) 13 December 2016
186k have come in for the bulk of the recriminations, insofar as they're a supplier rather than internet service provider, providing connectivity to a range of small businesses and smaller ISPs (such as Fast.co.uk and Firenet).
Yet what's interesting (albeit hardly unexpected), is that customers playing the blame game are vastly outnumbered by the smaller suppliers and ISPs advertising their services to them:
Hung out to dry by @186k https://t.co/bBIThxKGKP & Firenet? Let us show you how a real ISP takes care of you! https://t.co/3GTSgbMqLD https://t.co/YaXPqBlsCU

- IDNet (@IDNet) 13 December 2016
Aside from ISDNet, such smaller providers as Andrews & Arnold, Backbone Connect, Comms365 and Stream Networks have also stepped into the vacuum, keeping people online while taking the opportunity to profit from the three providers' collapse.
They've been aided in this switching endeavour by the migration rules Ofcom adopted in June 2015. These replaced the old rules which often demanded that a customer obtain a migration access code from their existing supplier, something which put a considerable brake on many attempts to move.
Instead of this outdated system, the new one enables customers to switch simply by approaching their desired new ISP, who will handle all aspects of the transition themselves.
Choice over safety net
Because of this, the customers of 186k, Fast.co.uk and Firenet aren't at the mercy of their now unresponsive suppliers. They can move with relative ease, and it's highly likely that the majority of them will be with a new provider before the week is out.
And yet, even with the new migration rules, there's a sense that Ofcom should have in place a system for dealing with failed operators and for keeping their customers online in the event of failure.
Such a system is what Ofgem employed in the case of the recent collapse of GB Energy, using their "safety net" to automatically relocate affected customers and keep their lights on.
And given that a recent survey found that 90% of the UK public regard broadband as "essential", there's a genuine case to be made for the UK's internet supply to be treated like any other utility, especially when it comes to businesses who rely on connectivity for generating 12.4% of the UK's GDP.
That said, ISP failures are relatively rare, while the ability to actually choose a new provider is arguably preferable to having one chosen for you (as was done in the case of GB Energy's untimely end, with all their customers going to Co-operative Energy).
As such, with the existence of the new migration system, people can rest assured that, in the unlikely event their provider goes bust, they can quickly hop over to another one.
15 November 2017
10 November 2017
9 November 2017
Follow us or subscribe for FREE updates and special offers