The Paperwhite is the best device overall, offering a sharper and brighter screen, a better quality build, and longer battery life.
Yet in running through the strengths and weakness of each e-reader, this guide will show that the answer to this question can vary with the person asking it, and that the basic Kindle is an excellent alternative for those on a tighter budget.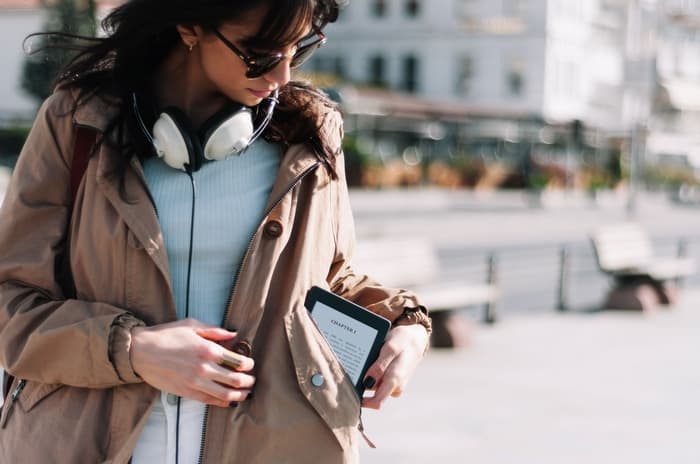 ©Amazon
---
At a glance

Amazon Kindle

Amazon Kindle Paperwhite
Rating
Price
£79.99 (or £69.99 with ads)
£117.16
Pros
Great value for money; software identical to other Kindles
Great value for money; great display quality and build
Cons
Feels a bit cheap; no built-in light
None, other than lack of Bluetooth support
Dimensions
160mm x 115mm x 9.1mm
169mm x 117mm x 9.1mm
Weight
161g
205g
Resolution
167ppi
300ppi
Which is the best: the basic Kindle or the Kindle Paperwhite?
Winner: the Kindle Paperwhite provides a higher resolution screen than the basic Kindle, as well as a more comfortable case and longer battery life.
While both devices have the same software and do essentially the same things, the Paperwhite is the clear winner as to which Kindle is the best overall.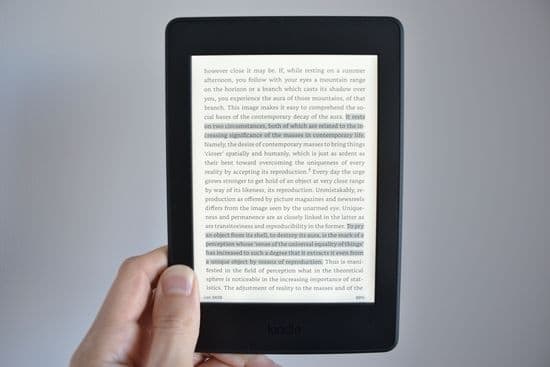 The Kindle Paperwhite
This is for the following reasons:
Its moulded and curved plastic casing makes it comfier to read for longer periods
Its 300 PPI screen offers higher resolution text and images
It has a built-in light that enables night reading and brightness adjustment
It has a longer battery life (six weeks compared to four)
The Paperwhite is the Kindle of choice for those who expect to make regular use of their e-reader. Even so, the basic Kindle is still an excellent choice for those on a tighter budget, since it can do all the same things as the Paperwhite, such as download books instantly, define words, highlight passages, and provide X-Ray summaries of books.
Price
Winner: the basic Kindle is £50 (or £60) cheaper than the Paperwhite, and runs on exactly the same processor and software
At £69.99, the standard Kindle is £50 cheaper than the Paperwhite (£119.99). Added to this, there's in fact the option to purchase it at £59.99.
Yet take note: this option comes to those who take the "special offers" version of the device, which as Amazon explain means that advertisements and "sponsored screensavers display when your device is in sleep mode".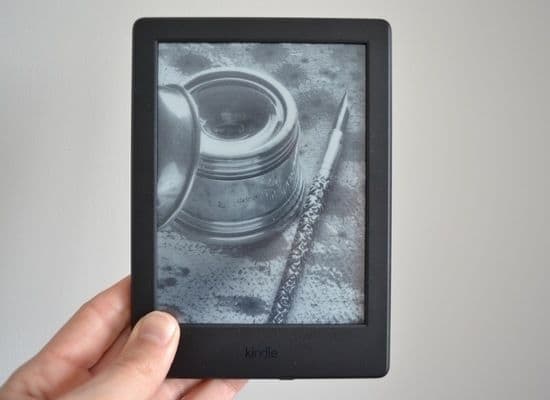 The Kindle asleep (customers who buy the cheaper "special offers" version would see an ad here)
For those who aren't bothered by such ads, this makes the Kindle even more value for money than it already was. That said, the Paperwhite can also be bought with "special offers", which also shaves £10 off its price, bringing it down to £109.99.
Feel and looks
Winner: the Kindle Paperwhite's curved and moulded plastic casing is more comfortable and more attractive.
When it comes to how each device feels and looks, the Paperwhite's sleekness makes it a better choice than the basic Kindle.
The standard Kindle is made out of a plastic that's not quite as high quality as that of the Paperwhite. It feels a little "cheap" and "lightweight" to the touch when compared to its pricier counterpart, which is made of a more durable and moulded plastic composite.
This made reading with the Paperwhite for longer periods of time easier and more comfortable, since the curved, rubberized plastic was easier to grip and fitted more snugly in our hands.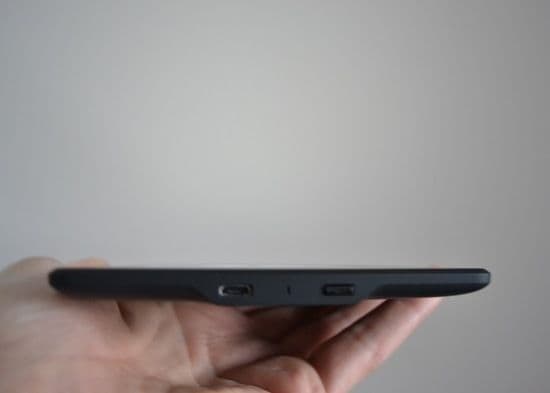 The Paperwhite as seen from the bottom
The difference in materials also gives the Paperwhite the edge in the appearance department, since the higher quality plastic provides it with a better, more textured finish.
By contrast, the Kindle's grainy plastic almost makes it look like a toy, while its unsophisticated appearance is magnified slightly by its flat rear surface. Because of this, we sometimes felt a bit self-conscious about taking it out in public, given its almost childlike design.
And compared to the Paperwhite's curved, more ergonomic rear surface, it's not quite as comfortable. The smoother, slippery casing and its lack of curves often means you have to grip it a bit more tightly to make sure it stays in your hand.
Screen
Winner: the Kindle Paperwhite's screen provides a higher resolution and a built-in light.
The biggest difference between the two devices are their screens, since the Kindle's screen offers only 167 pixels per inch (ppi), while the Paperwhite's comes in at a more impressive 300ppi.
This greater resolution results in a display that's impressively sharp with the Paperwhite, while the standard Kindle's display is a little grainy by comparison (although still good).
When we stuck to reading books that are entirely text, then this difference in visual clarity wasn't really noticeable.
However, it is possible to purchase graphic novels on Kindles, as well as a massive range of non-fiction books full with images and diagrams. And it was with such books that we noticed a wider gap in display quality, since pictures and photos weren't as well defined with the basic Kindle as they are with the Paperwhite.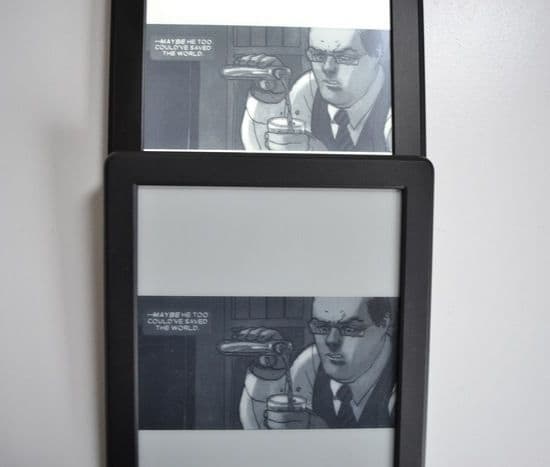 The Kindle Paperwhite (above) has a screen that provides more clarity and brightness, although the difference isn't as great as might be supposed
And that's not the only difference, since the Paperwhite includes a built in light, while the Kindle does not.
Without such a light, it's impossible to read the basic Kindle in the dark, while it was difficult enough in dimmer lighting. Meanwhile, the Paperwhite had no such problems, with its brightness settings and increased clarity letting us read basically wherever and whenever we wanted.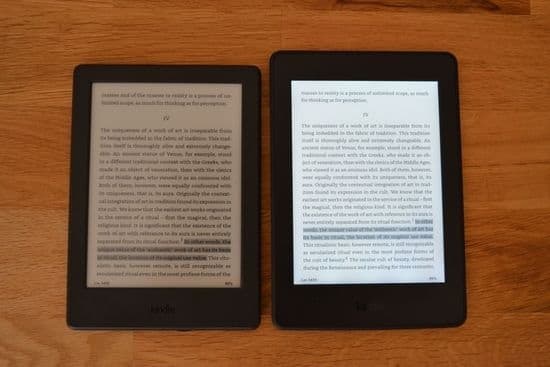 The Kindle squares off against the Paperwhite
Battery
Winner: the Kindle Paperwhite's battery lasts for around 6 hours longer than the basic Kindle's
While both devices require the same four hours or so to fully charge (using a USB cable connected to a PC/Mac), the Paperwhite's battery reportedly lasts for six weeks on a single charge, assuming people read for only half an hour a day.
And yet, even though Amazon say the basic Kindle's battery lasts for only four weeks, the difference in battery life wasn't quite as big as two weeks.
Instead, we got through the standard Kindle's battery in around 15 hours, whereas the Paperwhite lasted for about 21.
This is a six-hour difference, which doesn't quite work out to two weeks according to Amazon's half-an-hour-a-day rule. That said, it comes close, at 12 (rather than 14) days.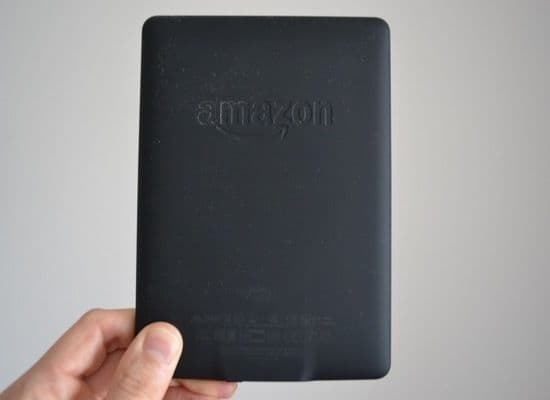 The Paperwhite's curved rear, which makes it more pleasurable to read
Bluetooth and VoiceView
Winner: the basic Kindle offers Bluetooth and VoiceView support for the visually impaired
One difference in the basic Kindle's favour, however, is that its eighth version is now compatible with Bluetooth and the VoiceView screen reader, while the current Paperwhite still isn't.
This means that readers with visual impairments can have the Kindle's text read out for them, by linking via Bluetooth to a compatible speaker.
As such, the Kindle is superior for readers with sight loss, and given that there are some two million such people in the UK this gives it a pretty big market.
Summary: Kindle Paperwhite vs Kindle
Overall winner: the Kindle Paperwhite provides a more enjoyable reading experience than the basic Kindle.
When price (and accessibility for the blind) is taken out of the equation, it's clear that the Kindle Paperwhite is the superior device. It offers the following advantages over the basic Kindle:
a sharper, 300ppi screen
a better, more comfortable and attractive build
an in built light with brightness control that allows readers to read in the dark
For all these reasons, it will definitely be the best for most readers, and is unreservedly recommended to those who can afford the extra £50 (or £60) Amazon are asking for it.
| | Amazon Kindle | Amazon Kindle Paperwhite |
| --- | --- | --- |
| Price | £79.99 (or £69.99 with ads) | £117.16 |
| Size | 160mm x 115mm x 9.1mm | 169mm x 117mm x 9.1mm |
| Weight | 161g | 205g |
| Resolution | 167ppi | 300ppi |
| Battery charge | Up to four weeks | Up to six weeks |
Still, for customers on a budget or casual, less frequent readers, the standard Kindle just about tips it.
It essentially does all the things the Paperwhite can do (except get brighter or darker), and even if it wasn't quite as comfortable to hold and read with for longer stretches, it offers remarkable value for money.