Cut energy bills: Five ways under £20
©iStock.com/iPandastudio
We all know that big changes - like switching energy supplier or investing in efficiency measures like wall insulation or more efficient boilers - can make a big difference to our energy bills.
But we can't go big every time. Particularly since the Government stopped funding the Green Deal, finding the money to make those kinds of improvements has become much tougher for all but the most vulnerable.
Small improvements that make homes more energy efficient can have a significant impact on utility bills - without breaking the bank or taking up too much of your time.
Here are five quick ideas for conserving energy and cutting gas, electricity and water bills, all for less than £20.
1. Reflect on your radiators
Shiny reflective sheets behind radiators make them more efficient.
Heat emitted from the rear of radiators is mainly just being lost through the wall. A reflective sheet typically reduces heat loss by 45%.
The reflectors don't need to be attached to the wall - some manufacturers even say this will reduce their efficacy - as long as they're placed between the radiator and the wall.
Tesa Radiator Heat Reflector Foil
The idea is that by reflecting heat back into the room, the radiators can be switched on for less time and at a lower temperature in order to warm the room, saving money while keeping people warm.
To make radiators as effective as possible, also keep them clear of obstructions - including curtains, furniture or drying clothes hanging over them.
How to do it: You've a choice between reflective panels, or sheets sold in rolls of various lengths. Prices start from less than £10. Some come with adhesive stickers to make them easy to install; others are designed to be cut so they can hang over the radiator fixing plates.
2. Give the hot water tank a jacket
Without an insulating jacket, a hot water tank is just pumping out heat that's going nowhere.
Even if there is already a jacket on the cylinder, it's worth checking how thick it is. The standard is at least 75mm, but a lot of older jackets are just 25mm thick.
British Standard jackets cost about £15, and will easily pay for themselves within a very short period.
Annual estimated saving
(according to Energy Saving Trust)
No jacket to insulated
£85 to £130
25mm insulation upgraded to 80mm
£20 to £35
The savings made when upgrading insulation are less substantial - but even so you'll save more in the first year - and probably within the first six months - than you pay to upgrade.
Installation is easy too: it's about the same level of difficulty as putting on a real jacket.
3. Smart TVs, smart phones, smart plugs
Leaving devices on standby has always been considered a classic waste of electricity.
The Energy Saving Trust say UK households spend between £45 and £80 a year powering equipment that's in standby mode.
Tests carried out by the Sustainable Girton community energy project found the following common living room devices used more energy than we might expect when switched to standby:
| | Usage in Watts when on | Usage in Watts when on standby |
| --- | --- | --- |
| TV | 100 | 10 |
| Video recorder | 13 | 1 |
| DVD recorder | 12 | 7 |
| Digital set top box | 6 | 5 |
We might think these figures are in part caused by older equipment. After all, EU regulations state that all electrical products sold after 2010 must have standby usage of no greater than 1W.
But newer devices can have more than one standby mode: set top boxes and games consoles in particular often have "instant on" or "fast boot" modes, which use far more power than true standby does.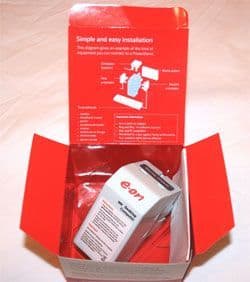 E.On Energy Saver Powerdown surge protection TV plug with remote power down sensor.
The regulations only apply to true standby - so lots of us may think we're using far less electricity than we actually are.
And over the many hours they're left on, that power usage adds up.
But it's easily solved with a smarter plug.
An intelligent plug can turn off all connected devices when the main device is switched off, whether that's the TV or a computer. They're cheap, costing as little as £2, but usually not much more than £6.
Some of them come with one "permanent on" socket, ideal for a router or set-top box that needs to be kept on at all times.
The TV-specific plugs also come with a sensor that can tell when the TV remote is being used, and send the signal to power everything up again - or at least put it into standby ready for use.
4. Get a green shower head
With more water companies keen to move us across to metered water, an eco shower head is a good way to save even more money on those bills.
Getting one doesn't have to mean getting used to a worse shower, either.
These shower heads use smart design to reduce water waste. Some aerate the flow - that is, they suck air in to the shower head, which helps keep up the pressure but reduces the amount of water required. Others cut usage by pulsating the flow, or by simply restricting it in some way.
It's really simple to work out whether or not you could benefit from a water saving shower head. Anyone who can fill a two litre container in less than 12 seconds using their existing shower head will save considerably.
The cheapest water saving shower heads start at about £10 but some of the better known brands - Mira, Pulse Eco, and Ecocamel - cost more, from £25 to £40 or more.
5. Exclude drafts
The Energy Saving Trust say it's possible to save between £25 and £50 a year by sealing up small gaps around windows and doors.
There are number of different draft excluding options suitable for different situations and budgets.
For external windows and doors one of the easiest and cheapest methods for small gaps - that is, up to 7mm, but usually between 2-5mm - is to pick up some self adhesive draft excluding tape.
Good draught excluding foam tape will last for at least four years. It can be cut to size and easily applied to windows and doors, and because it's adhesive it can be easily taken off or replaced when required.
7 August 2017
Follow us or subscribe for FREE updates and special offers