The HP Sprocket 200 offers ink-free instant photo printing wirelessly from your mobile phone via Bluetooth. It's pocket-size and light weight, combined with a rechargeable battery and interior paper holder, make it remarkably portable.
The HP Sprocket 200 costs around £89.99 to buy with 10 sheets of paper included. However, its main drawback is the on-going printer paper cost. Currently 50 HP Zink sheets cost £26, which means each tiny 2x3" photo costs 50p.
While the print quality is detailed, and there is no ink to buy, the sheer tiny size of the printed photo makes the cost per image seem rather steep. This creates a big cost limitation to what should be a fun way to scatter and stick tiny photo memories throughout our lives.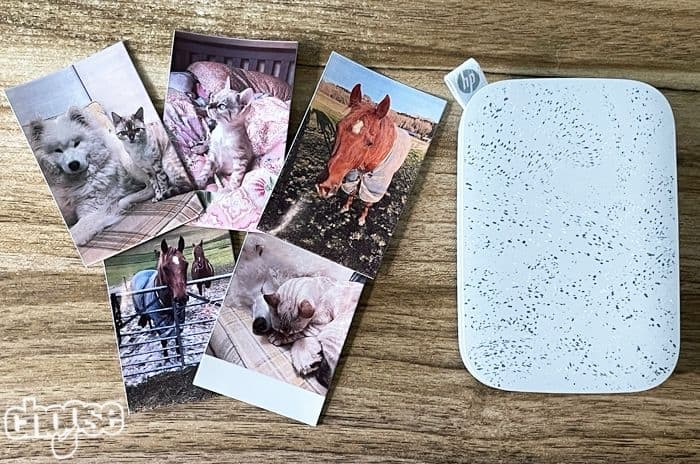 Credit: Lyndsey Burton/Choose.co.uk
---
Verdict
The HP Sprocket 200 offers sharp and detailed ink-free printing that's both easy to setup and remarkably portable. Zink printer paper isn't cheap, but overall this printer offers a high level of print quality in a well designed package.
Pros:
Ultra-portable with rechargeable battery and interior paper holder
Ink-free photo printing
High detail and sharpness in the print quality
Cons:
Zink photo paper is expensive, at 50p per photo.
Paper can get jammed if you're not careful
Colours are a little washed out
Price
| | Device | Price | Print Size | Connectivity | Printing |
| --- | --- | --- | --- | --- | --- |
| | HP Sprocket 200 | £89.99 | 2" x 3" | Bluetooth | Zink, Colour |
---
Unboxing
Inside the box is the HP Sprocket 200 printer, along with 10 sticky-backed photo printing sheets and a USB charging cable.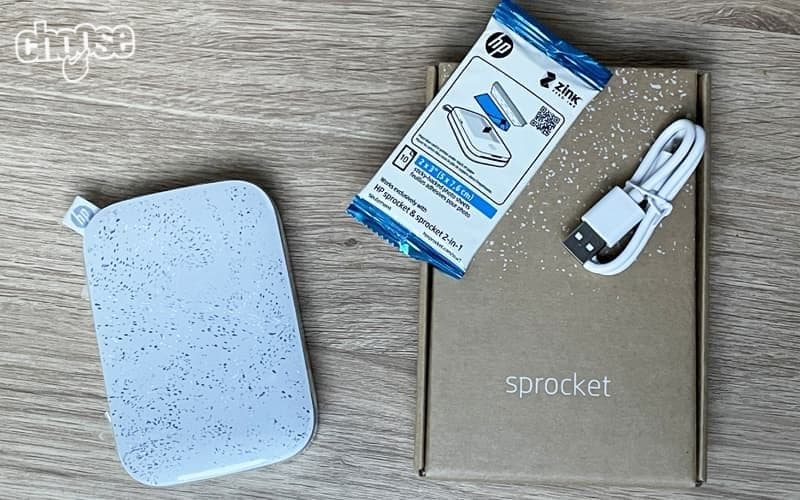 First impressions of the HP Sprocket are that it's fairly small, so seems easily portable, it's also pretty lightweight too. The 2" x 3" printer paper does seem quite small at first glance, it's about the size of a credit card.
There's a very brief quick start guide in the box, which directs users to install the HP Sprocket app and follow the app's instructions.
While downloading the app, I also put the printer onto charge, which displays a small red LED next to the charging input. The red LED indicates a very low battery, eventually it turns to amber for charging, and green for fully charged.
The HP Sprocket app setup requests permission to access Bluetooth and also the photo library, it then asks which Sprocket you want to connect. I selected the Sprocket 200, which is the device I was testing for this review.
Once the Sprocket has some charge it starts up automatically and the front LED strip starts flashing. At this stage, you can then load the printer paper. This is very easy - the top of the printer is secured by magnets, so comes off without any fiddly catches to deal with or break.
Connecting the HP Sprocket to my mobile phone via Bluetooth was also really simple, a few clicks and it connected straight away with no issues.
The app then goes straight to the gallery where you can choose photos from your library to print.
---
Design
The HP Sprocket has a matt plastic body, with a raised textured front pattern. It feels light, weighing just 200 grams, and although it comes with a little fabric tag to attach it to something, it's not obvious how well it would stand up to being knocked about in a bag for example.
A very neat feature is the option to select your own LED status colour - you can choose from light blue, blue, purple, pink, yellow or green. This can be changed at any time in the app settings too.
The HP Sprocket has a built-in rechargeable battery, so once charged up, it can be used portably without the need to also carry around a power supply. HP says the battery should last for 10 hours of use.
The Sprocket can hold around 10 sheets of printer paper at any one time, so again, adding to the portability of the device it's nice that its ready to print on the go, without constantly needing to feed paper in.
The HP Sprocket is available in a few different colours too. It's possible to choose from Black, Grey, Lilac or Pink.
All in all, the design of the Sprocket definitely ticks boxes in terms of portability. It also seems well designed in terms of its simplicity of use. Little things like the magnet catches on the top mean it's unlikely to get damaged by the wear and tear of repeatedly loading paper.
---
Print Quality
The HP Sprocket uses Zink printing, which basically stands for 'Zero ink'. Instead the ink is contained within the printer paper itself, which is one reason why the cost per sheet is so expensive.
However, there are some benefits to Zink printing. Without actual wet ink there's no chance of smearing or smudging the printed paper. There's also less to go wrong or become out of line in the printer itself - for example, ink nozzles don't need cleaning, nor do they need aligning.
All in all, this can make Zink printing a much more robust and hassle-free way of printing - especially for a small portable device, that could be used on the go.
The first photo I printed with the HP Sprocket actually showed more detail than the original, but it also looked more washed out. The reduced colour range of the print gave it an almost pencil drawn affect.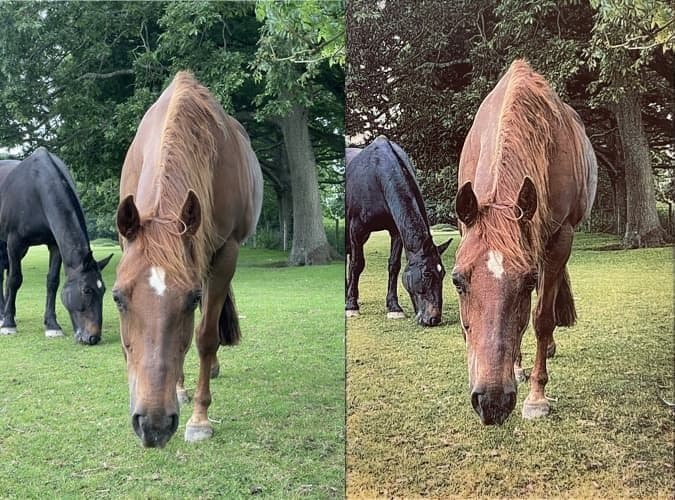 The original photo is on the left, and a photo of the Sprocket print on the right. It's worth noting that some of the quality is lost in photographing the print and resizing that photo for the web, but it gives an idea of how it looks.
Despite its minor imperfections, the detail in such a small print is impressive. Because it prints from your mobile, it is possible to adjust the image colour, tones and brightness before printing to boost darker colours. Although I didn't make any adjustments to the images printed in this test.
There is much more sharpness and detail than can be seen on a mobile screen, especially around the areas of light reflection, as you can see in the photo comparison below: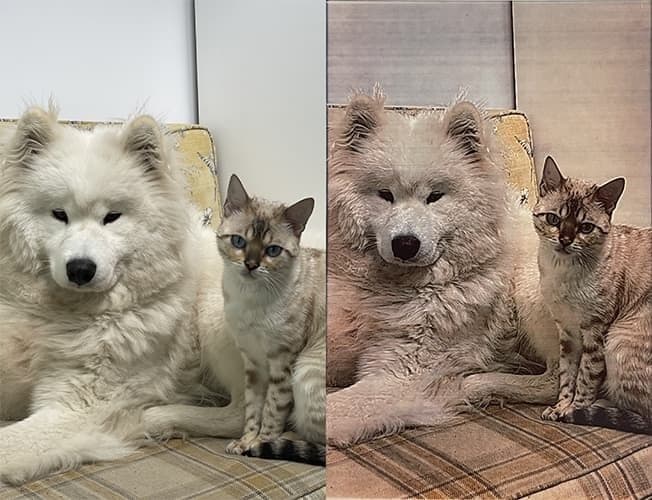 The biggest issue I noticed was blocks of colour can become a little stripy, as you can see above.
The photo paper itself from HP is high quality, with a gloss finish and a decent thickness. The sticky back is also pretty grippy - I found it tricky to reposition, but did manage to move it once.
One potential problem I did come across while printing is that you need to be careful with how many images you send to the printer at a time, and to make sure you remove each sheet as soon as it's finished printing. Failing to do this can cause the paper to become stuck and run out of alignment.
---
HP Sprocket Printer App
As mentioned, the HP Sprocket app was easy to install and connect to the Sprocket itself.
The app allows users to pick photos to print from their mobile's photo library. It's also possible to edit photos and combine them into a collage print.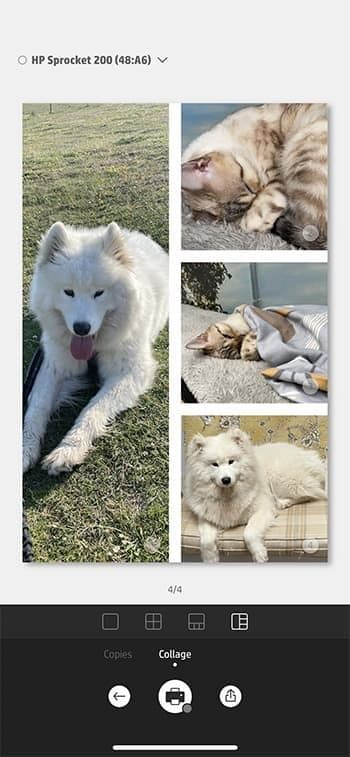 The collage feature allows you to pick up to four images, and then choose a layout and arrange the photos as you want. It then prints out the photo as a tiny collage.
Photo editing allows users to adjust light and contrast, choose from different ambient settings, add borders, graphics, text and even draw onto the photo.
The app also allows you to connect to Facebook, Instagram and Google Photos to access photos directly from those accounts too.
---
Verdict: Is the HP Sprocket worth it?
The HP Sprocket offers high quality photo printing in a tiny portable size. It's perfect for people who want to print memories or photos on the go, whether that's for a project, decoration or even a photo book.
The print quality offers greater detail and sharpness than my mobile phone screen, although the colours weren't nearly as vibrant. The setup was quick and the app is easy to use.
The upfront cost of the Sprocket seems about right at just under £90, however the Zink printer paper is an added cost that could prevent people really getting the most from this device.
At 50p per sheet, the cost of printing will soon add up, and that remains the biggest drawback of Zink printers. As a comparison, Canon Zink paper is slightly cheaper, but Kodak Zink paper is slightly more expensive still.
I liked the HP Sprocket, and for anyone looking for a portable Zink printer, it's definitely a good choice. That said, it's worth looking at the slightly bigger HP Sprocket Select too, for a very similar price you get slightly bigger prints of 2.3" x 3.4".