VODAFONE have launched new pay monthly and pay as you go (PAYG) plans, providing customers with unlimited data and the flexibility to pay for allowances one day at a time.
Credit: kailim/Shutterstock.com
For pay monthly customers, they've introduced a range "Vodafone Passes", which grant buyers the right to use certain apps without ever depleting their data allowances.
While for PAYG customers, they've rolled out Pay as you go 1, which provides unlimited calls and texts and 500MB of data for £1 or less, depending on how much customers consume.
Yet as attractive as they seem, customers looking for zero-rated data may find more value for money with other networks, while Pay as you go 1 won't be especially viable for customers likely to use their phones frequently.
The Age of Flexibility
There seems to be a fashion developing among network providers recently for flexible tariffs and service, what with O2 now letting their pay monthly customers "flex" their data allowances from one month to the next.
Well, now it's Vodafone's turn to introduce flexible, customer-tailored deals, with their Vodafone Passes being open to all pay monthly customers who take either a Red or Mobile Broadband plan.
This includes SIM only and handset pay monthly customers, both of whom will be able to subscribe to the following services:
| Vodafone Pass | Apps | Price |
| --- | --- | --- |
| Chat Pass | Facebook Messenger, WhatsApp, Viber | £3 a month |
| Social Pass | Facebook, Instagram, Pinterest and Twitter | £5 a month |
| Music Pass | Spotify, TIDAL, Deezer, Napster, SoundCloud, Amazon Music Unlimited and Prime Music | £5 a month |
| Video Pass | Netflix, Amazon Prime Video, DisneyLife, Vevo, My5, YouTube, UKTV Play and TVPlayer, which includes channels like HISTORY, Lifetime, MTV and Comedy Central | £7 a month |
| Combo Pass | All of the above | £15 a month |
By taking up one of the passes, customers will be able to use the apps they cover as much as they like each month, without using up any of their data allowance.
Speaking of its benefits, Nick Jeffery, Vodafone CEO, said, "We want our customers to be able to use their phones exactly as they want to. With Vodafone Passes, they can keep in touch, keep tuned in and keep watching without having to keep an eye on their data meter".
Pay as you go 1
Scheduled for launch on November 10th, Pay as you go 1 works by billing customers once a day for whatever they use that day, with the total charge capped at £1.
In other words, with the rate being set at 20p per minute for calls, per text, and per 5Mb of data, a customer would be charged only 60p in a single day if all they did with their phones was send three texts.
However, while higher usage could bring a day's charge to £1, it can't go any higher, thereby allowing customers to speak and text all they want for only £1 a day.
That said, even though they can be charged no more than £1 on a single day, data usage is capped at 500Mb. If customers need to use more than 500Mb in 24 hours, they have to pay another £1, for an extra 500Mb that's wiped clean at midnight.
Short termers
This makes Pay as you go 1 more cost effective for people who use their phones only sporadically, rather than for heavy users and/or those who use their phones every day.
That's because, with many of Vodafone's normal pay as you go bundles, you can pay less for a continuous monthly supply of minutes, texts and data:
| Bundle | Calls | Texts | Data |
| --- | --- | --- | --- |
| £10 Big Value Bundle | 200 minutes | Unlimited | 1GB |
| £20 Big Value Bundle | 1000 minutes | Unlimited | 6GB |
| £30 Big Value Bundle | 3000 minutes | Unlimited | 20GB |
For example, with the £30 Big Value Bundle customers pay £30 to have 3,000 minutes of calls (or 2.083 days of continuous, non-stop speaking), unlimited texts and 20GB of data for an entire month. By contrast, the Pay as you go 1 plan would oblige customers to pay £1 a day - or £30 a month - for unlimited texts, unlimited minutes, and 15GB of data.
Value for money?
And this isn't the only thing to watch out for with Vodafone's new plans, since their Passes are also worth a word of caution as well.
For one, people who already have a Red pay monthly plan - providing either 16GB, 20GB or 40GB of data - will find that paying extra to zero-rate certain apps isn't especially cost effective.
This is particularly the case with the chat pass, since such apps as Facebook Messenger use only a small amount of data each month.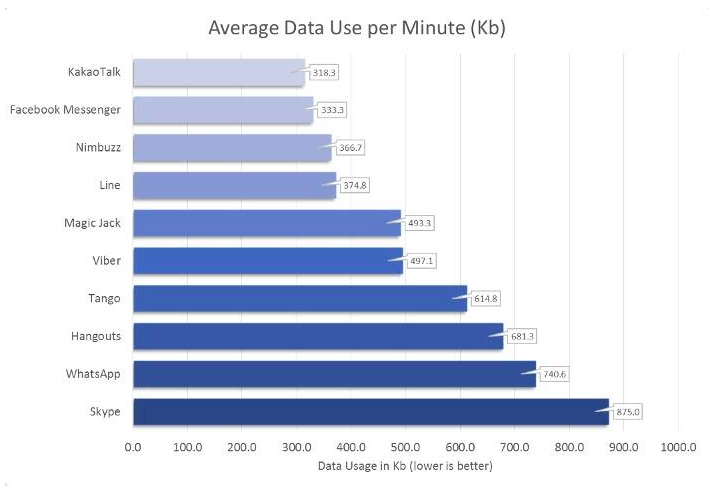 Source: Facebook Help Community; assuming that a user spends 30 minutes a day on Messenger, they'd consume 0.3GB a month
That said, video apps are very data hungry, with Netflix using around 1GB of data for a single hour of streamed HD video.
As such, the Video Pass does offer value for money, while the Music Pass also provides value so long as the customer frequently listens to music on their phone (Spotify uses 70MB of data for every hour of "high quality" streaming, or 4.2GB a month if a user listens for two hours a day).
Given all this, customers shouldn't rush into taking a Vodafone Pass without considering whether their data allowances would already cover their monthly app usage, especially in light of how the likes of Three and Virgin Mobile already offer inclusive zero-rating for a number of apps, including Netflix, Apple Music, Deezer, WhatsApp, and Twitter.