AS Universal Credit becomes a reality for all new single claimants in the UK, a report suggests that the scheme has already veered well off track.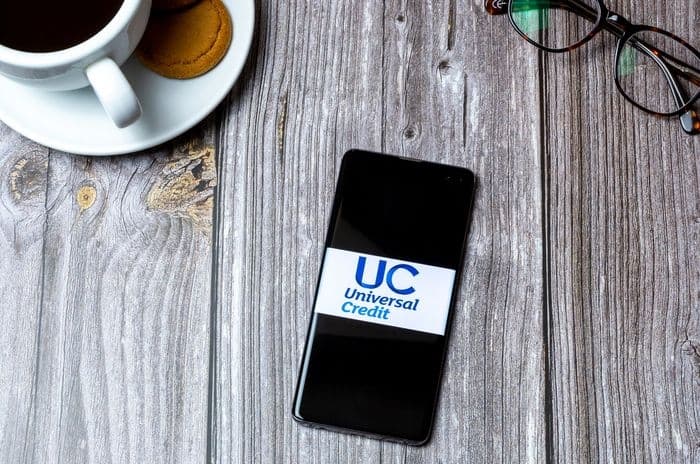 Credit: Gary L Hider/Shutterstock.com
Research from the Resolution Foundation shows that the Treasury's most recent changes mean the majority of low-paid working families will be "detrimentally affected" by switching to Universal Credit (UC).
It estimates that up to 2.5 million families could be left worse off, with some losing up to £3,400 a year.
The report's authors urge ministers to "reclaim" the scheme and ensure it fulfils its original aim of encouraging people to work more hours by providing a boost to their earnings.
As it stands, they say that UC has become little more than a "source of savings for the Treasury to meet fiscal targets".
Increasing availability
The publication of the Resolution Foundation's "Universal Challenge" report coincides with the Government's announcement that, after some delays, UC has now been rolled out to every jobcentre in the country for claimants who are single.
This means that all new claimants with the simplest circumstances will now receive UC instead of a combination of six other benefits.
So far, the Government says that over 450,000 people have made a UC claim, and that there are more than 9,500 new claims being made every week.
But those delays to the rollout mean UC is only available to couples and families in certain areas of the country, and it's not expected to fully replace the existing system for everyone until 2021.
When UC is fully implemented however, the Resolution Foundation say that almost half of all families with children will be entitled to the benefit at any given point in time.
This, they say, makes it imperative that the Government - and in particular, the new Work and Pensions Secretary Stephen Crabb - make any "necessary changes to renew and reinvigorate the reform".
Worse off
Their main issue with UC is that, through incremental changes, it's become very different from the scheme that was first proposed, to the point where it is now less generous overall than the current system.
For example, 1.3 million working families presently entitled to support in the tax credit system will no longer get any in-work support - leaving them £42 a week worse off on average.
A further 1.2 million will be eligible for UC, but will be an average of £41 a week worse off.
By contrast, just over 1.7 million will be better off by an average of £38 per week.
When the then Work and Pensions Secretary Iain Duncan Smith first proposed UC in 2010, part of its appeal was that it was designed to encourage people into work - and to increase their earnings once there, mainly by being able to work more hours.
However, changes to the work allowance last month - bringing it down to £4,764 - mean that claimants earning above this amount will see their benefits reduced; the threshold for earnings is even lower, at £2,304, for those who are claiming housing costs.
The Institute of Fiscal Studies say that the work allowance means that working single parents lose an average of £1,000 a year, but the Resolution Foundation say it's more like £1,508.
No incentive
More pertinently, they show that a single parent in receipt of UC and earning £9 an hour for a 16-hour week would earn just 35p for each extra hour of work - and that's before taking into account any deductions such as National Insurance and tax.
While tax credits required people to work at least 16 hours, UC risks creating a "sweet spot", whereby working fewer hours results in only a marginal drop in income.
For the employee in the above example, working 10 hours would give an income of £232, while working 16 hours would mean earning just £249 - a difference of £17 for 6 hours more work.
Income for a single parent with one child, under the current system and UC, 2020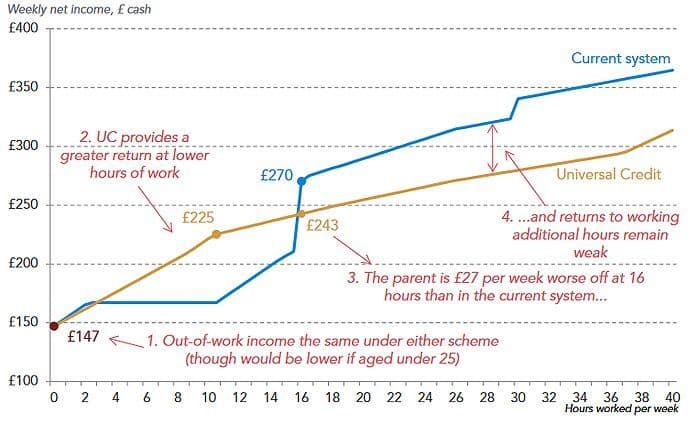 SOURCE: Resolution Foundation, Universal Challenge report. Available here.
David Finch, the think tank's senior economic analyst, said that while UC does provide financial incentive to work, the incentives for people to increase their earnings were "particularly weak".
Not worth it
It seems that there's little incentive for households with a potential second earner to find work either.
The Resolution Foundation says that under UC, the majority of second earners will keep less than half of their earnings if they enter work at part-time hours - creating a risk that they choose not to work at all.
To help offset these problems, Mr Finch is calling on the Secretary of State to "prioritise support" for those who can and will respond best to incentives to earn more, "such as single parents and second earners".
He says that even with the arrival of the National Living Wage, "in-work poverty and low pay look set to remain key challenges in the coming years".