Three aim to tackle digital exclusion by classes alone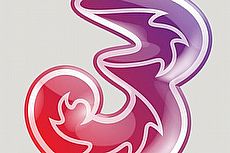 THREE have announced a nationwide rollout of their digital skills programme Discovery, which aims to tackle digital exclusion by teaching online skills to individuals and communities.
Discovery was first launched as a prototype store in 2015 in Maidenhead, before expanding to Swansea and Islington. Now, Three have confirmed that it's now spreading to Glasgow and Edinburgh, where schools, community groups and small enterprises will be treated to digital workshops.
They'll be taught everything from setting up a social media profile to making the most out of smartphones for business purposes, with Three hoping to reduce digital exclusion in Scotland in the process.
However, as helpful as classes and tutorials will be, digital exclusion is also a product of financial deprivation, meaning that greater access to cheaper devices and internet services is also needed to plug the digital skills gap.
Participation
Three's announcement of Discovery's expansion to Glasgow and Edinburgh coincides with their becoming a signatory to Scotland's Digital Participation Charter.
First proclaimed in November 2011, the Charter aims to "deliver shared digital participation", with 21% of Scottish adults still lacking basic digital skills.
Such skills include the ability to communicate online and manage personal finances, and Three aim to help provide them by bringing Discovery to Scotland's largest two cities.
The programme is open to people of all ages, who need simply wind their way to discovery@three.co.uk to arrange a session. From there, they can then be taught by Three's specially trained staff either in groups or individually, providing them with guidance and teaching suited to their particular needs.
They'll be joining the 4,200 people who have benefited so far from Discovery sessions, with Three having already provided 250 sessions this year alone in the current locations of Maidenhead, Islington and Swansea.
According to Three, the help provided by such sessions isn't simply an altruistic gift they're offering to people for purely benevolent (and promotional) reasons, but part of their duty as a mobile network operator.
Their Director of Retail, Paul Cave, said, "We believe that access to the internet is a basic human right ... Our duty as a mobile network goes above and beyond simply providing people with a means to communicate with one another".
Customer skills and financial exclusion
Of course, as can be imagined, Three aren't being entirely altruistic, since Cave goes on to say, "We feel a responsibility to ensure that people are given the necessary skills to get the most out of their device and reap the exciting rewards that come with being digitally competent".
It doesn't take much imagination to realise the possibility that people getting "the most out of their device" and reaping "exciting rewards" is Three-speak for being in a position where they're more likely to be a more active Three customer, perhaps so active they end up "bingeing" on unlimited data.
Still, even if Three may have ulterior motives when it comes to Discovery, there's no doubt that digital exclusion can be a serious problem, and that any help to alleviate it should be encouraged.
The thing is, it's very much a two-pronged problem, requiring action in terms of education and access.
Three may have the education aspect covered, but very often digital exclusion is also a product of being not able to afford going online.
For example, the latest Adults' Media Use and Attitudes report from Ofcom found that people in the DE sociological bracket - representing those in low-skilled work or unemployed - constitute 48% of all people who still aren't online. By contrast, those in the AB, C1 and C2 brackets account respectively for 13%, 14% and 28% of people without internet access.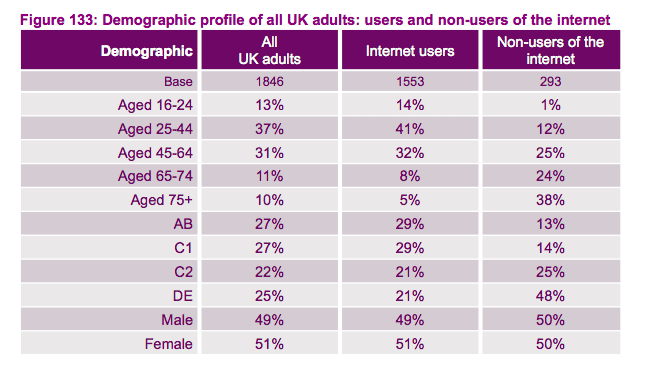 Source: Ofcom, Adults' Media Use and Attitudes 2017
Joining up
On top of this, of those people who aren't on the web, 11% say it's too expensive, compared to 19% who say it's too complicated (and 43% who claim not to see the need).
This shows that, even if a lack of skills is certainly a big issue, attention also needs to be paid to the expense of being online, especially at a time when inflation is running faster than wage growth.
Other organisations working on digital exclusion have appreciated this fact. The Local Government Association recently proposed a broadband subsidy for low income families, while Leeds City Council raised the possibility of lending tablets and providing broadband for free to Social Housing tenants.
Yet neither combined their suggestions with proposals on giving people the skills needed to make the most of cheap/free internet connections or loaned tablets, once again underlying how too few groups focusing on digital exclusion have the joined-up approach needed.
And as commendable as Three's Discovery programme is, it's not until it offers a holistic approach including skills and access that initiatives like it will make a massive impact on digital exclusion, in Scotland or in the rest of the UK.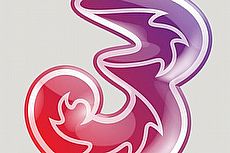 7 December 2017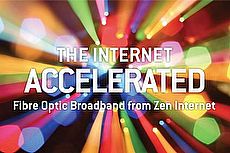 6 December 2017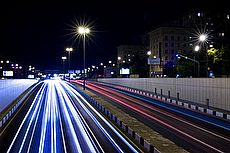 4 December 2017
Follow us or subscribe for FREE updates and special offers