PPI deadline won't guarantee an end to mis-selling
©iStock.com/glegorly
THE Financial Conduct Authority (FCA) have announced the deadline for compensation claims regarding mis-sold payment protection insurance (PPI), setting the date to August 29th 2019.
While it was never fully determined how many people were misled into buying PPI before the Competition Commission (now the CMA) banned its sale with other financial products in 2010, the FCA have stated that £26 billion in compensation has been paid out to millions of customers since 2011.
It's expected that, by imposing the deadline, the FCA will "draw a line under" one of the more shameful episodes in recent banking history.
However, that customers may continue to suffer from mis-selling even after 2019 has been suggested by the likes of the National Audit Office, who last year released a study which found that the FCA cannot "know whether its activities are reducing the overall scale of financial services mis-selling to consumers".
12 million
This is despite the FCA banning the point-of-sale selling of PPI, which is normally meant to insure credit repayments in the event that a policyholder falls ill or suffers some other misfortune that prevents them from paying off their debts.
It was found in 2010 that, by being automatically bundled with other financial products such as loans, PPI was being mis-sold on an "industrial" scale by banks.
The now defunct Financial Services Authority estimated that a whopping 53 million PPI policies were sold between 1990 and 2010.
Initially, only three million of these were thought to have been mis-sold. However, the FCA recently revealed that 12 million people have been compensated between 2010 and November 2015, with £213.1 million being paid out in December 2016 alone, as shown in the table below.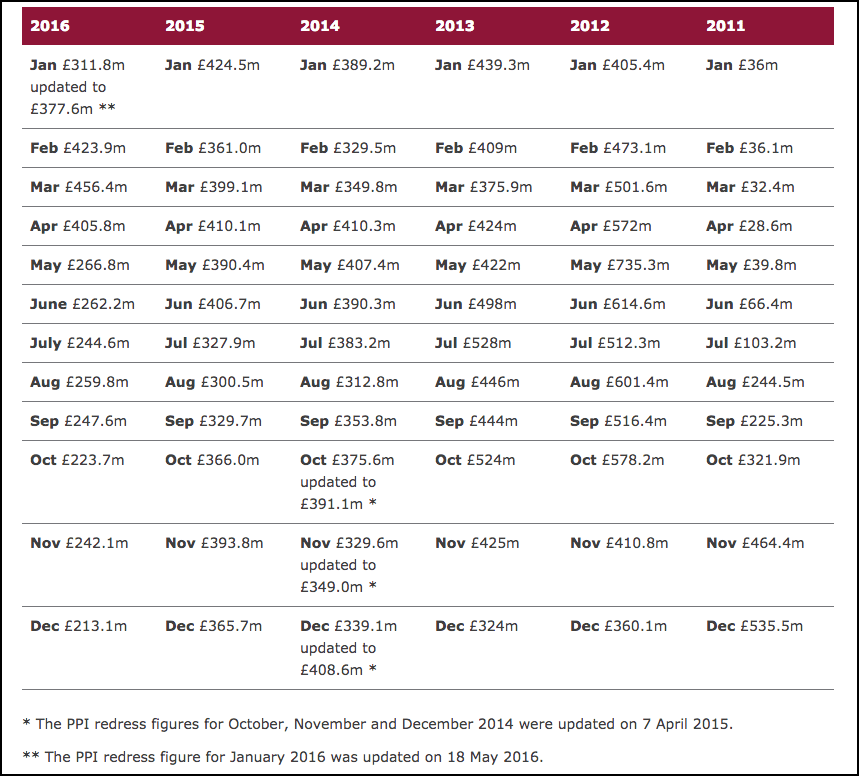 Monthly PPI payouts. Source: FCA
And given that the FCA have set a hard deadline, it's possible that these figures will rise significantly over the next two years.
£5 billion
Part of this increase will be driven by claims management companies (CMCs), who'll be looking to take a considerable slice of the compensation pie for themselves, despite the fact that people can make direct claims on their own.
Yet they haven't simply reduced the total amount of compensation victims of mis-selling receive, but also created additional problems for some of them.
As Citizens Advice reported back in March 2014, the use of CMCs can result in people sinking into debt in certain cases.
They stated, "If a claimant is already in debt to their bank, the bank could decide to use the PPI compensation money to pay off outstanding debts. The individual then needs to find the money to pay the claim firm, which could be up to £1,000".
That someone could be led into claiming compensation in such a disadvantageous situation is the result of the aggressive practices of some CMCs.
For example, Citizens Advice revealed that "nearly 1 in 3 (28%) of British adults ... who have used a claims management company said that the firm put a lot of pressure on them to pursue the claim".
It's for such reasons that people should avoid using a CMC if they can, since such firms can take as much as 50% of the compensation in fees.
This would explain how they've managed to reap around £5 billion of the total awarded by banks in compensation for PPI mis-selling.
The end?
This is an impressive figure, and it goes to show that, even when the wider financial industry admits to having made a mistake, it somehow finds a way of clawing back what it owes long-suffering customers.
Putting in place a deadline and campaign will mean people who were potentially mis-sold PPI will be prompted to take action rather than put it off. We believe that two years is a reasonable time for consumers to decide whether they wish to make a complaint
Andrew Bailey, FCA
Indeed, the whole PPI saga is a testament to this industry's greed and lack of scruples, even in the face of widespread condemnation.
For instance, in August 2014, the FCA ordered the reassessment of 2.5 million cases, after it was found that the number of claims being upheld by banks had suspiciously dropped.
Similarly, it was found that, in 2011, 88% of PPI cases had their rulings overturned, after banks unfairly judged that compensation wasn't owed and victims successfully took their judgements to appeal.
Many rulings are still being overturned in the favour of claimants now, suggesting that the deadline risks causing some victims of the scandal to lose out on receiving their just compensation.
Yet just as worryingly, the National Audit Office published research in February 2016 which reached the startling conclusion that "the FCA lacks good evidence on whether its actions are reducing overall levels of mis-selling".
This research cited how PPI claims increased from 0.9 million in 2010 to in 2.7 million in 2014, suggesting that mis-selling had actually risen since the FCA moved to stamp it out.
And there's the possibility that claims might continue to increase even after deadline, since the latter won't apply to PPI policies sold after August 29th 2017.
If this is the case, then even with the 2019 cut-off, the FCA won't quite manage to "draw a line under" under one of the banking industry's worst scandals.
21 August 2017
Follow us or subscribe for FREE updates and special offers