Ofcom to cut mobile fees to 0.5p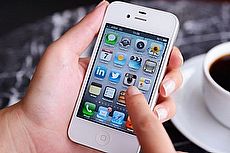 OFCOM announced today that they will cut mobile termination charges to below half a penny a minute by April 2017.
Reducing the network fees will lower mobile costs for consumers, the communications regulator said.
Consumers in the UK benefit from a thriving competitive market, and mobile calls have never been cheaper.
Brian Potterill, Ofcom competition policy director
The cost of placing calls has fallen dramatically since 1995, when networks charged each other mobile termination fees of 25p a minute.
"Consumers in the UK benefit from a thriving competitive market, and mobile calls have never been cheaper," Ofcom competition policy director Brian Potterill said today.
"The average cost of a call bundle has fallen from £40 to around £13 in real terms over the last 10 years."
Down from 25p a minute
When mobile users call someone on another network their network will be charged a mobile termination fees.
Such fees have fallen precipitously over the past decades largely because the process of placing calls has become more efficient and therefore cheaper.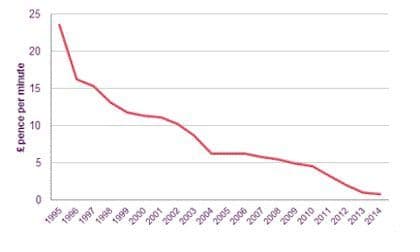 SOURCE: Ofcom, showing mobile termination rates since 1995.
Ofcom's intervention isn't so much forcing prices down, then, as making sure that networks' fees reflect these reduced costs.
Ofcom did this before in 2011 and network costs will reduce even further in the next few years as networks work out how to use 4G for making phone calls so Ofcom are also looking ahead to that change.
The regulator will publish their final decision by March 2015.
Will mobile costs fall too?
The coming cut in termination charges doesn't necessarily mean that mobile costs for ordinary consumers will also fall but the two are strongly correlated.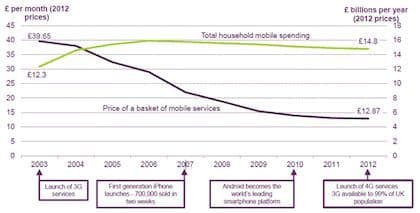 SOURCE: Ofcom, showing mobile costs since 1995.
The actual costs of mobile services have really decreased over the past few years and, even as we've become far more likely to buy or use more mobile services, so have costs per household.
So it's highly likely that the cost of mobile calls will go down slightly as a result of Ofcom's intervention and, as we said above, because of the underlying market conditions.
Calls are, of course, just one part of a mobile bill and a part that losing importance every day.
O2 research released in 2012 found that calls were only the fifth most popular use for a smartphone for the average user.
The average customer, O2 says, makes phone calls for just 12 minutes a day and another 108 minutes browsing online, social networking, playing games and listening to music.
Mobile data costs are still fairly high and, unlike call costs, vary a lot between providers in ways that are often not all that transparent.
Wholesale data costs still high
As with calls, these higher consumer side costs are tied to the high wholesale cost of providing the service.
At the end of last month, Samba Mobile, the small Mobile Virtual Network Operator (MVNO) which offered users free mobile internet access in return for a web service surrounded by paid advertising, closed their doors.
Samba, which launched in July 2012, said that wholesale data costs were making the business model unsustainable.
The network had attempted to negotiate with their MVNO partner, Three, to reduce their costs but still found themselves unable to bring prices down to a sustainable level.
Samba customers that bought SIM cards and dongle during April this year got refunds and so did customers with outstanding top up amounts, though customers with a credit balance they had earned by watching advertising lost the money they made.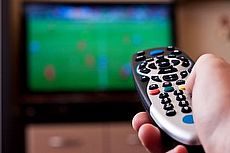 15 November 2017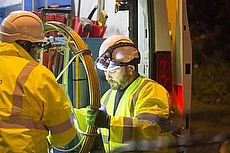 10 November 2017
9 November 2017
Follow us or subscribe for FREE updates and special offers