Nook users will keep 'most' of their books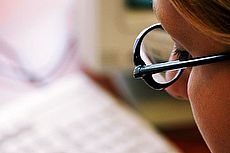 ©iStock.com/vvooki
NOOK customers may permanently lose books from their libraries when they transfer their accounts to Sainsbury's on-demand service next month.
The announcement comes after Nook's owners - US bookstore Barnes & Noble - revealed they were pulling out of the UK digital content market, and handing control over to Sainsbury's Entertainment on Demand division.
A statement on Nook's website says that the UK Store will close down on 16th March, and that users will have a 90 day transfer period to actively migrate their Nook Books to a Sainsbury's Entertainment account.
Even then, the company say customers may only be able to move the "majority" of the books they've paid for.
Transition
Sainsbury's have already set up a welcome page where they inform Nook customers that they can expect an email directing them to their new account page sometime this month.
This "transfer portal" will give full instructions on how to transfer the books they've purchased.
The window for migration begins at the start of April 1st and lasts until the end of May. Nook say that books that aren't transferred during this time will become unavailable for later download, and effectively lost.
If a book isn't available for transfer, users will be given a Sainsbury's Entertainment on Demand voucher to the value of the price originally paid for it, to be used to buy new digital content.
It's a generous gesture, but it may be of little consolation for those who simply want a replacement copy of an e-book that's no longer available from a publisher, which seems to be the most likely reason we'll lose content.
Other content
It's not just books that people buy and access via e-readers; Nook say that content such as magazine and newspaper back issues, apps and videos won't be transferred, and must be downloaded before May 31st or lost.
They also say that subscriptions to newspapers and magazines will be cancelled as of March 15, though no mention is made of reimbursement.
Those with concerns can contact the Nook support team, though the company says that questions about e-book migration are the domain of the Sainsbury's support team.
Affected devices include the Nook Simple Touch, GlowLight, HD, HD+ and the reading app for android and iOS.
Not unusual
Launched as a rival to Amazon's Kindle in 2012, Nook hasn't fared well.
Indeed, Neil Saunders, from research company Conlumino, said that Nook is an "unmitigated disaster" that is in "terminal decline".
Barnes and & Noble's decision to cut their losses and strike a deal with Sainsbury's isn't therefore much of a surprise.
It's not the first time an e-book firm has offloaded their customers to another company - last year, Tesco sold their Blinkbox books service to e-book company, Kobo.
Unlike Nook however, Tesco had already said that they would transfer not just customers, but their entire libraries too.
As their website stated: "Once you've purchased a book from us, it's yours and we want to make sure that you always have access to it."
Is it really mine?
Kobo stood by Tesco's promise, though most e-book users who think they actually own the books they pay for are almost always mistaken.
Technically, Kobo customers aren't even supposed to share the device hosting their books.
A Kobo spokesperson told The Digital Reader that "Legally, only the account holder has license to use the material."
Amazon do allow people to share some of their Kindle content if their accounts are linked - but even so the idea that we buy a license to access that content, rather than the rights of ownership is also part of the Kindle Store's terms of use.
They say that "Kindle Content is licensed, not sold, to you by the Content Provider."
This is nothing unusual in the world of digital content, but it's becoming more of an issue - with customers losing out when providers and retailers argue over rights and payments, or when one or other part of the supply chain folds.
Feelings of attachment aside, the standout questions here have to be whether we're aware enough of our limited rights - and whether we're getting value for money considering those limitations.