Why are middle-income earners turning to payday loans?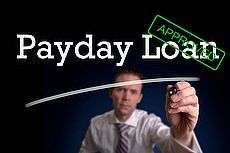 ©iStock.com/Duncan_Andison
EARLIER this month, Instant Loans Direct, a Payday lender, released an interesting statistic: 57% of its customers earn between £25,000 and £50,000 a year.
That makes Instant Loans Direct a bit of an anomaly: Consumer Focus research found that 67% of payday loan borrowers in the UK have an income of below £25,000.
Either way, however, £25,000 is over the average UK income and you'd expect people with that wage to have access to a number of conventional banking options.
Instead, though, they're turning to the controversial payday loans market. Why?
Why not mainstream?
Giles Coutts of Instant Loans Direct said: "Many assume it's only those on low incomes struggling to get cash from their bank and who resort to payday loans."
"But it's actually the middle-income earners whose budgets are being bust and who need the cash most desperately to cover them, usually for ten days until payday."
In other words: conventional banking isn't offering better value.
Instant Loans Direct, like most payday lenders, charges a whole fee repayable in a matter of days.
£250 repaid within 12 days typically costs £15 or, to put it in a more terrifying way, at a representative 448.3% APR variable.
It's not unusual for payday lenders to charge 10 times that rate.
With Wonga, for example, the same amount repaid over the same length of time would cost £35.74 or a representative 4,214% APR variable.
But, for example, many banks now express unauthorised overdrafts in terms of daily fees for going over the credit limit as well as additional fees. For example, some banks also make a charge every time a customer already in an authorised overdraft uses their card to make an additional payment.
Not only can these charges, expressed as an APR, run into the thousands, the nature of additional fees means that consumers can be unsure of how much their borrowing will end up costing overall.
To give a more concrete example, let's say you have a standard Halifax current account: go into £250 of an overdraft for 12 days and you'll pay £1 a day (that's with a planned overdraft) so just under what a payday lender would charge.
But with an unplanned overdraft you'd pay £5 a day or £60 overall, more than even Wonga would charge.
True, those figures don't account for the dangers of falling into long-term payday borrowing but they do illustrate a growing feeling that the banks levy unfair charges when their customers go overdrawn.
Research from the CFA shows that the majority of those taking out payday loans (60%) are single rather than married or cohabiting indicating that they may have less recourse to informal borrowing which could make going into an overdraft, borrowing using a credit card (which require planning in order to borrow very cheaply or for free) or taking out a payday loan the only real choices.
Consumer Focus researchers concluded in a 2010 report that, "payday loans are seen as a straightforward way of solving a temporary financial problem (assuming the loan is paid back immediately), without the temptation of taking out bigger loans."
A voluntary code of practice for payday lenders may also indicate a more responsible lending environment in the sector.
Serious debt
Another alternative, of course, is that salary isn't giving as full a picture of borrowers financial situations as the payday lenders might want us to assume.
An external pressure, such as a serious debt problem, could well be depleting what looks like an otherwise more than comfortable salary and driving Instant Loans Direct customers to turn to the short-term lender when they're in a vulnerable position, for example.
That's certainly likely to be the view of the MPs demanding interest rate caps in order to curb the use of payday loans.
18 October 2017
17 October 2017
12 October 2017
Follow us or subscribe for FREE updates and special offers