LETTING agent fees lack transparency and vary 'wildly and inexplicably' according to a Citizens Advice report.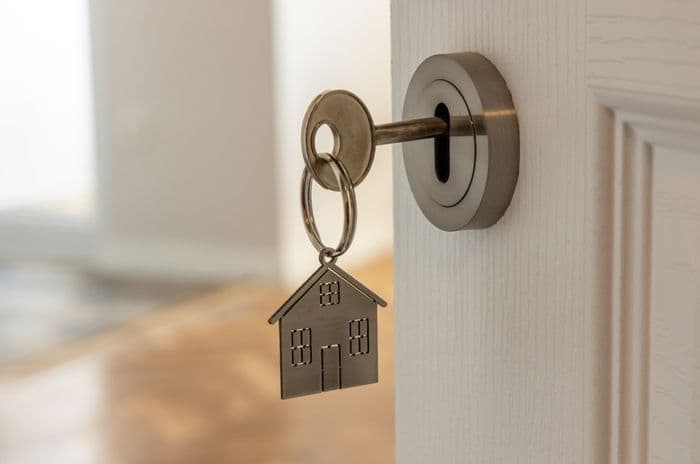 Credit: Michael Dechev/Shutterstock.com
And despite costing £337 on average, just 25% of renters take fees into account when choosing a property.
When prompted, just 34% of letting agents willingly handed over full written details of their fees and 29% don't publish any fee information on their website.
To increase competition between letting agents, Citizens Advice have called on the Government to ban fees for tenants, other than refundable deposits.
But the Communities and Local Government Committee say it's not clear what effect this would have and suggest the next Government look into it further before making a decision either way.
Redress schemes
Citizens Advice surveyed 1,141 renters online, so there's likely to be some bias toward dissatisfaction, but they also surveyed 353 letting agents.
Tenant satisfaction has increased since 2009 although it remains low; in 2015 44% of surveyed tenants were satisfied or fairly satisfied with their letting agent, compared to just 27% in 2009.
Worryingly there is a lack of accountability; 18% of letting agents aren't part of a redress scheme despite being compulsory by law since October 2014.
And despite complaints of slow or no property repairs being common 84% of renters are unaware if their letting agent is part of a redress scheme.
Afterthought
80% consider location of property and 77% the level of rent when choosing a property, but most don't take letting agent fees into account.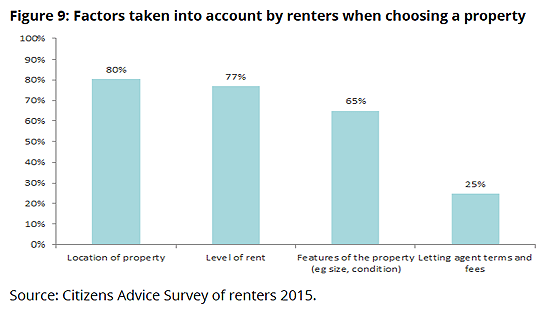 SOURCE: Citizens Advice, Still Let Down, March 2015. Available here [pdf]
Fees are an afterthought, in part because the information is so difficult to come by; 81% of letting agents don't prominently displaying fees at their offices.
There's unwillingness between agents to be upfront about this information. 47% wouldn't provide a written list of fees when asked.
To make them even more difficult for tenants to understand, there's great range of fees between agents and the amount charged doesn't match up with the service provided.
For example reference check fees range from £6 to £500 despite a cost to letting agents of around £15 to £25.
Conflicting evidence
64% of the renters say high letting fees cause problems: 42% had to borrow from friends or family to afford them; 21% had difficulty paying other bills; 19% went overdrawn; and 6% had to take out a loan.
Despite growing evidence of the harm fees cause, the Government is cautious to make further changes without knowing what the consequences will be.
Scotland banned letting fees for tenants in 2012 but this month a study by the Communities and Local Government Committee concluded there isn't enough evidence to decide if it's had any benefit to tenants.
Evidence mainly focused on whether the ban caused rent increases and it was conflicting.
Whether there's an effect on rent or not, a fee ban could ease the burden of finding large sumsat the start of a tenancy.
Chair Clive Betts is quick to point out, "the impact of any ban on fees may be much more significant than simply on rents".
The problem is, they don't know for sure if it'll be a positive or negative effect so they're hesitant to recommend banning fees in England, instead calling for further research.
"Fees apply"
There are some improvements over the past few years but it remains difficult to compare fees between letting agents.
From 1 November 2013, Advertising Standards Authority rules changed with letting agents now required to say if they charge fees alongside monthly rent when advertising properties.
They must state how much any fixed fees are, however they're allowed to vary fees depending on the tenant circumstances and by property.
In this case they just have to state "fees apply", indicating how the fees are calculated without giving any values.
Citizens Advice found 40% of renters weren't provided with full written fee information before signing a tenancy agreement.
Landlord power
The Government decided greater transparency of fees is needed; they've amended the Consumer Rights Bill directing letting agents to publish detail of their fees.
This is due to come into force from April 2015 but Citizens Advice don't think it's going far enough.
They say a ban on fees for tenants would "shift the industry's business model closer to that of other agency markets, such as employment agencies".
Chief Executive, Gillian Guy, says, "letting agents hold all the cards meaning tenants are open to abuse."
The theory is landlords hold more power than tenants and are able to hold letting agents to account.
So charging fees exclusively to landlords rather than tenants could improve competition, Guy says, "renters don't shop around for letting agents, they shop around for properties - so the idea that transparent fees will solve these problems is misguided".
And with letting agents frequently charging both a tenant and landlord fees for the same property, landlords too could benefit from increased competition among letting agents.