THE GOVERNMENT has released a map showing more than 13,000 miles of publicly owned, mostly fibre, digital infrastructure - having only recently discovered how much of it there actually was.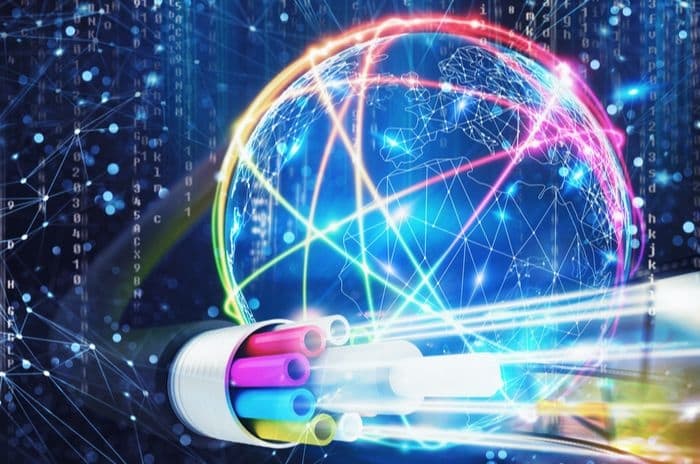 Credit: alphaspirit.it/Shutterstock.com
The public sector telecommunications and digital infrastructure map [pdf] is the first such document to pull together and display all of the Government's digital network assets.
To be honest we didn't know some of it existed,
Francis Maude, MP
They include network rail telecoms, the national roads telecommunications service, the defence fixed communications service, and JANET, the network linking education institutions.
The Government says it spends £1.5 billion a year on its public sector networks, but that they're "massively underused" - so the plan is to use the spare capacity to help boost the UK's connectivity.
"We didn't know it was there"
The Interim Landscape Report, published alongside the map, suggests that better utilisation of these networks would help improve access to high-speed broadband, reduce the number of mobile phone "not-spots" - and improve value for taxpayers.
The map and report are the result of an investigation into what telecoms resources the Government actually had, which began last summer.
"To be honest we didn't know some of it existed," Cabinet Minister Francis Maude admitted.
Among the assets are some 13,000 miles of fibre owned by Network Rail and the Highways Agency. The road network is used to connect emergency telephones and devices like signals, CCTV and speed cameras to regional control centres.
Meanwhile the fibre network running alongside the UK's railway lines provides signalling and safety-critical information, as well as corporate voice and data traffic, and other services.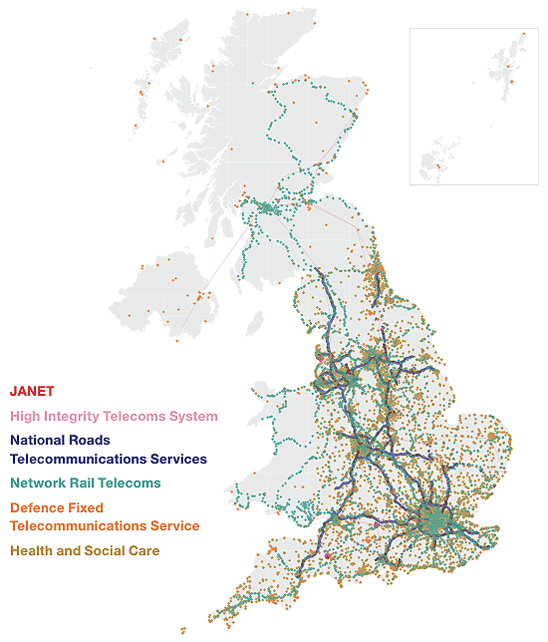 SOURCE: Public Sector Telecommunications and Digital Infrastructure Maps: Interim Publication
The Government says it's looking into whether some of the spare capacity in these networks could be used for related tasks - for example, using the Highways Agency emergency mobile communications network to replace the emergency phone boxes at the side of the roads.
And with proposals for new systems and services for health, defence, and the emergency services, it's hoped that the discovery of overlapping and often under-used networks could provide at least part of the additional infrastructure required.
At the same time, they've identified more than 1,000 sites on Government buildings where building mobile phone masts could help boost signal reception in built-up areas.
And as Defra calls for more ambition regarding rural broadband, the Government is also apparently exploring the possibility of using the fibre network used to control unmanned onshore wind farms to improve connectivity in such areas.
Overlap
So how much will this extra capacity improve connectivity?
Think Broadband pointed out that, "by and large these [networks] replicate the footprint of the various commercial fibre backbones", adding that commercial efforts have probably extended further into rural areas.
The Government say they'll work with local groups across the UK to see how the publicly owned network can be used to help expand capacity.
But while the Government networks are great for adding capacity at the national and regional level, they don't help with the matter of extending the networks to individual premises.
Nor do they help address the issue of slow internet speeds and a lack of decent voice call coverage in less densely populated areas of the UK.
The network is busy
Instead it's fallen to the UK's mobile network operators and Ofcom to agree improvements to signal strength that will ensure decent voice coverage across 90% of the UK by the end of 2017.
Where the Government infrastructure may be useful here is in helping them deal with the requirement to cut "not spots" - where there is no mobile coverage at all - by two thirds.
Ofcom reckons that going by outdoor coverage, around 16% of UK premises have no mobile coverage at all, or coverage from just one or two operators. Stepping inside the building, the proportion of UK premises with no or limited mobile coverage increases to 29%.
There are not-spots in some unexpected places - including central London - as a result of dense populations and interference from buildings, so extra mast points in these locations could well help keep the networks ticking over.
As for broadband, it's likely that the task of expanding and improving rural networks will remain in the hands of Broadband Delivery UK (BDUK).
In 2014, they allocated £250 million to various rural broadband projects on the basis of how far off the 95% coverage target they were.
That's on top of an earlier £530 million, and criticism about the tendering process, delays and an obsession with speed rather than reach.
However, it looks like some of those earlier issues are at least partly resolved, as earlier this month BDUK announced they were a good six months ahead of schedule.