Credit card debt, the importance of making a budget and many other practical finance topics will now form part of Maths and Citizenship lessons in schools throughout the UK thanks to legislation coming into force this month.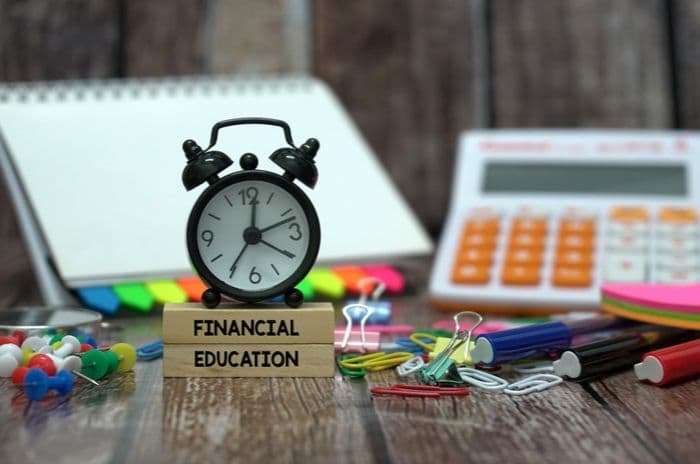 Credit: Mohd KhairilX/Shutterstock.com
The new law is a result of a long running campaign by consumer groups and MPs who insist that financial education is essential for Britons to make informed monetary decisions in later life.
Campaigners suggest that a lack of financial know-how is currently costing the UK approximately £3.4 billion per year.
It is hoped the changes will eventually reduce UK consumers' chances of falling into debt, being mis-sold financial products, and failing to save for retirement.
Financial education and debt
It's no secret that consumers of all ages are often muddled by money.
Numerous statistics illustrate that people badly mismanage their finances and plenty of polls show they would welcome more guidance.
For example, research from RBS suggested that 66% of people surveyed believed money management lessons would have left them better equipped to deal with financial challenges in adulthood.
A survey by the Government backed Learn Direct in 2011 revealed that one in ten respondents had signed up for contracts and services that were unsuitable.
Controversial area
The new curriculum states that citizenship lessons should 'prepare pupils to take their place in society as responsible citizens by providing them with the skills and knowledge to manage their money well and make sound financial decisions'.
Children will learn about the perception of money, how to make risk-based decisions, wages, taxes, credit, debt and the function of different financial services and products.
In maths lessons, children will be educated on how to calculate interest as well as solve and devise problems in financial mathematics.
While the content may be useful, naysayers point to the fact that knowledge doesn't always transfer into action - especially when emotions come into play.
'We have this idea that if we teach kids good habits they will use them. But it's just not true,' says John Lynch, a consumer psychologist at the University of Colorado's business school. 'A kid in the backseat of a car,' he says, 'is not thinking about Sex Ed'.
Start an early habit
A research paper authored on behalf of the The Money Advice Service (MAS) suggests that most children's financial habits are formed by the age of seven.
The paper written by behavioural scientists at Cambridge University, entitled "Habit Formation and Learning in Young Children", demonstrated that the majority of young children understood the main aspects of how money worked and had formed core behaviours that would affect their financial decision-making processes for the rest of their lives.
While financial education might not stick with some, or be wilfully disregarded by others, it can only be a good thing overall.
To really make it work however, parents need to do their bit by providing good examples to their children.
Another study, carried out by North Carolina State University, found that children pay close attention to issues related to money.
The authors suggested that parents should make an effort to talk about money with their children. This should, in theory, help prevent the development of financial misconceptions later on.
The idea of talking about money as a way to promote financial education is also supported by research published by The Journal of Consumer Affairs in November 2013, which found that couples who discussed money tended to do better at managing it.
There is conflicting evidence on whether financial education will prevent future generations from getting into economic strife but it would take an extremely hard nosed cynic to suggest that introducing lessons on the basics of money is a complete waste of time.
For the time being, it's likely that financial education will continue to receive widespread support, not least because parents believe it will benefit their children.
A recent poll conducted by F&C investments revealed that 63% of parents believe children should receive financial education before reaching their teenage years.