New EU rules give 14 days for online returns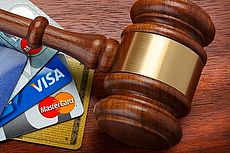 ONLINE shops must give customers the option to return purchases for least 14 days after they receive them, from Friday.
Currently, the cooling off period is just 7 days.
The change is just one of a number of strengthened consumer rights which will become UK law this week as part of the European Union's Consumer Credit Directive.
Other changes include a ban on excessive card fees and on the pre-ticked boxes on online forms that strongly encourage, and sometimes outright trick, customers into buying extras like travel insurance.
Longer to return or cancel
However, the longer return or cancellation cooling off period will perhaps be the most useful new right.
Like the old 7 day rule, it applies to anything, goods or services, bought online, by mail order or over the phone.
And, just as under the old rule, the cooling off period starts from the day after the purchase arrives in the post or the contract is signed and completed.
That includes contracts for services like mobile phones or broadband (as we've covered here).
Now, from that time, consumers have 14 calendar days to return or cancel for a full refund.
The calendar days detail is something that differs from the old rules, previously, we had 7 working days.
This does limit the power of the new rule a little bit, but only a little. Say the goods arrived on a Friday, there's a whole two working weeks to return, as opposed to one working week plus Monday and Tuesday under the old rules.
It's also worth noting that both goods or services can only be returned unused: this isn't a way to test whether a mobile provider has signal before committing, for example.
More rights
Most of the other new rights in the directive are less to do with what consumers can do if they have problems and more with avoiding getting into problems in the first place.
For example, the new rules ban 'pre-ticked' boxes on online payment forms.
Your rights: fraud + cards
Though these are perhaps most common on the payment pages of certain low cost airlines, where travel insurance or baggage allowance surcharges are currently added to the basket automatically, they do sometimes pop up in on shopping sites.
Choose Towers recently accidentally acquired a very nice mug from a well known sports retailer using this method, for example.
Similarly, the new rules ban excessive "administrative" credit and debit card surcharges throughout the EU, a law that's already been in force in the UK since 2013.
These rules don't cover all kinds of transactions, though.
Financial services, package holidays and gambling transactions are all exempt.
Even more rights: Consumer Rights Bill
In the UK, this EU directive is being implemented through a number of different pieces of legislation.
However, it's separate from another big piece of legislation coming through parliament, the Consumer Rights Bill.
The Bill, which is sponsored by Vince Cable, aims to clarify many of our existing rules taking back goods and on unfair terms and conditions, which are currently a little fuzzy.
It could, for example, bring in an even longer cooling off period.
It's also likely to make traders more responsible for fixing problems when good are faulty, either by repairing them, by replacing products or, if neither are suitable, by giving consumers a price reduction.
An interesting part of the bill will be how it relates to digital content.
Digital 'goods' like apps on iTunes or Google Play or online games downloads are in a grey area which can often make it very difficult for buyers to get refunds.
12 October 2017
10 October 2017
9 October 2017
Follow us or subscribe for FREE updates and special offers