Mobile's conscience grows: TPO, Green Mobile and Fairphone
THIS week, Wikipedia founder Jimmy Wales joined The People's Operator (TPO), an ethical phone network.
TPO, which runs on the EE network, gives a quarter of its profits to charity and allows customers to give 10% of their monthly bill to the charity of their choice.
With the support of Wales, TPO are off to a good 2014 but the provider is just one of many green shoots sprouting at the edge of the UK mobile market.
Fairphone, an ethical handset, was launched at the end of last year and other ethical providers, like Green Mobile which gives money to environmental causes and promotes phone recycling, are slowly growing into viable alternatives to the big networks.
And demand for an alternative is growing: the UK's biggest corporations give just 0.4% of pre tax profits to charity, according to a recent report, and avoid contributing by paying their tax bills too.
The People's Operator
Operating out of the limelight for much of the time, The People's Operator is now stepping out of the shadows.
The appointment of Jimmy Wales, is expected to help to expand the phone network's customer base as it continues to focus on 'viral growth' (what we used to call, word of mouth). No doubt Wales' star quality won't hurt.
Wales has a stake in TPO and will co-chair the business.
Dependent on the big networks and with limited appeal, however, it remains to be seen how big an impact the ethical network, and others like it, will be able to make.
There are several virtual mobile networks in the UK, GiffGaff, Tesco and Virgin to name a few, but none quite like The People's Operator.
Launched in November 2012, TPO runs on EE's 3G network. The business model aims to do good without passing on any additional cost to its customers.
TPO donates a quarter of its profits to a charitable foundation and customers can ask for 10% of their monthly spend to go to a charity of their choice. Despite gifting slices of their profit to charity, TPO still manages to offer good value for money on its mobile plans.
30 day rolling, SIM only contracts are available for as little as £5 a month for 50 minutes, 50 texts and 50MB data.
However, for less than £15 a month, pay monthly customers can go unlimited, subject to a fair usage policy.
In contrast, T-mobile's biggest 30 day SIM only plan is £18 a month, and it only offers 1000 minutes, unlimited texts and 3GB data (find out more about low cost tariffs here).
TPO is one of a number of smaller networks that have pledged profits to charity, Green Mobile and Wildlife Mobile are two more.
Green Mobile was the first environmentally friendly operator in the UK. In return for keeping hold of existing handsets for longer, the network offers cheap tariffs and donates 6% of turnover to charity.
Launched in January 2013, with the catchy slogan 'Every conversation helps conservation' Wildlife Mobile is the network run by the WWF.
Its says its low profit model means that consumers get better value for money and the WWF raises more money.
Ethics at EE
However, as we noted above, all these networks are dependent on the UK's biggest mobile operators.
TPO runs on EE's 3G network, the biggest of the big four mobile operators, and, according to Ethical Consumer, a company that's far from squeaky clean ethically.
Ethical Consumer gave the network poor ratings in human rights, worker's rights, supply chain management, political activity and antisocial finance.
In all, EE only achieved an 'ethiscore' of 7.5 out of a possible 20.
Three did worst in the rankings, with a score of just 2 and TPO tops the table with 11.5 so their association with EE hasn't hurt them too badly, at least in the eyes of the consumer ethics bible.
And at least they pay their taxes, unlike Vodafone, which has avoided paying any corporation tax for two years running.
Fairphone and fairer mining
Ultimately, just as with ethical banking, the corporate malfeasance of the phone networks is likely to be a lot less important to consumers than where their money - or at least 10% a month of it in TPO's case - is going.
Similarly, the ethics of the handsets we use everyday are starting to become more important.
Towards the end of 2013, there was a lot of activity in the smartphone industry, with a couple of new iPhones making their way onto the market.
But away from the excitement of a 'budget' iPhone, there was another device being launched, Fairphone.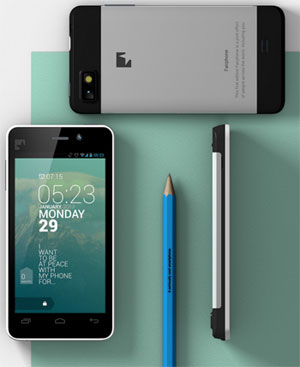 The team behind the company built the new phone made from eco friendly materials in factories with good working conditions.
The company ensures workers are paid a living wage and that materials are sourced from conflict free mines.
Many common minerals found in electronics - like tin, tantalum, tungsten and gold - are sourced from Eastern regions of the Democratic Republic of Congo where there are reports of groups using intimidating strategies to control the local population and their mines, with millions of people being killed in the process.
Though the DRC is subject to sanctions which should prevent companies from buying these raw materials, corporations that choose not to look too closely at their sourcing can easily end up with components sourced from this conflict zone, or others.
The industry on the whole is improving, with many mobile manufacturers, under pressure from Governments and campaign groups, taking a closer look at their supply chain but Fairphone is proof that completely ethical sourcing is possible.
13 October 2017
11 October 2017
10 October 2017
Follow us or subscribe for FREE updates and special offers