Energy switching campaign targets students
OFGEM has relaunched its Be An Energy Shopper campaign, aiming it squarely at students.
More than three quarters of people in rented accommodation in Britain say they've never changed energy supplier, while 20% aren't aware of their right to switch.
Ofgem says many students - and other households - could save up to £200 a year if they shopped around for their gas and electricity.
But it says far too many renters are under the impression they're not allowed to switch provider, locking them in to uncompetitive tariffs and expensive bills.
Why students?
Renters make up an estimated nine million households in the UK. If so few of them are aware of their right to switch supplier, why focus on students?
There's sound reasoning behind it.
For many people, university and college are the first opportunities they get to live as fully independent grown-ups - and that means becoming responsible for their own money.
It makes sense for people to become aware of their rights and options as early as possible.
And while schools now offer classes in basic financial matters, for many university is a very rude awakening.
With loans, fees, and the prospect of graduating in debt it may take decades to pay off, reducing costs where possible makes sense.
Too cold to study
An NUS survey found that 78% of students said they felt uncomfortably cold at home during the winter, with 79% saying they turned the heating off or hesitated to use it because they were worried about the bill.
Meanwhile 67% have worn outdoor hats, gloves and scarves inside to help them keep warm, and 82% say they've worn more than one layer of clothing to bed because it was so cold.
At the same time Lancaster University Students Union carried out its own study, in which it found the average energy bill for students in rented accommodation was £527 per student per year.
Considering how low a student's income is, it's not surprising the NUS believes this means many could be in fuel poverty - and being ineligible for benefits, they're not entitled to the same kinds of help as other fuel poor households.
So, as with other people who face a poverty premium, it's therefore all the more important that the money available goes as far as it can.
Accessible information
That said, the advice on offer is fairly universal.
The main thing to bear in mind is who pays the bills. If the tenants are responsible, they're entitled to switch suppliers at any time.
That includes being able to change from prepayment meters to credit meters - even if there's money owed (up to £500) on the prepayment account - although any costs involved in changing are the responsibility of the tenant.
Especially important considering the shorter length of many student tenancies, is finding out about existing supplier contracts, such as fixed price deals, that might have exit fees or tie-in details.
Ofgem's Go Energy Shopping campaign site also offers help with comparing various tariffs, understanding the language on bills, and advice on where to find support if there is a problem.
In the meantime, we've plenty of information on student finance - see the box above for our guides.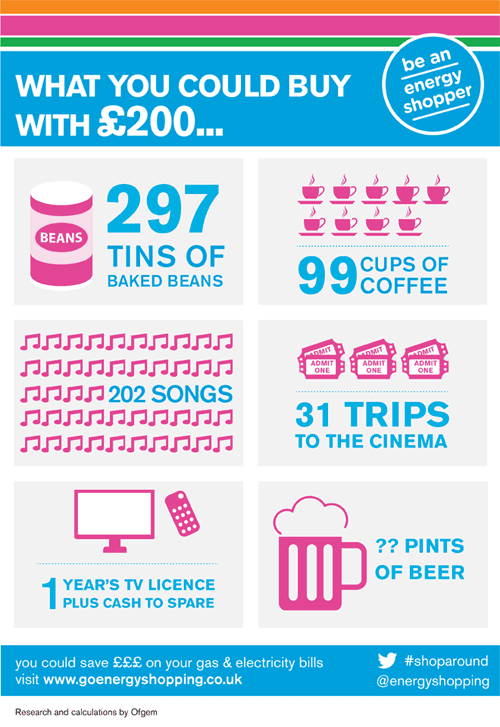 18 October 2017
17 October 2017
12 October 2017
Follow us or subscribe for FREE updates and special offers