Students have a particular set of needs when it comes to shopping for broadband deals since they are only at university during term time.
Even so, 12-month fixed term home broadband deals can still be an option alongside 4G/5G home broadband or mobile broadband deals.
Choosing the right student broadband option depends on the household involved and how much a student can afford to pay upfront.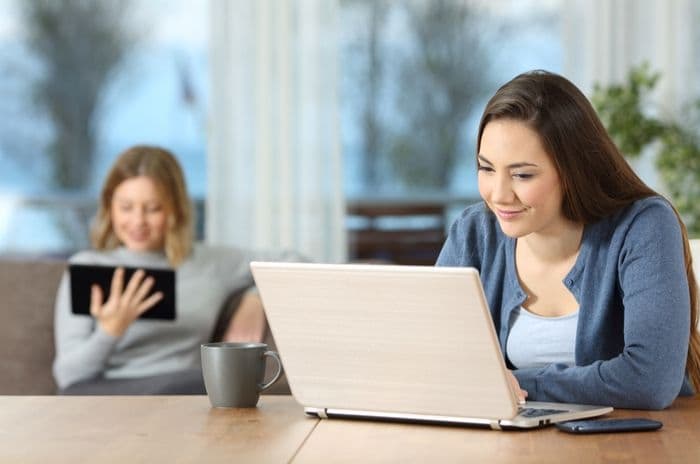 Credit: Antonio Guillem/Shutterstock.com
---
Do you need student broadband?
Students moving into some types of student accommodation will need to organise their own broadband connection.
Shared student houses where bills are paid by the students directly will usually need to sign up to a broadband deal or use mobile broadband as their home internet connection.
If you're living in one of the following accommodation types, you might not need to organise your own broadband:
Accommodation managed by the university or a management company where broadband from one provider is included in the rent or available at an additional cost
A shared student house where broadband is included in an "all-inclusive" rent arrangement
In these situations, students may be stuck with the broadband provider the accommodation is signed up with, although it could be possible to supplement the home broadband that is provided with mobile broadband - more on this option later.
---
Student broadband options
For students who need to organise their own home broadband, there are four main options:
Dedicated student broadband deals
Normal fixed home broadband deals
Normal rolling home broadband deals
Mobile broadband (4G and 5G)
Depending on which university a student goes to and whereabouts in the country it is located, the individual options may vary.
For example, students living in busy cities may have more full fibre broadband options for speeds of up to 1Gb while those in smaller towns may have more limited choices.
With that in mind, let's look at the main options in more detail.
Dedicated student broadband deals
A couple of broadband providers still target students with dedicated broadband deals.
These are less common than they used to be, and we don't often see nine-month contract terms for students who just live in their accommodation during the academic year.
There are two major providers offering dedicated student broadband deals:
BT offer 12-month plans to students with a £29.99 set-up fee.
These are broadband only deals with no landline included, and prices will rise in March each year by CPI + 3.9%:
| | Package | Broadband | Monthly price | Upfront price | Contract term |
| --- | --- | --- | --- | --- | --- |
| | Fibre Essential | 36Mb average | £28.99 | £29.99 | 12 months |
| | Fibre 1 | 50Mb average | £29.99 | £29.99 | 12 months |
| | Fibre 2 | 67Mb average | £33.99 | £29.99 | 12 months |
BT's student deals are online exclusives and students will need to be able to prove their status when signing up.
It's also worth noting that BT's tariff list does include full fibre broadband deals of up to 900Mb, so students with accommodation in areas that can receive fibre to the premises (FTTP) services from BT can get even faster speeds.
Meanwhile, Virgin Media student broadband only deals are offered in 12-month or 30-day varieties with speeds of up to M500 (516Mb) available.
Here are some examples:
| | Package | Broadband | Monthly price | Upfront price | Contract term |
| --- | --- | --- | --- | --- | --- |
| | M200 Fibre Broadband | 213Mb average | £30 | £35 | 12 months |
| | M200 Fibre Broadband | 213Mb average | £39 | Free | 1 month |
| | M500 Fibre Broadband | 516Mb average | £40 | £35 | 12 months |
| | M500 Fibre Broadband | 516Mb average | £49 | Free | 1 month |
So, while there's a big difference in pricing between taking the rolling contract and the 12-month option, there's no set-up fee for the more flexible package, bringing the pricing of that down a little.
It's also worth noting that students can access selected TV and broadband bundles from Virgin Media for a more comprehensive entertainment experience (these also come with a landline).
Virgin's student broadband is only available to customers in Virgin Media areas, so that might be a sticking point for some student households.
Standard home broadband
If the dedicated student broadband options don't appeal or you're looking for a more budget-friendly option, there are a handful of providers who offer 12-month plans.
These are some of the cheapest superfast fibre deals available right now:
Package
Broadband
Monthly price
Upfront price
Contract term
67Mb Fibre Broadband: 12 months
67Mb average
£20
£9.95
12 months
Offer: Installed in 48 hours +
Super Fibre
63Mb average
£24
£10
12 months
Offer: Now TV membership at reduced price for 12 months. Price may change again during the minimum term.
Superfast Fibre 35Mb
35Mb average
£31.95
£8.95
12 months
Offer: Loyalty Discount Club (worth £50)
Fibre + Evening & Weekend calls
36Mb average
£25
Free
12 months
While these include a landline, that part of the package doesn't have to be used and students may prefer to do without a home phone to avoid running up hefty call bills.
There are also smaller, local providers such as Community Fibre (London ISP) and Hyperoptic (covering 900,000 premises in urban areas across the UK) who have cheap broadband deals available that could be ideal for students.
More providers offer 18-month and 24-month broadband contracts, yet these could be risky for students who don't know if they are going to live in the same house next year.
Ending a broadband contract early will result in early termination fees, meaning the cost to cancel can be quite substantial.
If there are multiple people living in a student house and using the broadband, considering faster speeds may be a good idea, so compare fixed line home broadband options to get a clear picture of what's available in your area.
Rolling broadband contracts
Some broadband deals don't require customers to sign up to a long-term contract and can instead be taken on a rolling month by month basis.
These are ideal for students who can simply cancel the contract when they go home for the summer, but they may be pricier.
These are some of the cheapest fibre broadband deals on rolling contracts:
Package
Broadband
Monthly price
Upfront price
Contract term
Super Fibre (No contract)
63Mb average
£24
£70
1 month
Offer: Price may change again during the minimum term.
Fast 50Mb (Monthly Rolling)
57Mb average
£30
£39
1 month
Superfast Fibre 35Mb (No contract)
35Mb average
£41.95
£33.90
1 month
Offer: Loyalty Discount Club (worth £50)
Again, localised providers like Hyperoptic and YouFibre also offer rolling deals.
Now and Direct Save Telecom have different approaches to making up the costs on rolling broadband.
While Now charges a hefty set-up fee of £65 but the same monthly rate, Direct Save increases the monthly rate and charges a (lower) upfront fee.
So, students should weigh up the costs of taking a rolling contract compared with a 12-month contract, along with the benefits of flexibility.
For instance, students in their first year may prefer flexibility to cheaper broadband, or those living with housemates they're uncertain about may want the flexibility to end a contract and move quickly.
Find out more about home broadband without a contract.
Mobile broadband
Students can also choose mobile broadband to get them online at their student house. This could be in the form of:
A dedicated home mobile broadband router
Using a wi-fi hotspot or mobile dongle
The major difference between the two options is that a 4G or 5G router is designed to be used in a fixed location and serve a whole house in the way a traditional broadband router would. Meanwhile, wi-fi hotspots and dongles are personal devices aimed at one person or a small group.
The cheapest mobile broadband router offer on a rolling contract comes from Three. Here it is alongside a similar mobile broadband deal from EE:
| | Device | Data | Monthly price | Initial price | Contract term |
| --- | --- | --- | --- | --- | --- |
| | 5G Hub | Unlimited | £24 | Free | 1 month |
| | 4GEE Home Router 3 | Unlimited | £50 | £150 | 1 month |
Note: Vodafone also offer a home mobile broadband solution called the GigaCube - enquire direct.
As the table above demonstrates, Three is the cheaper provider, with EE charging more per month and imposing a high set-up fee for their 1-month rolling deals.
There are cheaper plans available with longer contracts but students may not want to be tied into those.
In addition, EE offer limited data plans on their home routers which can be cheaper, yet data-hungry student households run the risk of using up their data allowance before the month is over.
One final thing to note about the deals above: Three's is a 5G home broadband router while EE only provide their 5G model on an 18-month contract.
Learn more about 5G mobile broadband in our dedicated guide.
Finally, students can get online with normal mobile broadband devices.
This isn't optimised for home use as the routers discussed above are, but these devices are often cheaper and can serve as a decent alternative to fixed line broadband with a few caveats.
One brilliant point about traditional mobile broadband devices like personal hotspots and dongles is that they can go wherever you go.
For students, that doesn't only mean day to day activities of going to coffee shops to work or meeting with friends and sharing a wi-fi signal, but it also means taking out a longer-term contract is a viable option here. The mobile broadband device simply comes with you when you move to another student house or go home for the summer.
Here are some mobile hotspot devices with unlimited monthly data from the four major UK mobile providers:
| | Device | Data | Monthly price | Initial price | Contract term |
| --- | --- | --- | --- | --- | --- |
| | Huawei 4G Plus MiFi | Unlimited | £11 for 6 months, then £22.00 | Free | 24 months |
| | 4G Mobile Hotspot | Unlimited | £30 | Free | 24 months |
| | Huawei 4G Pocket Hotspot 2020 | Unlimited | £36.38 | Free | 24 months |
| | 4GEE Wifi Mini 2020 | Unlimited | £50 | Free | 24 months |
Again, Three is the cheapest option and EE are the most expensive, with their rivals occupying the middle ground.
If we then look at 5G mobile broadband deals, we can compare unlimited deals from Vodafone and EE:
| | Device | Data | Monthly price | Initial price | Contract term |
| --- | --- | --- | --- | --- | --- |
| | 5G Mobile Hotspot | Unlimited | £35 | £30 | 24 months |
| | 5GEE WiFi | Unlimited | £55 | £10 | 24 months |
It's fair to say we're not quite at the point where 5G mobile broadband is an affordable replacement for home broadband, nor has 5G coverage expanded enough to make it a viable option for all students across the country.
However, once the technology beds in and coverage becomes more widespread, this could easily change and 5G may become the go-to for students looking for broadband while at university.
Compare mobile broadband deals to see the best prices for your needs.
---
How to choose a student broadband deal
Before taking out a new broadband contract, there are a few things that all student households should consider carefully.
All the student broadband options we've discussed in this guide have their pros and cons, and they will appeal to different student households.
Here are the pros of fixed line home broadband for students:
Usually cheaper option on 12-month contract
Unlimited data
Rolling contracts available with higher upfront costs
On the other hand, there are some notable issues:
Fixed term contracts will result in early termination fees when a student goes home for the summer
Superfast deals may be available for 12-month contracts, but faster broadband deals are usually on longer contracts (the notable exception is Hyperoptic yet they are not widely available)
One person must be responsible for the direct debit which could lead to conflict in student households and requires effective budget
Even with the cancellation fees, fixed line home broadband may be the best option for those looking for cheap student broadband.
Meanwhile, 4G or 5G mobile broadband has its benefits:
Available wherever there is a 4G or 5G mobile signal
Some 1-month rolling contracts available
Some unlimited data options available
On the other hand, there are problems here too:
Higher upfront costs
Higher monthly costs
Many have data limits
Speeds may be slower than desired on 4G
The options for student broadband can also depend on where we live. Fixed line broadband may not be available at our student address or 5G may not be live in our area yet.
It's frustrating for students to realise their broadband options aren't as extensive or economical as they are at home, but there are deals out there. It's just a case of deciding which option is best for them.
---
Summary: Student deals evolving
The days of student-specific broadband deals seem to have disappeared, but other affordable options are sprouting up to take their place.
No single option is perfect, and students will need to carefully consider the pros and cons for their circumstances in the same way they do when choosing a student bank account.
Here are a couple of questions to ask about your student broadband:
Will one person be using it or the whole house? If it's multiple people, faster speeds and unlimited data could be crucial.
Do you want a rolling contract or would you be comfortable on a fixed term broadband deal? Bear in mind that cancellation fees may apply.
How many people have a say in the home broadband and who will the bill-payer be? If it's going to be a contentious issue, choosing mobile broadband for an individual could be a safer choice.
For many, going to university is the first time they will have made these types of choices and been responsible for household bills, so understanding student budgeting and other financial costs of living can help.
Students should try to compare broadband deals ahead of leaving for university if possible, just to get an idea of what's available in their university location. This will make the final decision easier at a time when it's easy to become overwhelmed by the sheer number of things going on.