The House of Lords issued a "wake-up call" to the next Government urging a "radical re-think" of digital education for people of all ages.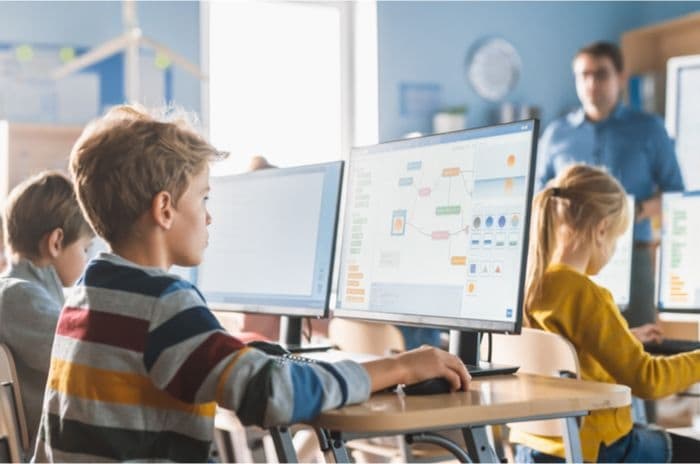 Credit: Gorodenkoff/Shutterstock.com
The Select Committee on Digital Skills has published a report [pdf] requesting digital literacy be given equal weight to numeracy and literacy, and be made a new, third core subject in schools.
And with women making up just 30% of the information and communications technology (ICT) workforce, it also wants schools to encourage girls toward Science, Technology, Engineering and Maths (STEM) subjects from the start of their education.
But what's being taught in schools doesn't always match up with the digital skills required in the workplace. The New Engineering Foundation found up to 80% of some college curriculums don't cover relevant topics.
This needs to improve, but so too does upskilling of those already working, with an estimated 35% of current UK jobs set to become automated over the next 20 years.
Essential tool
Since September 2014, children in primary and secondary education in England are now taught how to code as part of the new national curriculum for computing.
But to teach this curriculum, teachers first need training and at present there isn't enough funding allocated. The Government only provided £3.5 million for existing teachers "to get ready" - that's just £175 per school.
Besides, not all school children have regular access to computers or the internet, particularly in lower socioeconomic areas. And there is no set curriculum for other areas of computing and ICT across the UK.
The Minister of State for Culture and the Digital Economy, Ed Vaizey, said people "really should be leaving school numerate as well as literate and digitally savvy."
Skills mismatch
Another issue that's been raised is the skills that are taught often don't match up with those required once people make it into the workplace.
By opening up communication between teaching staff and people in industry, school education would hopefully remain more relevant and keep up with the rapid changes in technologies.
But the skills mismatch is not just a problem in primary and secondary school, and extends into further and higher education too. Because of this, there is a current shortage of people with suitable skills for some digital jobs.
Male-orientated careers
And along with an overall shortage of people, there are also far less women than men. For example, just 10% of app developers are women.
Overwhelmingly men occupy STEM jobs and, taking a look at subject choices in higher education, it's easy to see why.
While there were 57,800 more women than men in higher education in 2014, 17,335 more men entered Computer Science and 20,305 entered Engineering, both subjects requiring a strong STEM background.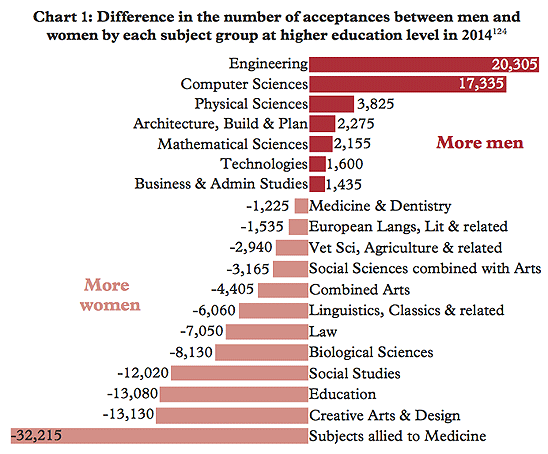 SOURCE: Make or Break: The UK's Digital Future, House of Lords.
This big divide occurs very early on, with girls' choices of GCSE subjects excluding them from many digital careers later in life.
Early educational choices have an immediate impact: chosen GSCE subjects can exclude students from taking certain A-levels. Of the 4,000 students who took computer science at A-level in 2014, less than 100 were girls.
They're then excluded from doing STEM degrees at university.
So changes need to be made early in women's careers, with better guidance and education about the wide range of careers that require digital skills.
And this isn't only a case of creating diversity in the industry. Men earn on average £3 more per hour than women, a salary difference partially attributable to differing career choices.
Digital inclusion
On a wider level, the Digital Select Committee's report also highlighted how digital inclusion of society in general needs work.
The value of digital inclusion to the economy is an estimated £63 billion per year.
Benefits on an individual level include increased earnings as well as tasks many of us take for granted, such as being able to apply for jobs online.
Even simple access to the Internet, and minimal online skills, can increase someone's income by an estimated £1,064 a year.
And people who use digital skills in their job on a day-to-day basis can earn around £3,568 a year more.
Improving digital inclusion will require investment in infrastructure, improved digital skills, and improved accessibility for those reliant on assistive technology.
But according to the UK Digital Skills Taskforce and TeenTech CIC, the cost of UK-wide digital inclusion would be balanced by its economic boost.