The race to superfast broadband heated up this week with the launch of BT broadband's long-awaited up to 40Mb broadband service, Infinity.
The new super-fast packages are the first stage of BT's £1.5 billion investment in broadband and will be available to 500,000 homes by the end of January.
4 million households should be able to receive the service by the end of the year.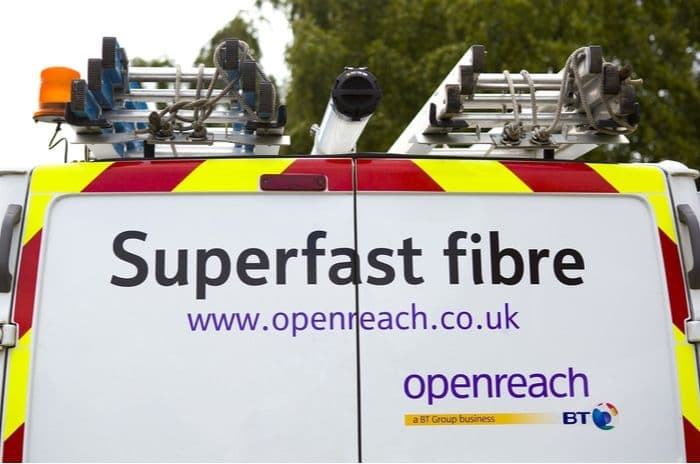 Credit: urbanbuzz/Shutterstock.com
Catching Virgin Media
Not everyone has greeted the announcement with open arms, however.
Unsurprisingly, BT arch rival Virgin Media were particularly scathing.
"We're not sure why people in the UK would want to wait for BT's 40Mb service... when they can already get Virgin Media's great value 50Mb service," said a spokesperson for the provider.
Price
One answer could be the price of the new service: BT Infinity's Option 1 and Option 2 broadband deals cost £19.99 and £24.99 a month respectively, significantly cheaper than Virgin Media's XXL which costs £28 a month with Virgin Media line rental and £38 a month without it.
It is perhaps because of this disparity that Virgin Media have bitten back at the BT service so viciously.
They've been quick to scoff at the 20GB download limit on BT Infinity Option 1 which - they claim - would be breached after downloading just 4 HD movies in a month.
Even the 'unlimited' BT Infinity Option 2 is subject to BT's usual caveat about fair & acceptable use.
The BT FUP operates a 4pm-midnight p2p traffic management policy during the week and 9am-midnight at weekends in an effort to curb the effect of filesharing on its network.
Virgin Media XXL is a completely unlimited service.
BT fought back - stating that there are customers who simply want to upgrade the speed of their broadband without necessarily changing their surfing habits - but this seems a little dishonest: most broadband users find that with greater speed their surfing habits change.
On the other hand, BT Infinity's up to 10Mb upload speed is being welcomed from all corners, not only should it make sharing large amounts of data much faster and easier, it puts Virgin Media's 1.5Mb upload speeds to shame.
It looks like the BT Infinity and Virgin Media fight will run and run.
Questions of speed
Virgin Media aside, the most difficult questions about BT Infinity are coming from consumers and, in particular, the age old question of the legitimacy of the phrase 'up to' used to advertise broadband line speeds.
In addition, one anonymous user taking part in the trial of BT Infinity angrily reported their maximum speed at around 15Mb.
"In what world should we allow someone to advertise something as "up to". That means absolutely nothing," the user said, an opinion on 'up to' many share.
BT's new Infinity packages will offer an up to 40Mb broadband connection by means of new fibre optic cables running to the green street cabinets from the local exchange. The same copper wires are used to complete the final leg of the journey from the cabinet to your house.
Virgin Media also use Fibre to the Cabinet (FTTC) technology although - of course - they say that the DOCSIS 3.0 technology used for their last copper mile gives them the edge over BT.
For more information read our full review of BT Infinity, or you can check prices and availability of BT Infinity broadband here.