Prices will rise from 29th May this year for customers on the company's default standard variable tariff.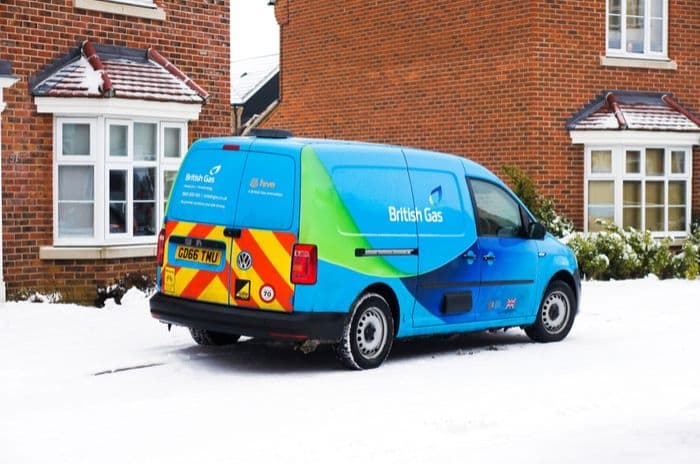 Credit: Tom Gowanlock/Shutterstock.com
In a statement, British Gas CEO Mark Hodges said that the average dual fuel customer would see their bill rise by £60 to a total of £1,161 a year.
He apologised to affected customers for the increase, saying that the company understands that "any price increase adds extra pressure on customers' household bills."
However, the increase will not apply to the most vulnerable customers, such as those on prepayment meters, or the 3.7 million British Gas customers who are on cheaper fixed-term deals.
Existing default tariff customers affected
Back in November of last year British Gas announced that it would no longer be offering its standard variable tariff to new customers, because tariffs with no end date were bad for customer engagement in the energy market.
This change came into effect on 31st March this year. But 4.1 million existing customers are still on British Gas' standard variable default tariff and will be affected by the price hike announced this week. That's over half of British Gas' 7.8 million customers.
Furthermore, last week Ofgem granted British Gas a temporary exemption from some aspects of its gas and electricity license, allowing the company to maintain its standard variable tariff until mid-2019 for existing customers who are already on it, even though the tariff is technically no longer available.
However, existing British Gas customers who come to the end of a fixed-term deal will no longer be automatically placed on the standard variable tariff.
But seeing as the company is legally obliged to place customers on some kind of default tariff if they don't make a choice themselves, the company has decided to replace its standard variable tariff with a default fixed-term offer.
As such they've also this week launched the Temporary Tariff, which is the new default 12-month fixed-term tariff that existing customers will be placed on if they are floating between the end of one deal and opting to begin another. This Temporary Tariff is £25 cheaper than the standard variable tariff.
Although this is a slightly better deal than the standard variable tariff, because it is a default tariff it is far from the most cost-effective option from British Gas. As such, Hodges encourages customers to "look at our range of new fixed-term offers and choose the deal that best suits their individual needs."
Increase widely criticised
In his statement, Mark Hodges blamed the hike on rising wholesale costs and the cost of Government schemes, such as smart meters and carbon reduction initiatives, and also pointed out that energy regulator Ofgem stated the same reasons when it increased the prepayment meter cap - which caps the amount vulnerable households pay for energy - by £57 this April.
However, many have criticised British Gas for both the price increase and the reasoning behind it.
For example, Victoria MacGregor, Director of Energy at Citizens Advice, reacted with this statement:
"British Gas recycles Ofgem's reasoning for recently increasing the prepayment meter price cap, saying that wholesale and policy cost increases are to blame for today's price hikes. But today's announcement will see affected customers paying on average between £47 and £72 per year more than the prepayment meter cap - even though it's cheaper to serve customers who pay by cheque or direct debit."
The increase has also been heavily criticised by MPs, with energy minister Claire Perry saying the Government is "disappointed by British Gas' announcement of an unjustified price rise in its default tariff when customers are already paying more than they need to."
However, British Gas has pushed back and levelled some of the blame at Government itself. In his statement Mark Hodges said that although "Government's energy policies are important they are also pushing up customers' bills" and that that company will "continue to encourage Government to consider moving these costs out of energy bills altogether and into general taxation."
Introduction of energy price caps
The price increase comes at a time when both Ofgem and the Government are taking steps to cap the amount energy customers have to pay.
Since April of last year Ofgem has implemented a cap on the amount that prepayment customers pay for standard variable tariffs - the so-called safeguard tariff'.
This was recently extended to also include all those in receipt of the Warm Home Discount.
The Government also introduced legislation in February to bring in a cap on all standard variable tariffs across the board, not just for vulnerable energy customers, which was a promise made in their election manifesto last year.
The legislation will allow Ofgem to cap all standard variable tariffs until 2020 to help protect 12 million energy customers from the highest prices, and the cap could be extended annually until 2023 if Ofgem recommends it.
Ofgem hopes that it will be able to implement the changes by this winter in order to protect customers when they are using the most energy, although the legislation will need to pass through Parliament this summer to allow this to happen.
It should be noted here that British Gas is against any form of energy cap being applied to its business.
In a statement at the end of last year, CEO Mark Hodges squarely claimed that "price caps don't work" and that "customers actually end up with less choice" and therefore less incentive to switch because prices cluster around the point set for the cap (like with tuition fees).
He hopes that initiatives from energy companies, like British Gas' removal of its standard variable tariff, will force customers to engage with the energy market and ultimately prove to be a much better way of keeping prices down, as customers look around and switch to the most competitive deals.
For anyone who wants more information on switching, we have a guide on how to change energy supplier available here.