BRITAIN is becoming a nation of smartphone addicts, with around 60% of us carrying one, according to a report from Ofcom.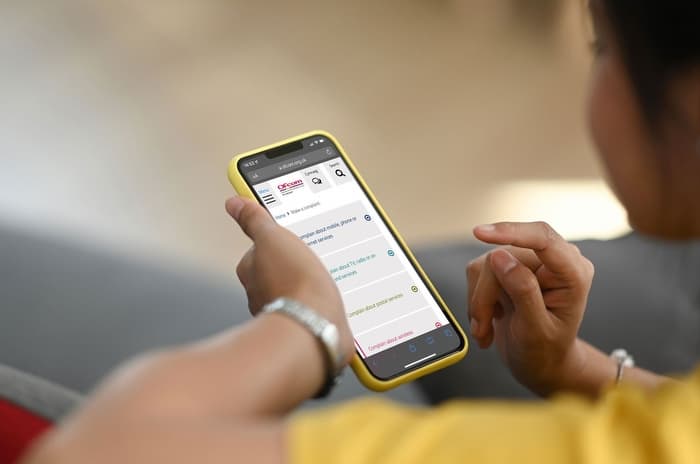 Source: Ofcom
And they're becoming the preferred way to get online too: 33% of people say they preferred to use their smartphone to go online, compared with 30% who would rather use their laptop.
But while we're spending an average of two hours a day checking social media, banking and generally browsing on our phones TV is still king, accounting for almost four hours of our day.
The Ofcom report also showed how landline use is continuing to fall - and how line rental is continuing to rise.
A smarter society
Ofcom found that 93% of UK adults have a mobile phone, and 71% of them said it was a smartphone. That works out as 66% of UK adults in total; 27% more than had one in 2012.
It's not just the young and the hip who have an all singing all dancing handset either - yes, 90% of 16-24-year-olds and 87% of 25-34-year-olds have one, but so do 50% of 55-64-year-olds, as do 18% of those aged 65 and over.
And we're really rather attached to them.
A third of us admit to checking our phones within five minutes of waking up, with more than half of us needing to check in somehow within quarter of an hour; almost half of us say we're "hooked":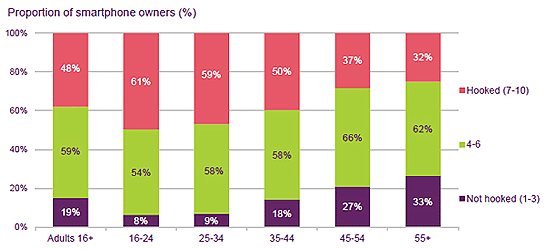 SOURCE: Ofcom Communications Market Review 2015. Available here [pdf]
So perhaps it's not surprising that 33% of us say our smartphone is the most important device we have when it comes to connecting to the internet.
The younger we are, the more important the phone is - 60% of 16-24 year olds say they rely on their mobile for going online, compared to 40% of 25-34-year-olds and 31% of 35-54-year-olds.
The older we are, the more likely we are to rely on what we could consider to be older technology: 33% of 35-54-year-olds rely on their laptops, as do 36% of over-55s. Among the latter age group, 27% say they prefer to use a desktop computer for getting online.
4G
The bias in devices is reflected to an extent in the take up of 4G services - with 71% of those who have access to the, newest, fastest mobile connections aged under 45.
A year or so ago, that still wouldn't have accounted for many mobile users, but during 2014, the number of 4G subscriptions rocketed from 2.7 million to 23.6 million - the equivalent of 28% of total mobile subscriptions, and 45% of smartphone subscriptions.
And they're using that faster connectivity to do more. Some 55% of 4G users admit they go online more than 10 times a day, compared to 46% of those without 4G.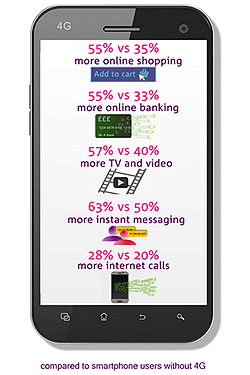 SOURCE: Ofcom
More than half use their 4G connection to buy things or carry out banking and financial tasks online.
They also download more apps - and are more likely to pay for them - and watch more video, send more instant messages, use Twitter more, and make more internet calls.
But despite the fact that almost 90% of UK premises are covered by at least one provider's 4G network, and that 42% of people can take their pick of the big four operators, indoor reception is still lagging.
Ofcom are working on this: the rules they attached to the 4G licences demand that 98% of premises must be able to get a signal from at least one operator by 2017.
They're still bothered by the fact that 2% of UK premises - about half a million buildings - can't even get decent indoor 2G voice reception.
Although a couple of networks have committed to rolling out voice call capability using 4G by the end of this year, many people will be relying on the older networks, or being able to make calls using wi-fi - or even their landlines, for some times to come.
Rise and fall
We don't need a report to tell us that line rental prices have been increasing, but what we may find surprising is the average monthly cost.
Since 2009, the price we've paid for line rental and bundled calls has risen from an average of £12.48 a month to £14.69 a month.
Average monthly retail voice revenue per fixed line: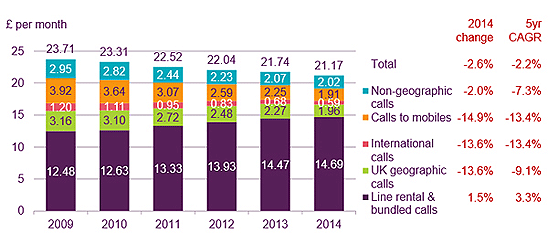 SOURCE: Ofcom Communications Market Review 2015. Available here [pdf]
That's despite the biggest providers charging at least £15 for their line rental in 2014 - a testament to the popularity of upfront deals.
Ofcom say the rate at which line rental is rising has been on the increase since 2010, as the number of out of bundle calls has decreased dramatically.
Line rental as percentage of average monthly retail revenue per fixed line: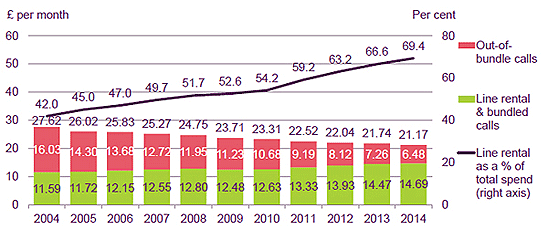 SOURCE: Ofcom Communications Market Review 2015. Available here [pdf]
Looking back to 2004, when we made 304 billion minutes worth of calls, 137 billion of those were used to access dial-up internet services, with their local rate, pay per minute pricing.
By 2010, this had dropped to just one billion of the 124 billion minutes of calls we made - and the amount we spend on out of allowance calls has dropped by almost £10 a month.
Making the move
We've started making more of those calls on our mobiles instead - and it seems we're getting cannier about our allowances there too.
Of the £15.3 billion we spent on mobile services last year, £8.3 billion was on "access and bundled services" - the texts, minutes and data included in our tariffs.
Mobile retail revenue, by service: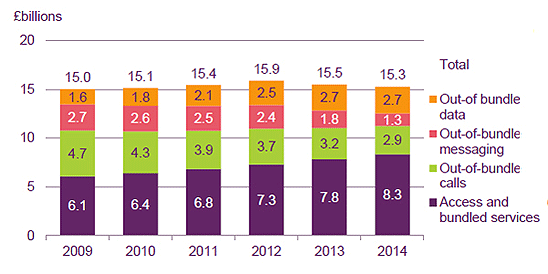 SOURCE: Ofcom Communications Market Review 2015. Available here [pdf]
And yet we're making 2% more calls than we did in 2013, and spending less per month on our subscriptions - from an average of £30 in 2009 to just over £23 in 2014.
Average monthly revenue per mobile subscription: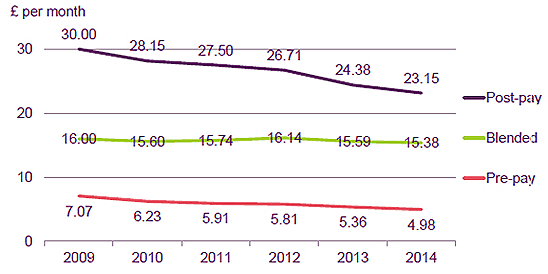 SOURCE: Ofcom Communications Market Review 2015. Available here [pdf]