THE death of the bank branch has been greatly exaggerated, according to a British Bankers Association (BBA) report released this week.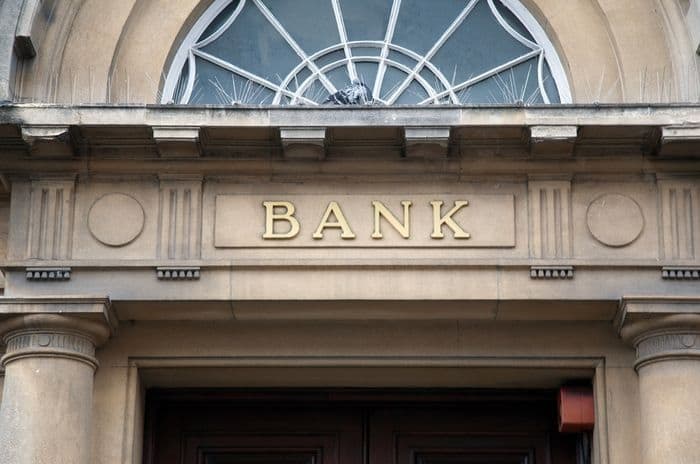 Credit: Kevin George/Shutterstock.com
Last week, HSBC announced that they will close 19 branches by mid September and, the week before, Barclays confirmed that they'd shut 24 in the same period.
Royal Bank of Scotland group are closing 100 of their branches this year, 73 of them Natwest stores, and, as of the end of this month, many Lloyds Bank and TSB customers will lose their local branch as the two brands stop sharing services.
According to the Campaign for Community Banking Services, 300 bank branches have already been closed or been earmarked for closure in 2014, more than were closed in the whole of 2013.
A report released last year found that the UK has lost over 40% of its banking network in the last twenty years.
But, the BBA says, closed branches are just a symptom of banking's glorious march towards customer service progress.
"Although there are now fewer branches today than there were 20 years ago, the ones that remain continue to play a vital role within the banking network," the lobby group's The Way We Bank Now paper says.
Not dead, just resting
Whether or not that's true, all sides agree on the reason that bank branches are closing: a huge shift to online banking.
RBS conducted a quarter of all their transactions in branch in 2010. This year they expect the proportion to fall to just one in ten.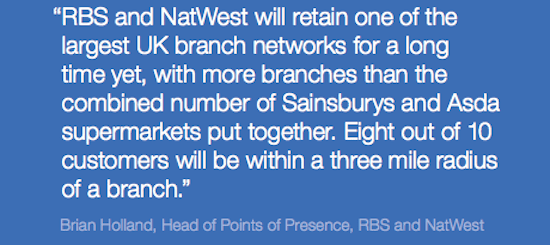 SOURCE: BBA report.
"The direction of travel is absolutely clear," Anthony Thompson, a former chairman of Metro Bank says. "Whether it's three years, or five years, it is clear that banking will largely be done on mobile phones and tablets, not in bank branches."
Thompson is a bit biased, he's now preparing the launch of Atom, the UK's first completely digital bank, but he's definitely not alone.
When 10% of people log into some form of online banking every single day and over 75% use internet banking at least once a month, it's no wonder that banks are wondering why they're paying for space on the High Street.
Lick of paint
But that's not to say that banks are abandoning having a physical presence, the BBA say.
The report points to the fact that 1,000 branches will be refurbished in 2014 as proof that banks are still investing.
Lloyds Banking Group alone has updated 585 branches in the past two years, Co-operative Bank 200 and RBS 169.
The BBA claim that many of these branches will change to better reflect and work with the digital side of the banks. For example, RBS are outfitting a number of branches with iPads that, they say, will speed up opening a new account.
The group has also spent about £4 million on five mobile branches to serve communities without a real branch and many of which have never had a branch.
"Bank branches aren't going to disappear but where they are and what they do will change," Eric Leenders, the BBA's Executive Director of Retail Banking says.
Customers adapt
Whether or not, these kinds of changes will actually be welcomed by bank customers, recent changes show that people that prefer to go into a branch do adapt to closures, and not just be going online instead.
For example, in September last year, 75% of transactions in TSB branches were being made by Lloyds Bank customers but by this year most had made the move to the 'correct' brand of bank.
In April, just 10% of customers were going to the shared bank, which is handy because they'll have to use the right branch from the end of this month, switch accounts or switch to banking at the Post Office.