The best way to find out whether you have a lost or misplaced pension pot is to check with a pension provider or former employer for details.
If you don't have the contact information for the scheme or are unsure about which scheme an employer was registered with, the Pension Tracing Service can help.
Plus, consolidating pension pots into one fund once you've found them can save money and administration headaches further down the line.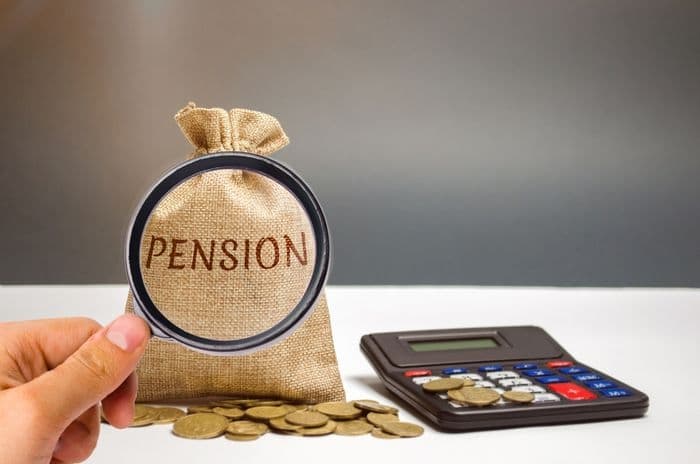 Credit: Andrii Yalanskyi/Shutterstock.com
---
How to trace lost pensions
Tracing old and lost pensions can ensure that you get all the money you're entitled to when you retire.
Pension details can be misplaced if we switch jobs or moves house without telling the pension provider managing an old pension.
Research from Aegon published in May 2021 found:
73% of people have multiple pension pots, an increase of 11% in five years
17% of people with multiple pension pots have lost track of at least one
21% don't know the total value of their pensions
18% have no idea how to trace a lost pension
With more people than ever having multiple pension pots, it's important to keep track of them and even look at consolidating them for simplicity's sake (more on this below).
So, what are the ways to trace an old pension?
Through a pension provider
If you know the pension provider, the best way to track a lost pension is to contact them directly.
It's a legal requirement for pension schemes to send an annual statement with details of the pension pot, so this is the easiest way of seeing which provider you're with.
However, when looking at the statement, it's important to understand which employer the scheme relates to - if you've had multiple jobs, there may be multiple pension pots out there with different providers.
If the statement doesn't provide enough detail, contact the pension scheme for more information.
Equally, if you think we know the pension provider but don't have any recent paperwork (perhaps because you've moved house), get in touch with that provider and supply as many details as possible such as:
Date of birth
National Insurance number
Plan number
Information from any older documents
A provider should be able to respond with information including the total amount paid into the pot, what the current value is, what charges are being paid for management and what fees would be applied if you wanted to transfer the pot elsewhere.
This process should be repeated for all pension schemes you're part of to get a full overview.
Through an employer
If we're trying to trace a workplace pension and you don't have any paperwork, you should contact our previous employer to get the details of the scheme.
Have the following details on hand if possible:
National Insurance number
Dates of employment
Dates when paying into the pension scheme
Even if the pension scheme is not managed directly by the employer, if they provided access to a personal, stakeholder or group pension scheme to fulfil their obligation to auto-enrol employees into a pension, they should be able to provide the details.
Once getting the details from the employer, contact the scheme themselves to get complete information about the pension pot.
Again, repeat this for multiple employers if necessary.
Pension Tracing Service
The final main way to track down lost pensions is through the Pension Tracing Service.
This is a free Government service that allows us to find the contact details for our pension providers by searching a database of more than 200,000 workplace and personal pension schemes.
Visit the Government website and click a process that will ask:
Whether you're looking for a workplace pension (set up by an employer) or a personal pension (set up by you)
Whether you know the employer who set up a workplace pension or the name of the workplace pension scheme
You can then search by employer/scheme to find details of the plans they operated and find contact details for the scheme.
After that, you'll need to contact the scheme directly to find out more about the pension.
Note: The easiest way to utilise the Pension Tracing Service is through their online checker tool, although it's also possible to phone them up (they also support Relay UK and video relay services). It used to be possible to request pension details via post but this service was paused due to coronavirus and has not restarted.
Other options
Most people will be able to trace their pensions using the steps detailed above. However, there are other options if we're struggling:
Speak to old colleagues to see if they know who the pension provider is
Check old bank statements to see if money was paid to a personal pension provider
Check with the Pension Protection Fund (PPF) who take over defined benefit or final salary schemes if an employer can no longer meet their obligations
Use the Unclaimed Assets Register (UAR) to see if a pension has been classed as unclaimed (this service costs £25 per search and doesn't cover many schemes, however)
These options might be useful to some, but the vast majority of people will be able to find details of their pensions direct from their employer.
---
Why you should trace old pensions
People in the UK are far more likely to have multiple jobs with pension pots than they used to be thanks to the auto-enrolment pension rules that began to be introduced in 2012.
Employers now have to offer a workplace pension (and contribute to it), meaning more people will find they have multiple smaller pension pots rather than one larger one. These can often be misplaced when we move home or our circumstances change.
Research published by the Association of British Insurers (ABI) in 2020 found only 1 in 25 people consider telling their pension provider when they move home. Even when prompted, only half of people thought it was a priority.
Understanding our financial situation ahead of retirement is crucial for working out when we can afford to retire and what pension options we should consider at retirement.
Along with this, consolidating pensions into one pot can made them easier to understand and manage in the future.
Tracing lost pensions for relatives
We might also need to trace lost pensions for a deceased relative if we're their next of kin or executor of their estate.
The Pension Tracing Service is an excellent resource for people looking to track down the missing pensions of a deceased relative. Once again, having as much information as possible about the policy is useful when speaking to a pension provider, but companies are used to handling such situations so there will be procedures in place to help fill in the gaps.
---
Should you consolidate your pensions?
We can consolidate all or most of our pensions into one pot to simplify our retirement plans and work out how much we will have when we retire.
Common reasons for consolidating pensions include:
Save money on fees/charges
Achieve better growth of the pension pot
Improve convenience
Keep track of pension savings
Each separate pension pot will have management fees attached. Even though charges for defined contribution pension schemes (the kind employers auto-enrol their staff into) are capped at a maximum of 0.75% of funds, there are usually competitive options available.
However, it's important to remember there are some good reasons not to consolidate pensions (or, at least, not to consolidate all of them if there are multiple pots):
A defined benefit or final salary pension scheme provides a guaranteed income and is generally more valuable than transferring into a defined contribution scheme
Some pensions have a guaranteed annuity rate (GAR) that may enable the purchase of an annuity with a higher annual income - again, this is valuable
Ultimately, whether to consolidate pensions is a personal decision that needs to be taken based on an individual's circumstances rather than listening to sales hype about the benefits of pension consolidation.
How to consolidate your pensions
The best way of deciding whether you should consolidate your pensions is to speak directly to a financial adviser. They will look at all the pension pots you have and advise how to make them work effectively.
Some personal pension providers have mechanisms on their websites or apps to transfer existing pots over to them in a simple and straightforward way.
These can be useful, but it's important to understand the ramifications and so speaking to an independent professional first is always a good idea.
It's crucial to remember that pensions are major targets for fraudsters, with scammers often promising unrealistic returns to get their hands on a saver's pension pot.
As we explain in our guides to online scams and phone scams, reputable companies will never pressure you into making quick decisions and they won't mind you taking the time to do some independent checking on their firm through the Financial Conduct Authority (FCA) register, for example.
---
Summary
Tracing lost pensions can be an administrative headache but it's definitely worth doing to ensure all the money you've paid into your pension is available when you retire and that it's growing as much as possible in the meantime.
The Pension Tracing Service introduced by the Government is a brilliant tool for tracking down lost pensions, although it will still require calls to individual pension schemes to get things sorted.
Aegon suggested in 2021 that around 6.4 million adults between the ages of 22 and 65 may have misplaced some of their retirement savings.
While awareness of lost pensions was increasing at the time of their survey, it still means there are plenty of people out there who could be missing out on money they've already set aside for their retirement.