Vodafone's Curve tracker offers location data almost anywhere in the world through GPS and Bluetooth, and with cellular connectivity the tracker will transmit its location regardless of how far away it is.
The Curve can be used to track the location of pets, cars, bags, luggage, almost anything it can be attached to.
Vodafone have removed their smart tech from sale as of late June 2022, but its still possible to pick up a Curve tracker on marketplace sites like eBay.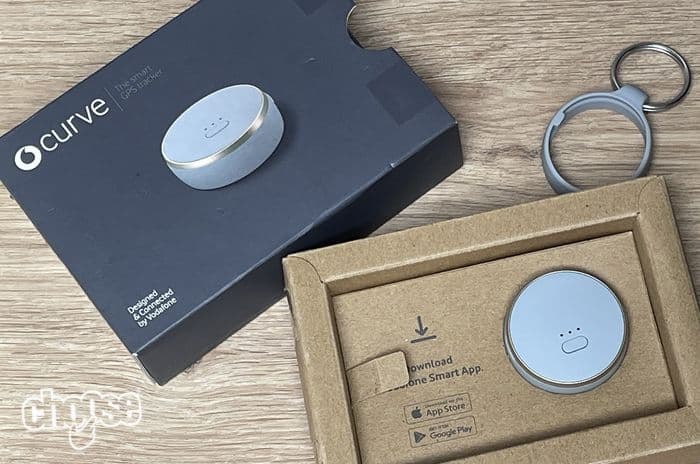 Credit: Lyndsey Burton/Choose.co.uk
---
Buying a Curve tracker
The Curve tracker originally cost £30 to buy, this included the device, a keyring attachment, and a built-in Vodafone smart SIM.
For the tracker to work however, customers need to take out a subscription with Vodafone - and Vodafone is the only network the Curve will work with.
Here are the original price details of the Vodafone Curve tracker:
| | Device | Monthly price | Initial price | Contract term |
| --- | --- | --- | --- | --- |
| | Curve tracker | £2.99 | £30 | No contract: 48 hours notice |
The monthly subscription price is just £2.99 per month at the time of writing (it's recently been reduced from around £6), and as there is no minimum contract it can be cancelled at any time. In fact, the Vodafone app says the plan can be cancelled up to 48 hours before the next billing date.
The subscription will auto-renew unless cancelled though. So if it's no longer in use, or won't be used for a period, it's worth remembering to cancel the plan, because it could be easily paused and restarted to save money.
Functionality of the Curve for existing users, or those buying a Curve secondhand, shouldn't be affected by Vodafone's withdrawal of new device sales.
---
Unboxing
Inside the box is the Curve tracker device, keyring attachment and charging cable.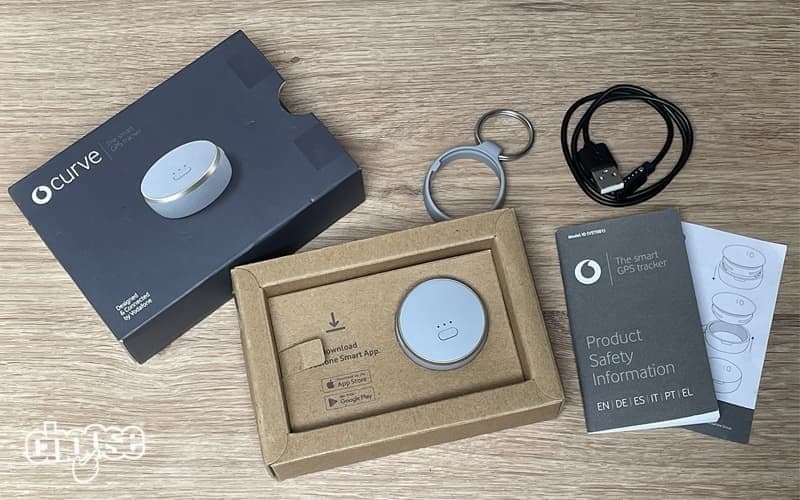 The Curve tracker is attached to the keyring via a thick rubber attachment which on first inspection looks fairly secure. The Curve has notches around the outer rim to hold any rubber attachment securely in place.
The Curve tracker comes with a Vodafone smart SIM built into the device, so purchasers just need to download the Vodafone Smart app to their iOS or Android device to setup the tracker.
Customers don't need to be an existing Vodafone customer, or have a Vodafone mobile phone to use the tracker.
---
Connectivity
The biggest selling factor of the Curve tracker is the fact it connects to four different types of tracking technology, including:
GPS
Wi-Fi
Cellular
Bluetooth
The Curve's ability to use all four location and communication methods should make its tracking as reliable as it can be. Which is important when we're tracking things like our pets.
As it supports cellular, the Curve can transmit location data independently, so it's not reliant on being a certain distance from the app to work.
The only real downside to the Curve is it's limited to just the Vodafone network, which means it will be reliant on Vodafone coverage and won't switch to another network if it loses signal.
Vodafone came second overall in our analysis of mobile coverage. However, they were first for coverage in urban areas, and the best choice for Northern Ireland and Scotland.
However, coverage can vary by location, so it's worth considering the areas it's likely to be used and checking Vodafone's coverage.
---
Design
The Curve tracker from Vodafone is a neat looking device. It's available in dove grey or slate black, and has a soft rubber exterior with a solid metal ring that runs around the front edge.
The Curve has three different coloured LEDS on the front face, a button under this, and a more easily missed, power button on the side, signalled only by a tiny ridge in the casing.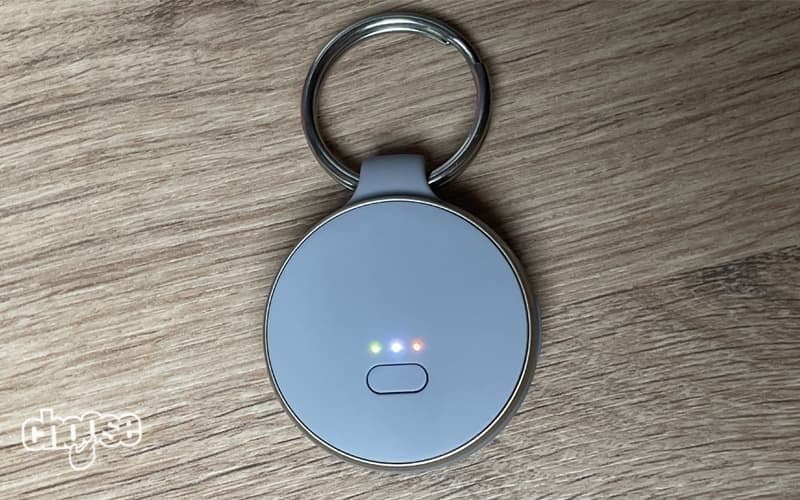 It feels solid and looks like it would stand up well to being attached to even the most rambunctious canine.
The Curve is waterproof rated at IP67, which means it should withstand immersion in one meter of fresh water for up to 30 minutes - great for dogs who like getting their feet wet.
It's approximately 4cm in diameter and 15mm thick. It's a fairly chunky device that wouldn't look out of place on most dogs, but it might be too big for smaller cats. Cats might also find it on the heavy side too, although it weighs just 30 grams.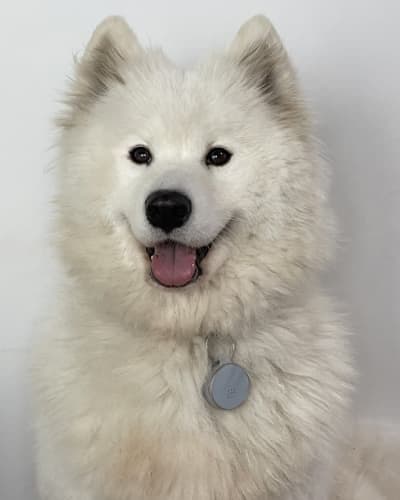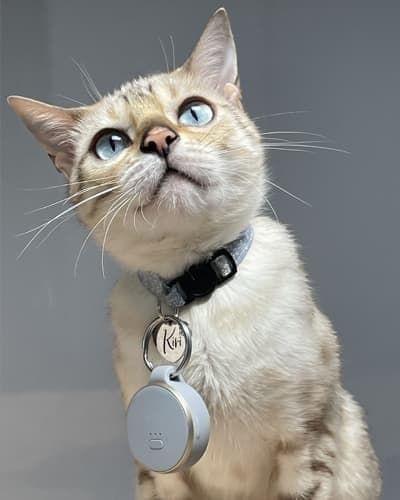 While the Curve comes as standard with a keyring attachment which could be attached to a pet collar, there is also a specific pet clip, though it costs an extra £12 to buy. Look out for the Curve pet tracker kit for this to be included with the tracker.
---
Set-up: A walkthrough
Once downloaded, the Vodafone Smart app requests a mobile phone number (from any network), and an email address. Both of these are sent a PIN to verify the account.
Once the account is opened the app allows you to add a new device. However, the tracker needed charging out of the box before it could be connected.
The charger snaps onto the back of the tracker with magnets, and then charges via a USB socket.
While a tidy design, the charging cable came off the device fairly easily, so it needs to be placed somewhere it won't get knocked off.
The Curve took only an hour or so to charge up, displaying a solid green light in one of its three LEDs to signify a full charge. Once charged, I went back to the Vodafone Smart app to begin activating the Curve.
To setup the Vodafone Curve in the app I needed to complete the registration process, including contact details, payment details and then finally connecting the device.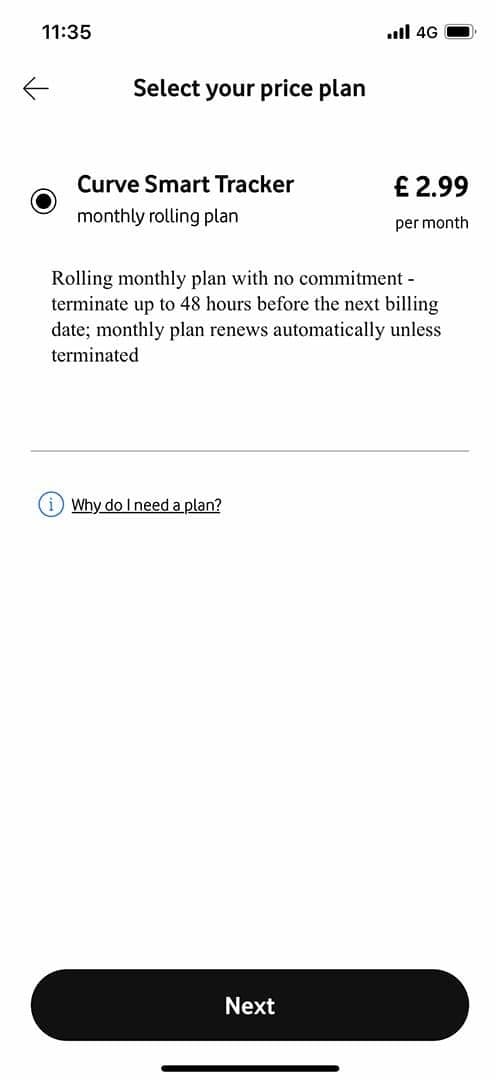 The Vodafone app says the payment details added won't be charged until a plan is selected, and also remember any plans are contract free, so can be cancelled up to 48 hours before the next billing date.
Once the plan was paid for, the app asks what you want to track, with a choice of:
Pet
Car
Bag
Luggage
Keys
Other
I selected Pet, and the app then asks to choose a photo or avatar, and name the pet. The app then continues to ask details about the pet, including breed, date of birth, sex, size, and personality traits. I skipped this part as it felt a little intrusive and rather unnecessary for the tracking device to work. It's also not clear why Vodafone need such specific information.
The app then cycles through some basic set up instructions on changing the attachments and charging. One that caught my eye was the Charge reminders, letting you know the app will send you a notification when the Curve reaches 10% battery - this seems very useful.
Once you've allowed the app to access location data, the app then shows a map with the location of the tracker.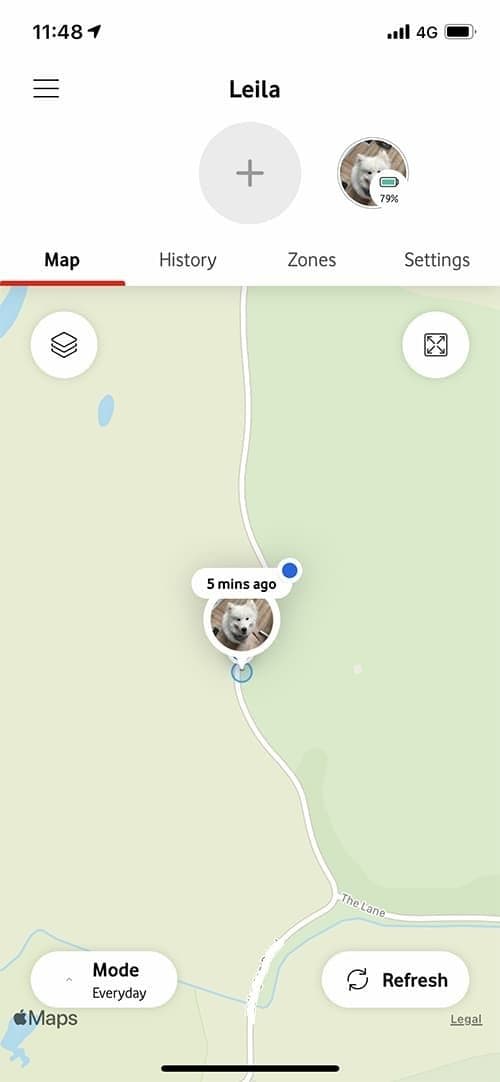 A neat feature I spotted was the battery percentage level next to the tracker avatar. Simple but useful for a device that might not always be with you.
---
How it works: The Vodafone Smart app
The Vodafone Curve tracker has four settings:
Power Saving Mode: location is updated every two hours
Everyday Mode: location is updated every 30 minutes
Performance Mode: location is updated every 5 minutes
Real Time Tracking Mode: location is updated every 5 seconds (for 15 minutes max)
It's worth being aware each of these settings has a different effect on the battery life, with more frequent location updates draining the battery quicker.
The battery life for each of the tracking modes is:
Power Saving Mode: 7 days
Everyday Mode: 5 days
Performance Mode: 3 days
Real Time Tracking Mode: Limited to 15 minutes of use
In terms of how the device tracking actually works, it's pretty seamless, automatically switching between GPS, Bluetooth and wi-fi depending on whether the device is in range of the mobile app.
As mentioned above, it's worth being aware of Vodafone's mobile coverage in the area of intended use, just because if the tracker goes beyond 15 meters of the mobile app, but is also in an area without Vodafone 2G signal, the device will be unable to send location data back to the app.
For example, in the Forest of Dean in the Wye Valley, Vodafone's 2G coverage extends across the forest, but the signal weakens in the middle of the forest, offering only outdoor 2G signal, with some patches offering limited coverage.
While the tracker only needs enough signal to send a text message, its worth checking Vodafone's coverage if you walk your dog in more rural areas.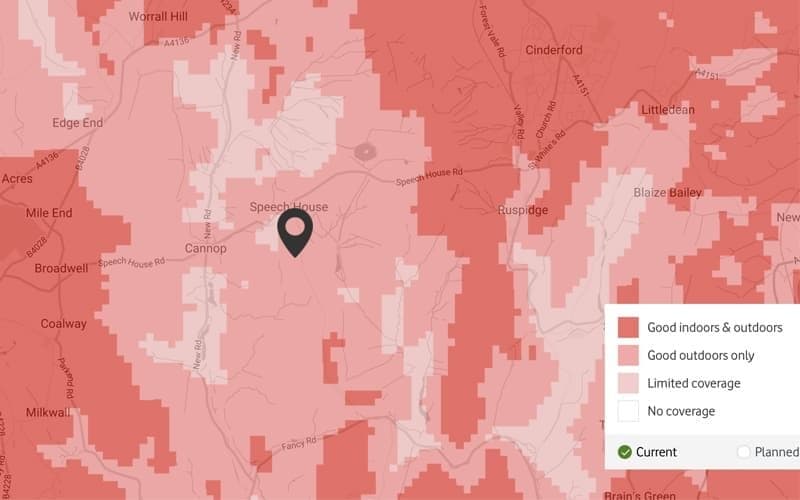 Source: Vodafone Coverage Checker, Vodafone.co.uk
History
In addition to knowing the current location of the tracker, the app also stores a history of where the tracker has been. This is only updated when the tracker actually moves location.
Clicking the 'Calendar' button lets you go back in time and see the tracker's location on any previous date too.
Zones
The app can store zones, which are set circular areas where say, you might want a notification if the tracker moves into or beyond that zone.
The zones you can select are limited in size, but they're big enough a small village. They can also be much smaller to cover just a back garden, for example if you wanted a notification in case the dog escaped.
Guests
Another main feature of the tracking app is the ability to add guests who can also see location data of the tracker. It's possible to add up to nine guests, and so this could be ideal for car sharing, or a family who perhaps walk the dog at different times.
Notifications
The Vodafone Smart app can be set to send notifications based on:
Battery status
Zone activity
Walk activity
Quick alert
Firmware updates
Each of these notification settings can be toggled on or off.
Battery Life
The battery life of the Curve tracker varies depending on how frequently its set to send location updates.
Vodafone say the Curve tracker battery will last:
| Power Saving Mode | 7 days |
| --- | --- |
| Everyday Mode | 5 days |
| Performance Mode | 3 days |
| Real Time Tracking Mode | Limited to 15 minutes use |
---
Vodafone Curve Specifications
Height
16.4mm
Width
42.1mm
Weight
30 grams
Cellular
Quad-band GSM:
GSM 850, GSM900, DCS1800, PCS1900
Connectivity
GPS, Cellular, Wi-fi, Bluetooth
Sound alert
90 dB
Battery Life
Up to 7 days
Waterproof Rating
IP67: Up to 1m deep for 30 mins
Colour
Dove grey / Slate black
---
Verdict: Is the Curve tracker any good?
Vodafone's Curve tracker offers a robust design, with useful features on the tracker itself as well as the accompanying Vodafone Smart app.
I found the tracker's location data to be accurate, and it was quick to respond on changing to real time tracking while out. The ability to switch between different update frequencies, as well as real time tracking, makes it seem versatile.
I also found the setup quick and painless, and the Vodafone Smart app where you see the tracker's location is an intuitive and easy to use app.
Overall it tracks well and the extra features such as sharing the same tracker, zones and notifications all add to its flexibility to track a range of different items, be it for a car, a bag or a pet.
What I liked most about the Curve:
Rugged and durable design
Plenty of features for tracking all sorts of items
Accurate location data and quick response time
In terms of pet use specifically, which is what I tested the device on, it's a great size for a dog and the pet specific collar attachment is worth getting as it holds the tracker still, rather than dangling on a keychain.
It's worth looking out for the Curve Pet Tracker pack specifically, as it offers a discount on the collar clip compared to buying it separately.