In this review we look at the Pixel 3 from the inside out, examining everything from the Snapdragon 845 processor through to the bezel notch that might provoke strong feelings.
The Pixel 3 and the Pixel 3 XL are identical in everything but two elements - the Pixel 3 XL has a better battery and a larger screen. Other than that, the specs are the same, so this review operates as a two-for-one.
While Google Pixel phones may not have the prestige of the leading three brands - yet - the Pixel 3 represents a more affordable option packed with features and a powerful processor to make light work of everyday tasks.
Read on to find out more and don't forget to compare phone deals using our free comparison tool.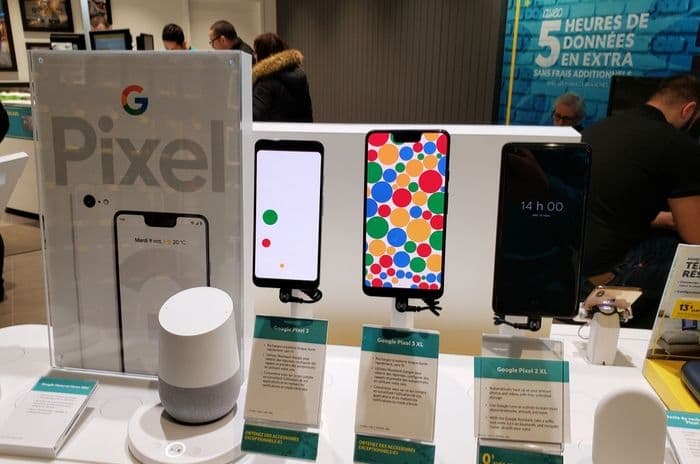 ---
At a glance
| | Google Pixel 3 | Google Pixel 3 XL |
| --- | --- | --- |
| Price | £589 - £689 | £719 - £819 |
| Weight | 148g | 184g |
| Dimensions | 145.6 x 68.2 x 7.9mm | 158 x 76.7 x 7.9mm |
| OS | Android 9 Pie | Android 9 Pie |
| Screen size | 5.5 inch | 6.3 inch |
| Resolution | 1080 x 2160 | 1440 x 2960 |
| CPU | Qualcomm Snapdragon 845 | Qualcomm Snapdragon 845 |
| RAM | 4GB | 4GB |
| Storage (internal) | 64GB/128GB | 64GB/128GB |
| Storage (external) | None | None |
| Battery | 2,915 mAh | 3,430 mAh |
| Rear camera | 8MP + 8MP | 12MP |
| Front camera | 8MP + 8MP | 12MP |
Price
For some customers, the £100+ price difference between the Google Pixel 3 and the Google Pixel 3 XL may be the deciding factor. On the other hand, it might be that a customer thinks it's only £100 to upgrade and so jumps at the opportunity.
The launch prices of the two phones were £739 and £869 for the 64GB versions, with the 128GB options coming in at £100 more.
These prices have settled to around £590 for the Google Pixel 3 64GB and £690 for the 128GB option.
The Google Pixel 3 XL is currently retailing at around £720 for the 64GB version and £820 for the 128GB one.
To put this in context, the Samsung Galaxy 9 64GB is retailing at around £740, the Huawei P30 128GB at around £700 and the Apple iPhone X 64GB at around £800.
Browse both pay monthly and pay as you go deals for both phones using our free mobile comparison tool.
As always, there are differences between operators if you're opting for pay monthly deals, and beware of upfront costs in relation to monthly costs.
Battery
The battery size is one of two key differences between the Pixel 3 and the Pixel 3 XL.
While the Pixel 3 holds a 2915mAh battery, its larger counterpart's battery is 3430mAh. That's around 17% bigger than the regular model, but what does that mean in practical terms?
The Pixel 3 will survive a day without charging, just as long as it isn't heavily taxed by apps or games. For anyone using more power, a charger on hand might be necessary. With the XL's larger battery, users can push their app usage that little bit further.
USB-C 18-watt fast charging is available but so is Qi wireless charging, bringing it into line with the flagship phones from other major manufacturers.
While the battery specs of the Pixel 3 XL look good in comparison to the standard model, it's worth pointing out that the battery power of a Huawei P30 (their mid-range model), is higher at 3650mAh. Even this is dwarfed by the top P30 Pro with 4200mAh.
Design
One thing that might stand out to seasoned smartphone users is that the bezel (that's the rim around the display) on both Pixel 3 phones is larger than on comparable models from other manufacturers. While this doesn't impact the functionality, it's a design decision that may be noticeable for some in a world where screens are bezels are being edged out.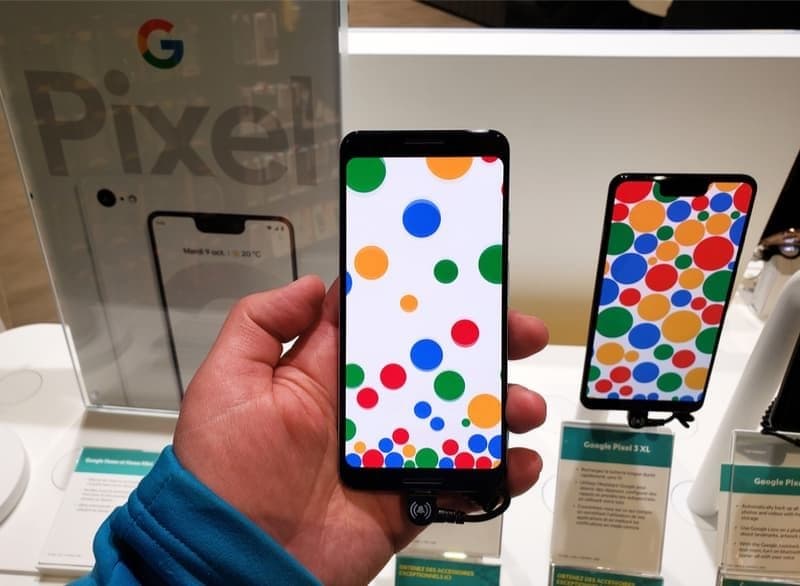 Google Pixel 3 close-up
The notch on the top of the 3 XL could be a deal-breaker for some, although it does serve a functional purpose of housing the dual front-facing cameras and the receiver. As a bonus, the receiver also acts as a speaker. There's another speaker below the screen on the "chin" bezel, bringing better front-firing sound to users than on comparable smartphones.
While it might take a few days to get used to the notch and the slightly limited display it brings with it, it'll only really be noticeable when trying to watch full screen video - even then, it'll only bother some users and not others.
On the rear of the phone sits the fingerprint sensor and a 12.2MP camera. The Pixel 3 looks slightly squat in comparison to the XL version, but that's due to the smaller screen and compact size, arguably one of its selling points.
Three colour options are available: Clearly White, Just Black and Not Pink.
Camera
Cameras are one of those features that can make or break a phone, so it's nice to see Google delivering a dual front-facing with an 8MP wide-angle lens with f/2.2 aperture along with an 8MP with f/1.8 aperture.
On the back, the rear camera is a 12.2MP lens with f/1.8 with OIS (Optical Image Stabilisation) and EIS (Electronic Image Stabilisation).
Google have gone big on camera features, things like "Top Shot" to choose the best option from an automatic batch and "Super Res Zoom" and "Motion Auto Focus", which are hopefully self-explanatory. "Night Sight" offers excellent low light photography options, while AI works at every step of the photography process to improve image quality.
When the Google Pixel 2 launched, it was hailed as having one of the best cameras on a smartphone, but while the dual front-facing camera is an upgrade, the main camera has stayed the same.
That puts it on a par with the Samsung Galaxy S9 (and ahead on the selfie camera), yet it's far behind the Huawei P30 triple rear camera with 40MP wide angle, 16MP ultra-wide angle and 8MP telephoto lenses.
With Huawei keen to bolster their reputation as the smartphone camera leaders, Google are unlikely to keep up. Yet for users who aren't looking for DSLR quality in a compact phone, the cameras on the Pixel 3 and Pixel 3 XL will do nicely.
Display
Screen size is the second of the two key differences between the Pixel 3 and the Pixel 3 XL, with the phones offering 5.5-inch and 6.3-inch screens respectively.
For some, the compact display of the Pixel 3 is a selling point as it offers a full OLED experience while still being pocket-sized. Others will find it too small and may be tempted to opt for the XL with its correspondingly larger price tag.
The OLED panels on both models have been calibrated to look the same, meaning that customers choosing the Pixel 3 won't receive a drastically inferior visual experience.
Full-HD on the Pixel 3 includes 443 pixels-per-inch and an aspect ratio of 18:9. On the 3 XL this rises to quad-HD with 552 pixels-per-inch and an 18:5:9 wide-screen display.
One major complaint levelled at the Google Pixel 2 XL was about display discolouration which is much improved this time around. There might be a blue tint when viewed at a strange angle, but this doesn't impact day-to-day usage.
Audio
Most phone designers are dispensing with the traditional headphone jack, and Google are no exception. There a USB-C port on the bottom, however, and an adaptor should come in the box along with a set of Pixel USB-C earbuds.
As mentioned above, two front-facing speakers have been situated on the front of the phone in the top and bottom bezels. This gives clarity of sound that can be missing from models with bottom or rear speakers.
Performance
We've already discussed the battery differences between the two Pixel 3 phones, and this certainly impacts the performance of the phone if you hope to go without charging all day. However, what else is under the hood?
The Pixel 3 and 3 XL use the latest incarnation of Android known as Android 9 Pie. For a guide to Android versus iOS, check out this guide here.
Along with that, both phones have a Qualcomm Snapdragon 845 processor and use Pixel Visual Core, a proprietary image processing unit first developed by Google for the Pixel 2.
With 4GB of RAM, the Pixel 3 is on the same level as the Samsung Galaxy S9, though behind the Huawei P30 which has 6GB.
There are two storage capacity options on both models: 64GB and 128GB. However, it's worth noting that these aren't expandable, while the Samsung Galaxy S9 can support a MicroSD up to 400GB.
Water resistance is improved compared to the Pixel 2 with a rating of IP68. This means it should survive in water of up to 6 feet for up to 30 minutes, although we wouldn't recommend testing it to the limit. Even so, if you accidentally drop it in the bath, you should be able to carry on as normal.
Pixel 3 or Pixel 3 XL?
If a pair of phones releases one often has lower specs to appeal more to lower budgets. Some companies like Huawei will throw three handsets into the mix, as their P20 Lite, P20 and P20 Pro range demonstrate. All have different specs based on the same technology and appealing to different budgets.
With the Pixel 3 and Pixel 3 XL it's slightly different because the only two differences are the battery and screen size.
Yes, the smaller battery could become an issue for heavy users, although carrying a travel charger and power pack has become standard practice for many people. That said, it's a comparatively weak battery by current standards, so this could be a legitimate concern for some users.
As for the smaller screen size, we've already mentioned that some users might prefer a pocket-sized phone and there aren't any performance-related issues connected with the smaller screen. Watching videos and playing games on a 5.5-inch screen might be frustrating to some, but many users will be undeterred thanks to the quality of the display.
£100 upfront can be a huge difference if you're buying a phone outright, although the differences in pay monthly contracts may feel relatively easy on the pocket so it depends what option you prefer.
Ultimately, any choice between the Pixel 3 and the Pixel 3 XL may be based on budget rather than the increased battery life or larger screen. If that's the basic choice between a standard phone and a flagship model, it isn't over the top.
Google Pixel or other brands?
Google is evidently aiming to snap at the heels of the big three smartphone manufacturers of Samsung, Apple and Huawei, and we have some reviews covering other handsets.
For instance, compare the Huawei P20 Pro and the Samsung Galaxy S9 in this guide. Both phones were flagship models at launch, although things move fast in smartphone tech.
Samsung and other companies are vying to launch the first foldable phones in the UK, while 5G technology is going to change the landscape for smartphones and ensure they need to work faster and harder for longer.
In our look back at the best smartphones of 2018 we highlighted the Pixel 3 and the Pixel 3 XL as popular choices thanks to their screens, processors and camera setup.
Google Pixel 3 represents a huge leap in usability from the Pixel 2, but time will tell whether the brand can continue to keep up with the pack.