So we're going to take a look at the budget V4 Virtual Reality Headset by DESTEK to see if good quality VR can be achieved with an inexpensive model.
The DESTEK V4's full retail price is £59.99 but it can be bought for as little as £22.99 on Amazon. Compare this to the mid-range Samsung Gear VR that retails at £119.99 and the top-end HTC VIVE Virtual Reality System that comes in at a massive £499.
To assess the DESTEK V4 we'll be looking at its design, controls and usability, and the viewing experience.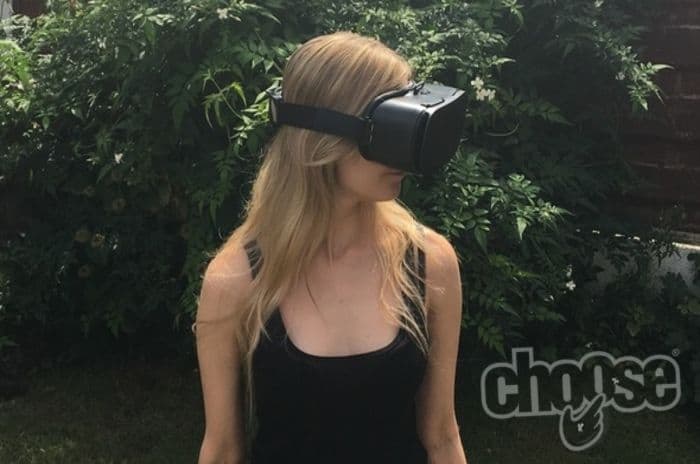 © Choose
---
At a glance
Pros
Cons
Very low price £22.99
Doesn't work as well with smaller or
lower resolution smartphones
Comfortable to wear
Can be problematic for those who wear glasses
Handy headset control button
Remote controller doesn't work well with Apple devices
---
Design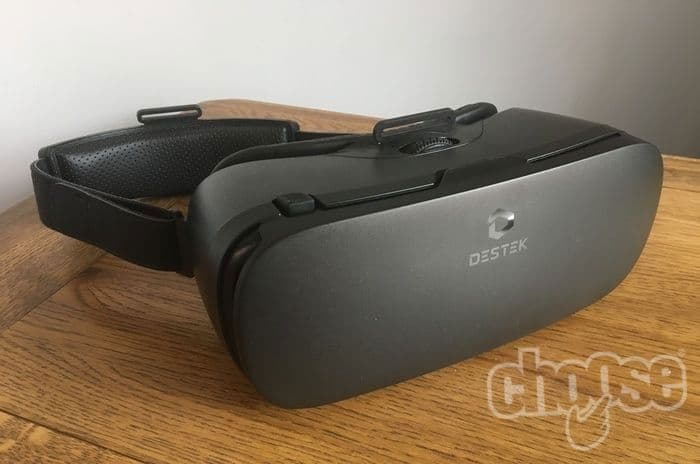 Considering the low price we were surprised at the quality of the DESTEK V4 headset. It's made of sturdy plastic and has adjustable head straps to ensure a tight but fairly comfortable fit. The range of adjustments means that both adults and children can wear the headset.
The V4 is covered by soft and breathable leather padding too, which adequately protects the face and again allows for a comfortable fit. DESTEK has even included extra room for the nose and designed the headset specially to prevent too much pressure building up around the eye area.
Our only qualm was that the headset was a little heavy. It may just take time to get use to wearing the device but we found it caused a slight neck strain when wearing for long periods of time.
DESTEK has added features to prevent eyestrain and damage. The two HD viewing lenses are made of lightweight acrylic, with a transmittance rate of 92%. This is basically the amount of light that can get through the lenses to the eyes. As the smartphone is so close to the users' eyes and the transmittance rate is very high, DESTEK has designed its lenses to be anti-reflective and to have an anti-blue light coating. This helps to reflect damaging light away from the eyes. Wearing the headset for a maximum of 20 to 40 minutes at a time we didn't experience any eyestrain.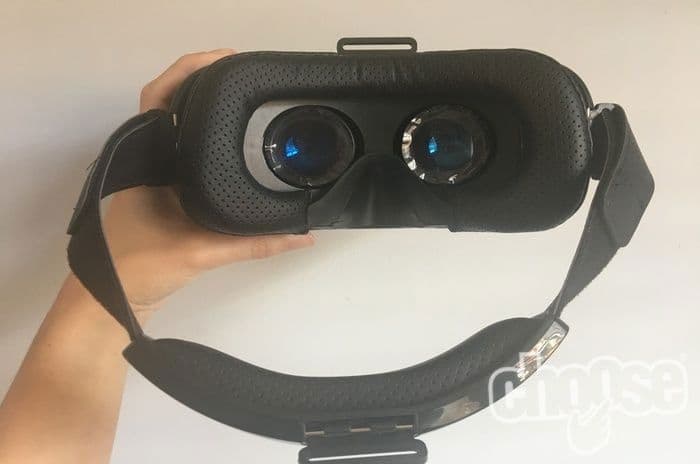 Leather padding and adjustable strap allow for a fairly comfortable fit.
Another slight drawback with the design was that the grips tasked with holding the phone in place didn't always seem to do the most effective job. We tried the headset with a few different sized phones and found that most of them moved a little.
---
Controls and usability
The V4 is fairly straightforward to use. We simply selected an app or game to view, inserted our smartphone into the integrated phone cradle then placed the headset on and began our journey into the world of VR.
The adjustable slot can fit nearly any smartphone with a screen of between 4.5 and 6 inches. However, we found that the bigger the phone, the better the experience. That's because there was less gapping around the edge of vision when we used a phone with a larger screen.
The V4 comes with a handy touch button on the top so we were able to perform simple actions - such as play and pause - without having to take the headset off every time we wanted to start a new app or video.
The V4 also comes with a remote control. Although we found it possible to get by with just the integrated touch button, the remote control does offer more options - such as player, game, select and mouse mode.
However, one of the main disadvantages of the V4 is that the remote control is not fully compatible with Apple smartphones. It's still possible to use an iPhone with the headset - although we noticed that functions were limited. There were no compatibility issues with the Android phone we used though.
---
Viewing experience
We found that the DESTEK V4 offered amazing VR clarity, similar to watching a 4K film. Sharp HD images are achieved by the V4's aspheric and anti-distortion lens surface. In addition, the field of view - the distance between an image and the eyes - is optimised for the most immersive experience. The V4's field of view is 103 degrees, which offers very good depth perception. All of this technology makes for an incredibly impressive viewing experience.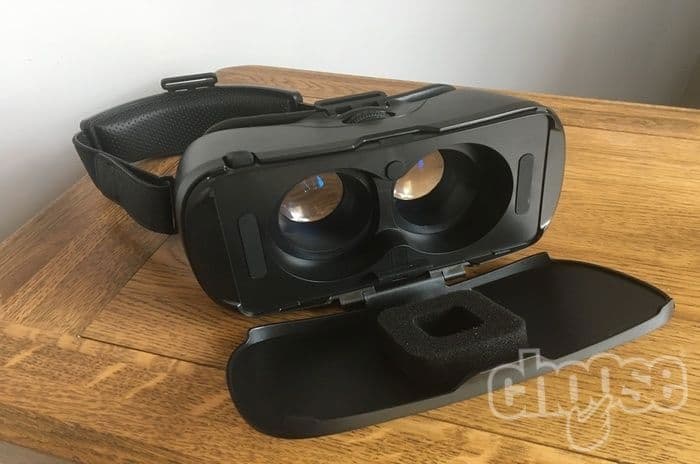 The grips used to centre the phone were not the most effective and we found the headset was better suited to larger phones.
We did find that the device wasn't best suited to glasses wearers though. Wearing glasses inside the device seemed to create gaps, which natural light seeped in through.
It's possible to adjust focus and pupil distance to customise viewing and prevent blurring so that glasses don't need to be worn though. This worked for our glasses wearer. However, for those with unequal focus in each eye adjusting the lenses could prove problematic and some blurring may still occur.
In addition, we found external light entered into the headset and interfered with our viewing experience. As mentioned earlier, this tended to occur when using smaller smartphones, because they do not fully fit the available space. However, we also noticed that lower resolution smartphones resulted in a less impressive VR experience when compared to higher resolution devices.
Finally, to get a fully immersive VR experience good audio is also essential. One major downside with the V4 was that there was no dedicated headphone slot built into headset. We noticed there is a space for a headphone wire between the phone and the headset cover though, so its possible to plug into a smartphone or use a smartphone's speakers to access audio.
---
Verdict
Despite a few niggles, we think the DESTEK V4 is definitely worth trying out. On the basis of its core VR function it performs very well, with clear images and a truly mesmerising and immersive VR experience.
There were some issues with light leakage and it was a little heavy to wear for long periods. But overall, considering what's for offer the V4 is priced incredibly competitively. We doubt most buyers will be disappointed with the quality on offer for this price point.