Credit check free trials: which one's best?
The four biggest credit reporting agencies are free either forever or for a 30 day trial: but which one is best?
We've checked them out and rated each one based on what they tell you, how and, if it's a free trial, how easy it is to cancel without paying.
Click through to the reviews or to find out more:
Credit checking: useful links
CreditExpert
Experian are used most regularly by lenders checking the credit scores of potential customers.
They offer a free 30 day trial. The service costs £14.99 a month, the most expensive in this test.
The site was user friendly, more so than Equifax's, and sign up was fairly simple, they ask for address history for the past six years.
How much information do you get in the trial?
Experian give you a full report for the month you're applying for free plus their score out of 1000 (don't fret readers these ones aren't mine).
It's very comprehensive, everything from the balance and payment amount each month of every open debt to public records and CIFAS information (what that is here).
It was mostly pretty clear and user friendly and I liked that they threw in some extras, like the promotional rate indicator for credit cards, which would be handy if you were doing a balance transfer.
It is possible to make changes, like adding a note of disassociation, and see that change come on the report without paying for the privilege, although from the way the site is set out that wasn't very clear.
How useful does the information seem?
The report itself is very useful. It's very comprehensive but the main points - like potential issues, though strangely not all of them - are also clearly highlighted as below.
It could do with some clearer links to Experian's pretty comprehensive FAQ and Ask James sections.
Looking for information on linked accounts, for example, I saw many people on forums worrying about removing addresses where they had lived before. Experian could nip that in the bud by offering more information.
The free trial also includes the 'web monitoring hub' which claims that it can check that personal information is being used legitimately and isn't, for example, being exchanged on the black market.
I feel dubious about how useful this service is.
How easy is the service to use?
The service is easy to use: the layout is clear and I liked being able to save my full report as a PDF (handy when you're about to cancel).
Bizarrely, the most rubbish part of the site was the credit matcher service, provided by LoveMoney and the only way Experian can make cash out of a free trial freeloader like me.
It promises personalised deals but seems to deliver a generic comparison page. Weird.
How easy is it to cancel without paying?
Not that easy. You will need to call Experian on 0800 561 0083 during their call centre hours - 9am to 6pm in the week or 9am to 1pm on Saturday - and they do not want to see you go.
I was asked to confirm my account reference number (make sure you have this when you call), name, date of birth, full current address and answer a pass question. Fine, it's overkill but they want to get the right account.
Then I was asked why I was cancelling: was there a credit card or mortgage application they could help with?
Then they went through all the flagged problems on the account. There was a person associated with my report, didn't I want them removed? The nice guy strongly implied that I'd only be able to send in a request to remove a link if I didn't cancel, which happens not to be true.
Eventually, after enduring another sales pitch for credit cards and loans but before another one on coming back, they set me free. Call time to an 0800 number: 13 minutes.
Equifax
Equifax is the UK's second largest agency.
Your reviewer dutifully clicked through for a "FREE credit report", signed up, successfully defeated the questions asking who my mortgage provider was in 1997 (I was 11), only to discover that seeing my actual credit score would cost another £5.95.
A call to customer services revealed that to get access to a credit score you should signup not for the 'free credit report' but click on 'credit score' and signup for the credit score 30 day free trial (£14.95 per month after) instead.
If you do signup to the 'free credit report' by mistake, don't pay £5.95 to access your credit score. Call customer services and ask to be switched, explaining you wanted to use the credit score free trial.
Not a good start.
How much information does the trial give you?
Once you've activated your free credit report and score there is plenty of good, detailed information.
The dashboard of the member centre shows a summary with colour coded icons helping you to spot potential issues quickly. Credit agreements, court information, previous searches, property valuation, old records, notices of correction are all covered.
The credit report page gives you plenty of information about all the credit agreements in your financial history and any missed payments that might have affected your score.
On the credit score page you are given a detailed explanation of what your credit score means and how it will be perceived by lenders.
It's further broken down into the sections outlined above and goes into detail about each one with tips on how to improve your rating if need be.
The Webdetect function lets you add email addresses, credit card, debit cards, telephone, bank account, driving licence and NI numbers and Equifax will "continuously actively scan hard-to-find websites for your personal information and alert you if your information is at risk of being traded".
How useful does the information seem?
Information provided by the credit report section is very detailed, giving you a good overall idea of what sort of credit score you might have without having to purchase the credit score option. It would be nice to see the actual score but if most boxes are green then you may not have too much to worry about.
There's a good explanation for each section of the report and it gives you a good, overall picture for each credit agreement entered into going back 5 years.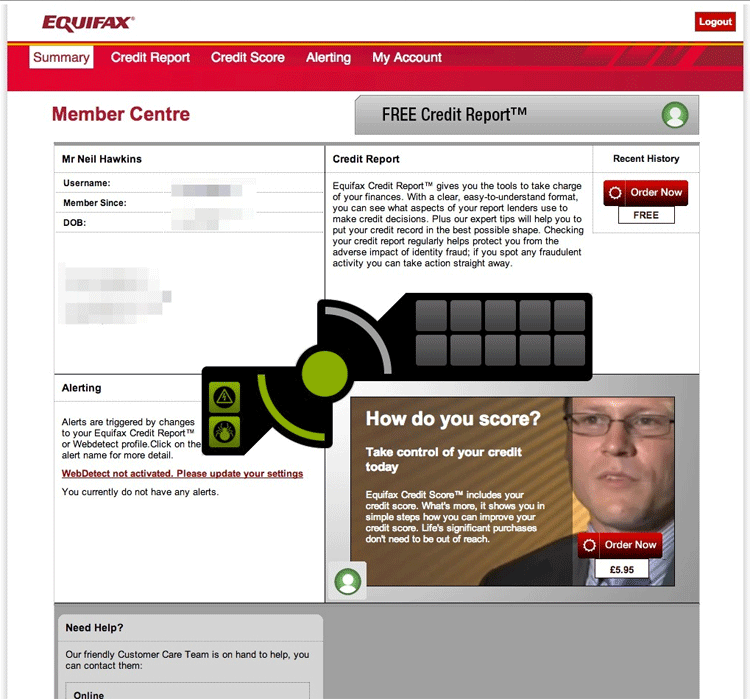 It's easy to check for missed payments - hover on each month for a detailed look - which could be affecting your score or see which accounts are dormant and could be closed.
As a first time credit checker, yes it did help me understand what makes up a credit file, I am on the electoral roll and the big green icon for that section suggests that this is a good thing without explicitly explaining why, so it could be more helpful here.
If you are on top of your financial records but never checked your credit file before then there won't be much here that is news to you.
How easy is the service to use?
The Equifax website is the most dated I tested, it's a bit clunky and the user interface isn't the most friendly and sometimes you feel unsure about how to navigate around.
How easy is it to cancel the free trial?
There are no obvious links to cancellation and while customer services are inoffensive it would be nice to have an instant cancellation option online.
To find the right number to call use the 'need help?' section at the bottom of the Member Centre main page and call customer services on 0844 335 0550, choosing option 3, between 8am - 8pm.
CheckMyFile
A slightly different offering comes from CheckMyFile, a firm that claims you can see "more than twice the information compared to any other credit report in the UK". A bold claim, ripe for testing.
Compared to Equifax the signup process was a total breeze and the least bamboozling.
How much information do you get in the trial?
Shedloads. A full credit report detailing all credit accounts you have open and your credit score is immediately displayed.
You get not one score but a score as judged by each of the three credit reference agencies: Equifax, Experian Credit Expert and Callcredit - which leaves you wondering why you bothered using the other providers at all.
Before you get too excited, however, note that Experian don't share their data on credit lending with Checkmyfile and don't provide them with any actual credit history information. The Experian rating on the site is only seen by landlords.
It's useful checking your score directly with the credit agency responsible but there is no denying that CheckMyFile provides a lot, even if it's not offering the most comprehensive coverage of all the free trials featured here.
You can see a history of searches made on your credit file, although these are tucked away at the bottom of the summary page and are easy to miss.
How useful does the information seem?
Very useful indeed: an out of five star rating system lets you easily and quickly understand how good a credit score you have and there are excellent in-depth explanations of almost every aspect of your file, including reassuring remarks about how your file relates to the rest of the public, giving you some vital context. It's a similar level of detail to Equifax.
Like Equifax, CheckMyFile helpfully explains why this could be an issue and why ensuring you are on the electoral roll improves your chances of a better credit score.
The credit report also tells you which accounts are open and which are closed something that isn't as clear on Equifax.
How easy is the service to use?
It was very easy to navigate the site, it has a good layout although there can be a lot of information on the page at one time, but helpful summaries and graphs showing things like how your borrowing patterns have changed over the past five years offset this somewhat.
A freephone helpline and secure messaging service lets you contact a professionally qualified credit analyst with any questions about your file.
If you don't understand something there is an excellent finance jargon buster to help with any terms you've not come across previously.
How easy is it to cancel the free trial?
Very easy, go to the 'Contact us' link at the top of the page and use the options to navigate to the 'I wish to cancel my account' option.
Press the button and your subscription is immediately cancelled. Top notch.
Noddle
Want your credit report for free? That's what Noddle is offering and not just for 30 days, but for life, setting it apart from all the other credit report firms at the get go.
Noddle was launched in 2011 by Callcredit, the UK's third biggest credit reference agency.
There is lots of positive media coverage in clippings and customer testimonials on the homepage. Can it live up to them?
The signup process was so super quick and easy it felt too good to be true, and it proved to be. The automatic address filler managed to input the wrong county name and there was no way to edit it. Clicking 'continue' led to bigger trouble.
Oh dear, Noddle failed at the first hurdle saying it wasn't able to "automatically verify and validate your identity", which is odd as all the other services had no problem doing the very same thing.
Maybe it is because of the wrong address info on Noddle's automatic address finder or perhaps it is due to the electoral roll issue flagged up by CheckMyFile?
As Noddle is operated by Callcredit and their credit scores are available through CheckMyFile, I already know what my Callcredit rating is. Remember though that Noddle is a free service whereas CheckMyFile costs £7.99 a month.
How much information do you get
Using a sample credit report we can see that Noddle presents a very uncluttered, clear layout on the page, a simple icon clearly displays your overall credit worthiness out of 5.
It makes the CheckMyFile website look like it has too much information crammed into a small space.
There are clearly defined sections for the financial accounts that you hold, search history of your credit file, previous address, electoral roll and court information.
How useful does the information seem?
Callcredit is the least widely used credit checking service after Equifax and Experian, which could explain why it is offering its service for free.
However, it does still provide a level of information on a par with that offered by the Equifax free trial and, unlike the Equifax trial, it gives you a good idea of your credit score.
So which one is worth using?
If you don't want to pay for your credit report Noddle is a great option.
Experian is the most widely used credit reference agency in the country and therefore it could be argued that it is the most important one to check yourself.
18 October 2017
17 October 2017
12 October 2017
Follow us or subscribe for FREE updates and special offers