Amazon's Echo Dot 2nd generation has now been superseded by the 3rd and 4th generation Echo Dots.
While Amazon's 3rd gen Dot retains the similar hockey puck shape, the latest 4th gen Dot is a more rounded sphere and also slightly larger as a result. Both versions boost an improved speaker, with the 4th gen Dot having better bass too. The 4th gen Dot also has a kids version, with built-in parental controls and a funky tiger or panda design.
The Amazon Echo Dot 2nd gen is no longer available, but both the 3rd and 4th generation Dots are available for around £30 to £35, which is less than the original price of the 2nd gen Dot.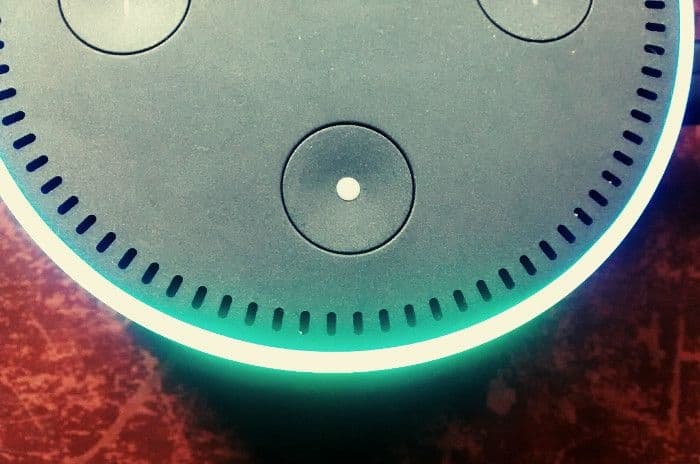 © Choose
---
| | Device | Price | Speaker | Size | Released |
| --- | --- | --- | --- | --- | --- |
| | Echo Dot 2nd generation | £20 (approx.) | 1" | 32 x 84 x 84mm | Oct 2016 |
| | Echo Dot 3rd generation | £40 | 1.6" | 43 x 99 x 99 mm | Oct 2018 |
| | Echo Dot 4th generation | £50 | 1.6" | 100 x 100 x 89 mm | Oct 2020 |
Hands on review of the 2nd generation Echo Dot
RRP
£49.99 (now discontinued)
Size
32mm x 84mm x 84mm
Connectivity
Line-out with 3.5 mm cable, Bluetooth and Wi-Fi
Weight
163g
Pros
Great value
Excellent voice recognition
Small and unobtrusive
Cons
Speaker is a bit tinny
Range of partners is limited
The Echo Dot is a scaled down version of the Amazon Echo, with the addition of Bluetooth and 3.5mm output.
It gives you voice control of smart devices in your home as well as access to online services such as music streaming and shopping.
The device is easy to set up, easy to use and - importantly - it doesn't feel invasive. Alexa responds well to commands, though can struggle to hear you when placed in a different room.
I found the Dot most useful when listening to music, as voice commands for finding, playing and skipping songs are much easier than manual controls.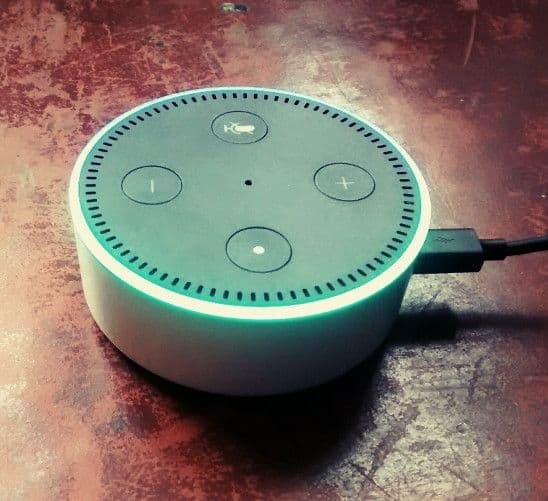 The Echo Dot can be connected to speakers via Bluetooth or 3.5mm
While the Echo's built-in speaker isn't that great, hooking up some external speakers is easy enough. It also means that you're not competing with the music when trying to be heard by Alexa.
At £50, the Echo Dot is a bit of a bargain - though you're encouraged to spend more if you want a decent range of services.
However, if you're already an Amazon Prime member or take out a subscription to Amazon Music Unlimited, then the Dot is a must-have.
---
Setup
The first decision is where to put the Dot, as it needs to be able to hear your voice and be at least eight inches from any walls and windows. We put it on a table in the living room.
Next is registering the Dot via the Alexa app (which we'd installed on a smartphone). The app guides you through the setup process, which mainly involves connecting to a wifi network.
Once the Dot is connected, it needs to be synced (via the Alexa app) with whatever devices or services you intend to use.
---
Design
At 32mm tall, the Echo Dot is small enough to blend in anywhere. It has four manual controls at the top: a mute button, a listen button and two volume buttons.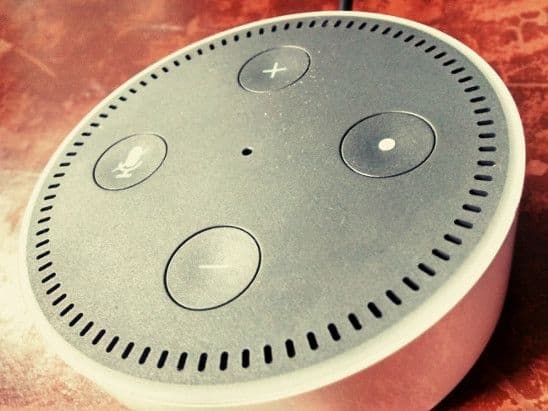 These are surrounded by a glowing ring that Alexa uses to communicate with you. For example, a pulse of blue shows that it's listening, while a pulsing green light indicates an incoming call.
The default is no light, which effectively means that the Dot is always listening. If this bothers you, then pressing the mute button will turn off the seven-microphone array.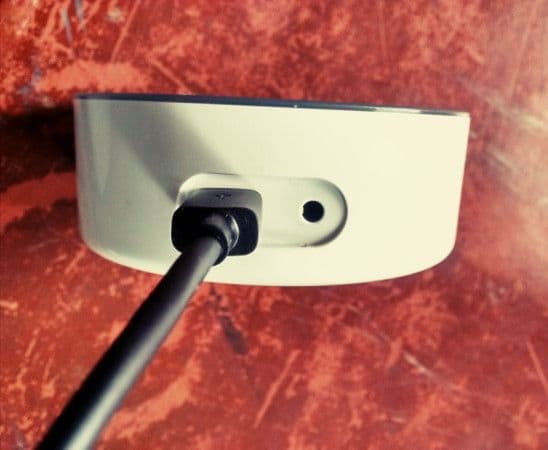 The Dot is powered via mini USB and has an audio output for external speakers. Alternatively, these can be connected via Bluetooth.
---
Use
When you say "Alexa", the Dot pulses a blue light to show that it's listening.
Basic functions include setting a timer or alarm, or having Alexa scour the internet for answers to your questions. So, you might ask: "Alexa, what's the capital of Wales", to which you'll receive the answer: "Wales' capital city is Cardiff."
Smart devices
The Echo Dot works with smart home devices like lights, TVs, thermostats and switches. Supported manufacturers include WeMo, Samsung SmartThings, Hive, Netatmo, Tado°, Philips Hue, Sony, Tp-link, and Nest.
I tried controlling electronic equipment by setting up the Tp-link smart plug.
Having downloaded the plug app and set it up in the Alexa app, I was able to turn the plug off and on by saying "Alexa, turn plug off/on" as required.
For those with several plugs (or other smart devices), there's the option of grouping them together and controlling them with a single command.
So, for example, you could give everything in the living room the same name (eg "living room") and have it all turn off at once.
Furthermore, this group ("living room") can be placed within a still larger group (eg "downstairs"), giving you yet further control.
Music
Playing music is really where Alexa shines, as it does away with having to scroll through tracks or stop what you're doing to skip, or increase the volume.
The downside here is that you'll need to be a paid-up member of either Spotify Premium, Amazon Prime Music or Amazon Music Unlimited to enjoy streaming tracks.
The only free option music-wise is the TuneIn radio service.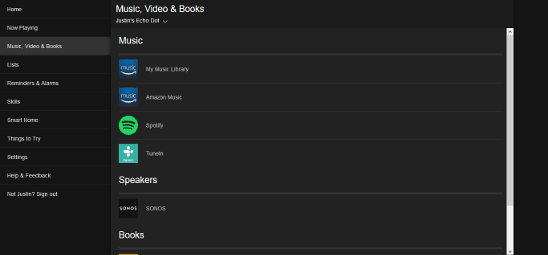 I trialled Music Unlimited, and it was great. Asking Alexa to play an artist or genre got an almost instantaneous response. Alexa also seemed to learn fairly quickly, and simply asking Alexa to "play music" resulted in a reasonable selection (in contrast to an early bias for Ed Sheeran).
Audiobooks
If you wish to access audio books, you'll have to sign up to either Audible or to Kindle (both Amazon companies).
Calls
Making calls via the Dot is possible, but only to people who either have the Alexa app or a Dot. You can see who in your phonebook has a Dot in the Contacts section of the Alexa app.
Other features
"Skills" are Amazon's name for third-party apps designed for Dot compatibility. They can be enabled via the Skills section of the Alexa app.
Here you'll get everything from Paloma Faith reading you bedtime stories to local searches from Yelp.
Rather than sifting through thousands of apps, it's probably worth thinking what you want help with and going from there.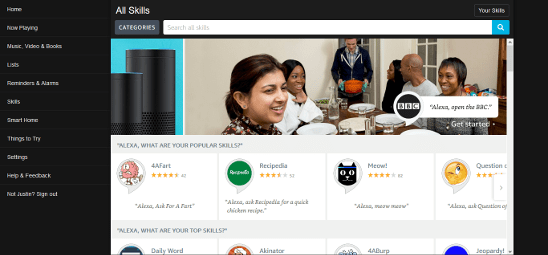 ---
Verdict: Is the Amazon Echo Dot worth it?
The Echo Dot is a great device - especially for Amazon Prime members or those with an array of smart devices in their home.
It would also be useful for those with limited mobility, and perhaps the elderly too. Once the Dot is set up it requires very little tech knowledge to keep it going.
Alexa is surprisingly good at correctly hearing commands, though you'll ideally want one Dot per room for proper coverage.
Amazon say that multiple Dots don't confuse one another, with Alexa responding intelligently from the device you're closest to.
Multiple dots also enable music to be played across multiple Echo devices, though again it's worth pointing out that on-demand music means paying a monthly subscription fee.