Business-level support, cybersecurity and traffic prioritisation are just three reasons companies should opt for business broadband over a residential package.
Companies can still choose from a range of download speeds, including superfast and full fibre connections, as well as add phone lines and inclusive calling plans.
What's more, business broadband actually costs around the same as home broadband anyway, and VAT registered firms will also be able to reclaim the VAT.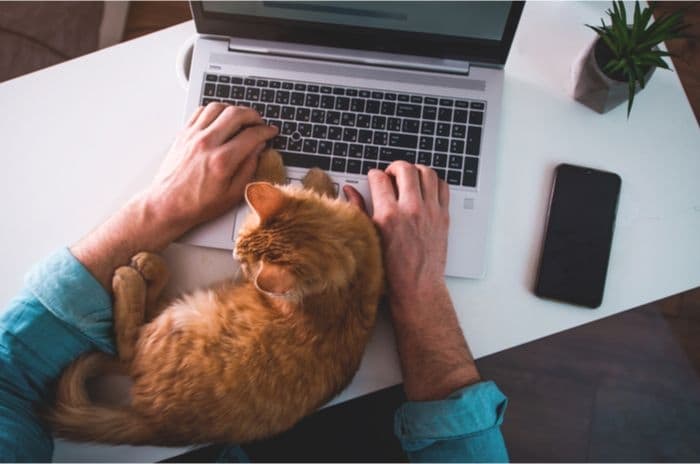 ---
At a glance
Business broadband deals with superfast fibre speeds around 70Mb per second are available from as little as £21.95 + VAT per month, and full fibre connections from just £23.45 + VAT.
Package
Broadband
Monthly price
Upfront price
Contract term
Simply Superfast Fibre
76Mb average
£20.95
Free
24 months
Offer: Save £192 over 24 months + Free P&P (was £9.95)

(Ends 12/12/2023)

Business Fibre 2
63Mb average
£23
Free
36 months
Full Fibre 150
150Mb average
£25.95
£24.95
24 months
Offer: Money off TalkTalk Business broadband for 24 months
Essential + Digital Line
76Mb average
£24.50
Free
24 months
Offer: Save £5.45 per month + Free setup
Fibre 76 Essential + Digital Line
76Mb average
£39.95
£29.95
24 months
Offer: Make & take calls on the go + Guest WiFI + Minimum speed Guarantee
Many of these deals include extra features for businesses including dedicated support lines, business-graded routers and security suites, static IP addresses and optional calling plans.
Even the smallest of business should consider a business broadband package as the extra reliability can be vital to keeping customers happy and a workforce productive, and the additional cost over a residential package is minimal.
Business broadband vs home broadband
Business broadband and home broadband have similarities, but broadband for businesses usually has some features that make it more suited to business customers.
Each of the features listed below are part of what makes business broadband different to home broadband, whether a business needs or uses all of them.
Business-level customer support
Improved customer support is often cited as the top reason companies choose business-grade broadband above residential services.
If our home broadband stops working or something goes wrong, it's frustrating but it generally doesn't cost us money or impede too much on our life.
However, if a company's broadband connection goes down, it can derail their entire business until it's fixed. Even something as simple as a retailer taking a card payment over a device connected to their wi-fi can be affected by internet problems.
Any business using the internet for any part of their daily work is susceptible to broadband problems, and business broadband providers offer enhanced customer and technical support to business customers.
This could include 24/7 support for 365 days of the year, UK-based support and a dedicated phone number to allow business customers to jump to the head of the call queue.
It's also common for broadband providers to use separate call centres entirely for business customers, for example TalkTalk use overseas call centres for residential customers, but TalkTalk Business support is based out of the UK.
One thing to look out for when choosing business broadband are the parameters of the provider's support. If they're clear about what they offer, a company can hold them to that if something goes wrong.
Plus, there are even more comprehensive support plans on offer from some providers which can include extra support or a specific tech contact to troubleshoot issues.
Service guarantees
Connected with the customer support point, service guarantees are also common when we look at business broadband packages.
This may include a service level agreement (SLA) which offers guarantees about the standard of service a business can expect to receive. It may cover minimum guaranteed speeds or state how little downtime businesses will experience with their broadband connection.
Perhaps most importantly, SLAs can set parameters about how quickly faults will be fixed and what compensation will be offered to a business if those parameters are not met.
Prioritised traffic
Business broadband is generally prioritised over home broadband, meaning the contention ratio of a business's broadband connection (the number of properties sharing a line) isn't as big an issue as it is with residential properties.
This is an obvious benefit for businesses - it stops their important work being derailed by someone streaming videos down the street. It should also limit slowdowns and, if combined with an SLA, this reliability will be backed up in writing.
As to whether businesses are offered faster broadband connections, it's certainly the case some business broadband providers will offer ultrafast or even full fibre broadband connections for businesses, but many of the packages we see aimed at SMEs are for superfast speeds of up to 76Mb.
This doesn't mean they're on a par with residential broadband connections providing the same speeds though: the contention ratio we mentioned above goes some way to making these speeds feel faster than we're used to with our home connections.
Again, think of that SLA or service guarantee - an ISP is under far more pressure to make sure their business customers have the expected speeds than their residential customers, so businesses take priority.
Business broadband providers will also be advertising speeds based on the average at peak business times, which is between 12 and 2pm, whereas home broadband is based on averages between 8pm and 10pm when more residential customers are online.
Many providers will also now offer guaranteed minimum speeds which are personalised to a particular premises at the point of sign up. If a provider fails to deliver the minimum speed and the issue isn't resolved within 30 days, companies are free to leave their contract early without penalty and find another provider.
Finally, there is also the option to take a dedicated leased line. This is a business broadband connection solely for the use of a company rather than being shared with other homes and businesses nearby.
Static IPs
While home broadband lines usually come with a dynamic IP address, business broadband either comes with a static IP as standard or businesses can pay a fee to add one.
The difference between a static IP and a dynamic one is simply that a static IP stays the same whereas a dynamic IP address changes every time a customer connects to the internet.
An IP address is a unique identifier online, and a static IP can enable businesses to:
Host their own server
Host their own website or domain name server
Remotely connect to computers
Remotely connect to services restricted by IP-level security
As we mentioned, some ISPs will include a static IP as standard, TalkTalk Business offer one for free, while others including BT Business only include them in enhanced packages or for an extra monthly fee.
Enhanced broadband security
If internet security is important for home broadband customers, it's absolutely vital for business broadband customers.
That's why business broadband packages come with more than just the standard security features we find with home broadband deals.
For example, businesses may be offered the following:
Business-focused security software
Content control
Use of a VPN
Data back-up or recovery
The details of cybersecurity protections vary from provider to provider, but here is one example from low-cost provider TalkTalk:
TalkTalk provide WorkSafe, their network-level security solution which comes as standard for business broadband customers
When we're looking at the security options for a business broadband package, it's important to check what's already included. Just as with our home broadband security, upsells don't necessarily mean we're getting something we haven't already paid for.
Business-graded routers
Many business broadband packages will come with more powerful routers compared to those provided with home broadband deals.
Business routers need to be resilient and reliable enough to handle the increased traffic they manage within business settings. For example, handling a team of 10 designers all working online at once is different to handling a family of four watching a movie while browsing online.
The router provided to a business customer should be capable of managing traffic effectively, and it should also be able to cover a wider area than we'd expect to find with home routers as businesses can be spread over several floors or in large offices.
If wi-fi coverage doesn't extend far enough within a business location, extra access points may be necessary but, again, those should be reliable enough to deal with business traffic.
A good business broadband router will be clear about its capabilities, so beware of routers that don't seem very different to home broadband ones.
Phone services
Business phone services taken alongside business broadband are usually more comprehensive than those offered to residential users.
These may include:
Specialist calling features
Voice over IP (VoIP)
Support for hosted phone systems
Premium handsets
Enhanced international call plans
As with broadband connections, business phone services will include fault targets to ensure uptime and fix problems when they arise to keep businesses functioning.
Be aware, however, that some premium business phone features are on longer contracts than the broadband element of the contract, so read the small print before signing up.
Extra web services
Finally, some business broadband contracts can be taken with other services to help streamline how a company manages their online presence and activities.
These could include:
Web hosting and servers
Domain names
Cloud storage
Multiple email addresses
Multiple static IPs
If these are of interest, remember to look elsewhere to see if they are available more cheaply. Plus, while bundling services together can save money, there may also be benefits to taking them separately such as a more specialised service from a different provider or extra features unavailable with the business broadband provider.
---
Is business broadband more expensive than residential broadband?
Despite these additional business-related benefits, business broadband doesn't cost much more than home broadband packages.
In addition, the extras can be useful to have, and it's important to think several years down the line when signing up to a broadband deal for a business.
Business broadband that grows with a business can be a good idea but remember to work within your budget when searching for a business broadband deal.
VAT
VAT is charged on all business broadband packages, and it is often excluded from the original quotes received from ISPs.
So, businesses should be very clear about the full payment terms of a broadband contract before signing up, since some business broadband deals can seem cheaper than they are simply because they exclude the VAT on the quote page.
Remember, too, that VAT is charged on extra features, and businesses should check whether VAT is included or excluded from the prices shown.
---
How to choose the right business broadband
Finding the right business broadband deal for your company depends on various factors, and it's worth thinking about your business's needs carefully before signing up to a deal.
Consider the following:
How many employees does the business have and how much do they need to be online? Businesses relying more on their broadband connection for their everyday activities may need faster connections like full fibre.
What level of customer support and/or service guarantees does your business need? Are you willing to pay extra for them?
What security comes as standard with a contract and can that be improved upon?
Is the supplied router good enough to manage the amount of traffic your business needs it to? Is your workspace going to be difficult to cover with wi-fi?
Do you need additional call plans or features alongside the broadband?
Is a static IP standard or does it cost extra every month?
How long is the broadband contract? Can your business commit to it?
These are just some of the questions to ask when searching for business broadband, but they all come back to the same main point: understanding the needs of your business can help determine which business broadband deal is right for your company.
---
Summary: Business broadband is worth it
Business broadband differs from residential broadband because they prioritise business internet traffic above regular uses and providers are committed to keeping uptime as high as possible.
A business broadband connection should be fast enough to suit your employees, but it should also be chosen for providing the right level of customer support for your business, along with any SLAs that may be necessary to guarantee certain standards of service.
There are dedicated business broadband providers out there operating alongside the business broadband divisions of household names such as BT, TalkTalk, Sky, Virgin Media and Vodafone.
However, neither is necessarily better than the other until you start looking more closely at the needs of your business.
Watch out for common stumbling blocks around VAT pricing and static IPs, but don't sign up to more services than your business can afford, even if a provider makes you believe they're indispensable. At the end of the day, you're in charge of your business and you understand better than anyone else what kind of business broadband it needs.
Read our guide on the cheapest business broadband in the UK for more advice, or compare business broadband here.