Business broadband doesn't have to be expensive, with many mainstream providers offer low-cost connections to small and medium sized enterprises.
While cheap broadband often means no-frills, companies looking at business broadband can still expect to find static IP addresses, unlimited calling plans, and business-level support.
The full fibre rollout also means businesses can now get ultrafast broadband on a budget too.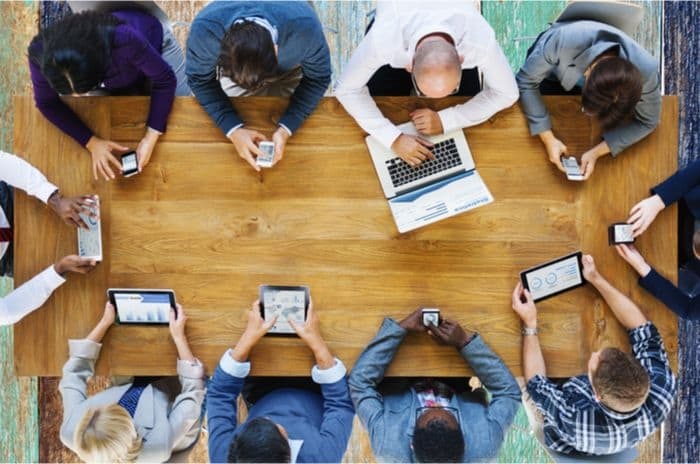 ---
Cheapest business broadband packages
Broadband for small businesses is offered by a number of mainstream names, as well as some specialist providers, including BT, TalkTalk, Sky, Vodafone, and XLN.
Right now, the cheapest business broadband package with superfast download speeds is offered by TalkTalk Business:
Package
Broadband
Monthly price
Upfront price
Contract term
Simply Superfast Fibre
76Mb average
£20.95
Free
24 months
Offer: Save £192 over 24 months + Free P&P (was £9.95)

(Ends 12/12/2023)

Business Fibre 2
63Mb average
£23
Free
36 months
Essential + Digital Line
76Mb average
£29.95
£12
24 months
Offer: (£99 Openreach install charge may also apply)
Fibre 76 Essential + Digital Line
76Mb average
£32.95
£29.95
24 months
Offer: Make & take calls on the go + Guest WiFI + Minimum speed Guarantee
Superfast 80Mb Full Fibre + Unlimited calls
80Mb average
£30.95
£9.99
24 months
Offer: Free Super Router + 50+ Exclusive free features
Voom 400 bundle
400Mb average
£40
£50
24 months
TalkTalk Business offer two superfast packages; Simply and Complete. While Simply is slightly cheaper, Complete offers companies unlimited calls to UK landlines and mobiles, as well as two free re-locations per year, and additional calling features including Call Waiting, Caller Display, and Threeway Calling.
Read more about TalkTalk Business Broadband in our full review.
Other cheap business broadband providers include Vodafone Business and Sky Business, with both providers offer pay as you go calls with a landline included in the price.
---
How to find cheap business broadband
There are a range of providers offering broadband to small and medium sized businesses, or SMEs, which means there is competition in the market and its possible to compare deals on price.
Cheap broadband for businesses is available from providers including:
TalkTalk Business
BT Business
Sky Business
Vodafone Business
Virgin Media Business
Hyperoptic
XLN for small business
YouFibre
While its possible for some small businesses to use a residential broadband package if they want to, business broadband offers more relevant services, such as static IP addresses, and business-level support that can ensure any downtime is minimised.
In comparison, while it can be cheaper, residential broadband doesn't have the same level of support that business broadband provides.
Dedicated business broadband is also charged excluding VAT, which will help to reduce costs for any business registered for VAT.
It's also worth pointing out many business broadband packages aren't as expensive as you may first assume, and many are priced around a similar level to residential packages in any case.
---
What's included with cheap business broadband?
As mentioned, business broadband comes with relevant services a business is likely to need, including:
Superfast fibre to full fibre broadband connections
Download speeds of up to 900Mb per second
Optional static IP addresses
Business-graded router
Business-level support, ideally UK-based and available 24/7 365 days a year
Optional phone line with unlimited call plan
International call bundles for companies that operate or have clients in different countries
The actual services on offer will vary between business broadband providers, but even cheap deals, like TalkTalk Business, will have some of these features available.
Broadband speeds
Choosing the right broadband speed is important for businesses, and companies shouldn't pick a cheap broadband deal without the download speeds they need.
If multiple office workers will be sharing a connection they will need faster download speeds than if the broadband line is purely for taking card payments.
Inadequate broadband could slow users down and result in reduced productivity, so spending more for a decent broadband speed is more cost effective in the long term.
In addition, even full fibre broadband is available from just over £25 per month, which should be affordable for most companies.
Business support
The major difference between home broadband and business broadband is the level of support on offer, with providers usually basing call centres in the UK.
Businesses may benefit from 24/7 guaranteed support or set timelines for resolving issues. There are also some business broadband providers who will offer 4G backup to protect businesses from downtime.
Cheap business broadband shouldn't suffer from a lack of decent support, so look for a provider who is clear about the parameters of their support services.
Security
Businesses may want more online security in place to protect important files or sensitive information, like customer details. As a result, business broadband providers often highlight the systems they have in place to protect users from malware, phishing and viruses.
Even cheap business broadband should come with a certain level of protection for companies, and it's certainly worth looking into as it could be cheaper than buying standalone anti-virus licences.
Broadband provider protection is often in place at the router level as well, which is more secure and cheaper than having to protect each individual device.
Static IP address
Broadband services allow users to connect via an IP address, which can be either static - remaining the same at all times, or dynamic - where an IP can be reassigned and change.
Businesses running in-house services, such as websites and hosting, or that have IP-level security to access these services remotely, will benefit from a static IP address.
Some business providers, including cheap ones, offer additional IP addresses, which can be used for hosting services.
Phone lines
Whether the broadband connection is via a phone line with copper or superfast fibre, or via a full fibre line, companies can usually choose to add a phone line and optional call plans.
For businesses who make outbound calls regularly, a call plan is likely to save money over paying for calls on a per minute basis.
Business broadband phone lines often come with additional features too, such as conference calling, caller display and call waiting to ensure customers can always get in touch.
---
Who offers cheap business broadband?
Business broadband is offered by some providers dedicated to providing business connections while more familiar names also offer business broadband alongside home broadband.
Let's have a quick look at some of the bigger names in business broadband.
BT Business
BT offer business broadband as well as home broadband.
Although they are one of the pricier home broadband options, their business broadband includes enhanced options like 4G Assure where broadband switches to 4G to maintain a connection - ideal for keeping connected at all times.
There are both superfast and ultrafast business broadband deals available from BT. Read our full guide to BT's business broadband.
Sky Business
Sky offer a business broadband service which offers a choice of download speed from 76Mb, to up to 500Mb with their full fibre connection.
Full fibre customers get anytime calls to UK landlines and mobiles included as standard, and companies can even opt for two digital phone lines as well.
TalkTalk Business
TalkTalk Business offers superfast broadband of up to 76Mb, and full fibre connections up to 900Mb per second as well.
WorkSafe network-level security is included as standard, as well as leased line deals. Static IPs and Dynamic IPs are both available, as is free installation if needed.
Learn more in our full guide to business broadband from TalkTalk.
Virgin Media Business
Virgin Media bring their fast broadband to the business community, although it's worth noting the availability suffers from the same issues as their home broadband.
Speeds of 350Mb and 500Mb for similar prices others charge for superfast broadband is a definite selling point, but customers will need to upgrade their packages for extras like static IPs and inclusive calls.
Virgin Media Business also offer leased lines to provide businesses with dedicated connections.
Vodafone Business
Business broadband from Vodafone is one of the most basic, no-frills options on the market, with the Single Static IP address its most premium feature.
However, companies can also opt for slightly dearer Pro II packages, which come with a more advanced WiFi 6E router, a WiFi guarantee, and an automatic 4G back-up.
There's more information about Vodafone as a home broadband provider here.
XLN for Small Businesses
A business specialist with a focus on small businesses, XLN offer unlimited usage on all deals and the ability to upgrade to include landline and mobile calls.
They're an award-winning business broadband provider, boasting a Trustpilot TrustScore of 4.2 from almost 16,500 reviews.
---
Summary: Finding a cheap broadband deal
Broadband is a necessity for most businesses, but it can be difficult to see which deals are cheap and which packages need to be laden with extras to get the bare broadband essentials for your business.
Ask the following questions before signing up to cheap business broadband:
What features are included (and will I have to pay extra for essential features)?
What are the prices excluding VAT?
Is a static IP included or is this a paid extra?
Will I have to buy security features on top of the monthly cost?
What kind of support do I get for my money?
Compare business broadband here to see more on the packages and prices currently available.
The right business broadband can be the difference between business booming and customers finding you to be a frustration. However, even the cheapest deals around focus on service to help ensure connectivity is reliable.