Wonga are the UK's best known short term lender and, often, the focal point for public anger about the payday sector.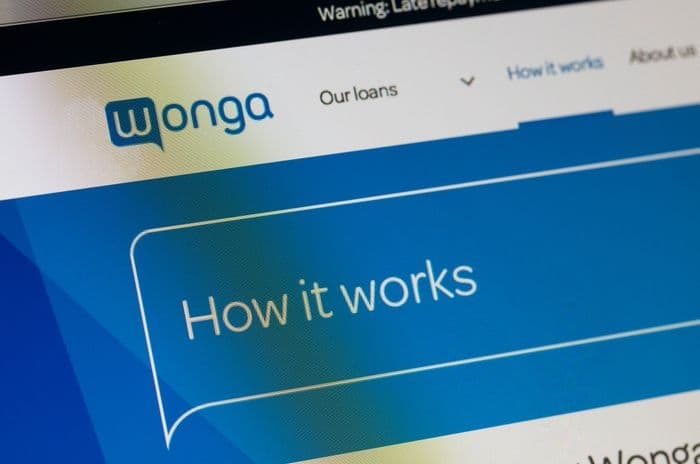 Credit: Ink Drop/Shutterstock.com
But Wonga say they're nothing like other short term lenders: their response to the recent Office of Fair Trading (OFT) compliance review of the payday market pointed out many specific differences.
Wonga loans have a 7% arrears rate, low compared with other lenders in the sector, and just 9% of their loans are extended, compared to 28% in the market as a whole.
In response to the OFT's finding that much payday advertising emphasises speed over costs, Wonga said that they make, "the total cost of every loan clear and transparent to every borrower".
Are Wonga right to feel that they're not really a part of the payday market? Do the issues the OFT bring up affect them?
To find out, we compared the company side by side with its competitors looking at:
the cost of borrowing, and of defaulting
the way the firm advertises
Don't have time to read all that? We've summed it up here.
The cost of borrowing
From a borrower's perspective, Wonga are very similar to their peers.
As you can see in the table below, most payday sites operate on the basis of a 30 day repayment term, Dosh Express, which tie their loans to the date the borrower is actually paid, are the exception.
All advertise very high APRs, although Wonga's is the highest, alongside a number of fees.
Amount
Period
APR
Charge
£100 over 30 days
Wonga
Up to £400

Existing: Up to £1000

1-30 days
4214%
360% p.a.+ £5.50 fee
Costs... £36.72
QuickQuid
Up to £1000

Existing: Up to £1500

30, 60 or 90 days (effectively the same as rollovers)
1734%
£20-£29.50 per £100 per 30 day 'pay' period
Costs... £20-£29.50
Payday UK
£100 to £1000
30 day max (on payday)
2949.1%
359.4% p.a.
Costs... £29.50
Dosh Express
£100 to £1000
30 day max (on payday)
1734%
325% p.a.
Costs... £25 + £7 express fee
It's worth noting here that some payday lenders are charging far more than the costs above especially on short loans over a very short period.
Earlier this year, The Guardian published a payday contract for an £80 loan due back after 10 days plus £31.20 in interest. In APR terms, that's interest at a rate of 16,734,509.4%.
After the initial loan...
The period beyond the initial loan, however, was a far greater cause for concern for the OFT than high APRs.
Roll overs
50% of payday sector revenue is derived from loans which have been extended past their initial term, or rolled over.
Along with QuickQuid, Payday UK and Dosh Express, Wonga loans can be extended as long as customers pay the interest and fees due (i.e. the borrower doesn't have to repay the principle to roll over).
QuickQuid also offer a 'refinance' which requires 10% of the amount due plus charges to be repaid to extend a loan.
Payday UK and Wonga only allow a maximum of three extensions, Dosh Express say extensions will only be possible on "a limited number of occasions".
Any lender that is signed up to the Finance and Leasing Association (FLA) code of practice should limit the number of extensions to three.
However, roll overs are a money spinner - 20% of payday revenue comes from loans that are rolled over more than four times - but they're also a prime cause of consumer detriment, some lenders even agree to roll over loans when the borrower has already missed a repayment.
In this area, then, Wonga are doing better than many fellow lenders, though they're still not head and shoulders above their competitors.
Defaults
Charges for arrears can be very high in the payday sector.
Again, this a policy that can hurt the most vulnerable customers by driving those finding it difficult to make repayments further into debt.
Here's how Wonga compare:
| | Default |
| --- | --- |
| Wonga | £20 at 5pm + interest for up to 60 days, then may pass to collections |
| QuickQuid | £12 (no interest), may pass to collections |
| Payday UK | £15 + interest |
| Dosh Express | £15 + £15 after 34 days in default + 1% Interest for up to 60-90 days, then may pass to collections (£25 fee if they do or a repayment plan can't be agreed) |
So based on the calculations above, a £100 Wonga loan defaulted on after 30 days would accrue a £20 fee plus about £60 in extra interest if it wasn't repaid after 60 days.
Debts sent to collections services could accrue additional fees - there are additional problems with independent debt collection agencies, which we go into below.
Debt Line, a commercial debt management company, says that it handles payday debts on behalf of just over 9,000 clients.
Happy customers? Complaints
The OFT review identified complaints handling as a major problem in the payday sector.
Many lenders don't have clear procedures for dealing with serious issues and, when they are available, lenders often fail to apply them, the regulator said.
76% of lenders monitored by the OFT failed to comply with at least one complaints handling rule.
Payday customers most frequently complain about aggressive or unsatisfactory debt collection.
Many also complain that lenders offer unaffordable repayment plans in case of default or that the lender extended credit irresponsibly, for example when a consumer had many other debts.
Wonga deny that their complaints handling isn't up to scratch and often note that, in any case, the majority of their customers are happy to pay for their loans and satisfied with the service they receive.
Complaints handling
Let's look at the first of those defences first.
In May 2012, the OFT publicly censured Wonga for sending out letters to customers - including some that had entered debt management plans - threatening to take them to the police and warning that their employment status could be under threat unless payment was made soon.
The OFT called the firm's behaviour aggressive and misleading.
In September 2012, a BBC Watchdog investigation found that victims of application fraud through the Wonga site had hundreds of pounds taken from their accounts.
Wonga say that just 0.1% of their loans are fraudulent and application fraud is a problem for every sector of the banking industry but those affected told Watchdog that Wonga had taken a long time to respond to, or even acknowledge their complaints, and longer to resolve the issue.
In January 2013, Wonga told MPs that it was trialling referring debts in arrears to private debt collection firms, as opposed to handling debt collection in house.
Many raised concerns that customers in arrears would be subject to aggressive collections practices as a result.
All in all, then, Wonga has, at best, a chequered history when it comes to complaints handling.
Side note, the FOS: When consumers can't resolve a problem with a financial institution they can go to the Financial Ombudsman Service (FOS), so FOS figures can reveal both problems and problems with handling issues effectively.
Wonga boast that in the last six months of 2012 they had just 49 FOS cases or, as they put it, "one complaint for every 77,000 loans".
Around 50% of those complaints were upheld in favour of the consumer, in contrast to 72% in the sector as a whole in 2012/13.
So they're right that their proportion is low and resolutions rate about right. But note these two things.
First, Wonga's FOS complaints have been steadily rising for more than a year: in the first six months of 2011, six customers made FOS complaints; in the second half of 2011, that increased to 20; in the first six months of 2012, there were 27 and, in the last six months of that year, 49.
Second, FOS complaints aren't always a reliable indicator of overall complaints for a company since, as the FOS has highlighted, payday firms are often giving poor information about the adjudicator's role.
In addition, in the six months it investigated the payday sector, the OFT received 686 complaints from consumers and bodies such as Citizens Advice also report increasing complaints.
General customer satisfaction
Let's look at Wonga's second point, however: that most customers are happy.
There is some evidence for this. The company has a Net Promoter Score of 78% - in other words, 78% of customers sampled said they'd recommend Wonga to their friends and family.
That's higher than the UK's best rated bank First Direct 61% and way higher than the UK banking industry's average Net Promoter score: 0%.
Wonga also boast that their Google Product Review score is an impressive 4 out of 5 from 61 reviews.
However, they've clearly not been keeping an eye on it as, at the time of writing, they're on 3.5 out of 5 based on 105 reviews from the past 12 months and, looking at their scores overall, 118 out of 213 are for just 1 star.
Selling short term: are Wonga ads ok?
The OFT compliance review found "varying degrees of compliance" with laws on advertising credit.
It also highlighted misleading advertising - for example "no credit checks!", which if it were true would be illegal - and the fact that many firms emphasise speed far more than the cost of borrowing.
Wonga adverts were banned by the Advertising Standards Authority (ASA) in July 2010 and March 2011, in one case partly because the advert did not comply with the law.
A third complaint against the firm in July 2012 was not upheld but only because the ASA considered that Wonga had been advertising the speed of the loan rather than borrowing and that they therefore did not need to display an APR.
That's exactly the issue the OFT highlighted.
In November 2012, the firm apologised after an email claimed that paying for a loan "could do wonders for your credit rating".
Having said that, however, while many raise eyebrows at high profile Wonga campaigns on the tube and with Newcastle United, the firm rightly point out that they do not make any of the most egregious claims uncovered by the OFT.
Wonga have complied with 'point of sale' advertising rules on their website for a long time and actually go beyond those guideline: the 'sliders' on their site handily show the total cost of credit customised for each customer.
Misleading: "payday loan alternative"
Wonga are under a lot of scrutiny and generally comply both with the law and advertising standards, certainly in comparison with their peers.
But the OFT consider that, "most websites made claims we consider potentially misleading" and, although the OFT don't mention this issue specifically, we can highlight one misleading campaign in particular.
A current Wonga online campaign is targeting people looking for a "payday loans alternative" with a landing page purporting themselves as an actual alternative to payday loans, as opposed to one of our leading providers of them.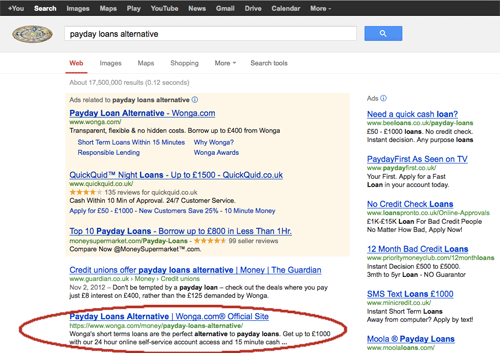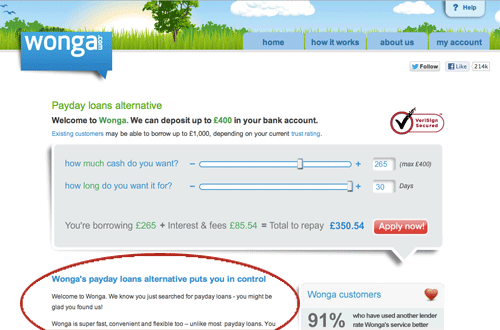 The page even goes on to list "being transparent" as a selling point.
This is an SEO technique designed to draw in people searching in Google for terms such as 'payday alternatives' and many firms have pages on their sites designed to catch searchers like this (full disclosure: even we have a horse in his race, although our alternatives to payday guide is about credit unions and emergency help).
Wonga could argue that they don't technically lend until 'payday' just for 30 days but, as we've seen above, most of their competitors could say the same.
However, it's not the only time the SEO team seems to have stepped over the line.
In January 2011, a page drew criticism for targeting the term 'student loans' and seeming to suggest that a Wonga loan could supplement student income.
As we said, Wonga are not alone in this grey area, and it's not the worst advertising in the world, but it's not transparent either.
Are they different?
Wonga are different to most payday lenders: they're more well known, advertise aggressively and are the only payday lender to run their own PR site dedicated to righting misunderstandings about the company.
They also have different origins than most payday firms. They have specifically sold themselves as an online lender, part of a movement away from the high street. They were even in Wired once looking start up-y.
In the specific case of the OFT review, however, Wonga are not significantly different from their peers.
All of the issues the OFT bought up affect Wonga to some extent.
Yes, Wonga have a better record than many on loan extensions, compliance with advertising laws and customer satisfaction in general.
But there are still serious question marks over the company's ability to handle serious complaints, fairly collect debts and advertise in a non misleading way. From a basic consumer perspective, they charge the same amount - maybe even a little more - than similar payday firms.